10 Best Route Planning & Route Optimization Software
A Route planning software is a tool that helps to plan and optimize transportation routes. It considers various factors such as distance, time, traffic, and vehicle capabilities to determine the most efficient route. The software is used by businesses, delivery services, and individuals to improve the efficiency of their operations and reduce travel time and costs.

What are the Best Route Planning & Route Optimization Software?
1.Jungleworks
JungleWorks is the parent company behind the suite of products that powers the need of on-demand set-up. This tech stack includes Tookan, Yelo, Fugu, Flightmap, Kato and Bulbul. The company's suite of products is designed to make operation smoother for entrepreneurs and enterprises looking to provide an omnichannel experience to their customers. Our mission is to engineer and maximize mobile ROI. JungleWorks has its HQ in Seattle, Washington, and global offices in India and Singapore. The company's cloud-based suite of SaaS products is widely used by over 100,000 customers around the world including Coca-Cola, DHL, McDonald's, Pizza Hut, Green Guyz to name a few.
2.Onfleet
Onfleet is a cloud-based fleet management solution that offers route optimization, auto-dispatching, delivery analytics, and customer communications. iOS and Android apps provide real-time driver tracking, proof of delivery, chat, and more. Onfleet supports deliveries in multiple countries around the world, in industries ranging from grocery and prepared meals to parcel, furniture, courier, pharmacy, and others. Onfleet provides users with various filters and search capabilities such as text, time, or status-based queries for finding drivers, customers, and pickup/delivery tasks.
The solution also features an internal communication platform that enables users to communicate with staff members and get real-time updates of specific jobs. A custom reporting and analytics engine is also provided that enables users to analyze various metrics.
3.ROADWARRIOR
RoadWarrior Number 03 in our list of the Best Route Planning & Route Optimization Software is a cloud-based route planning software that helps businesses of all sizes plan, manage and optimize routes via a unified portal. The platform enables organizations to assign routes to drivers, track journeys and reschedule destinations. RoadWarrior includes a centralized dashboard, which enables administrators to view and monitor driver's progress, send notifications, compare drivers' routes and view covered stops or merge routes according to the destination and service time.
It offers a host of features such as automated data synchronization, multiple users, data backup, real-time route monitoring, drag-and-drop interface, mobile access and more. Additionally, supervisors can add stops, upload location information from spreadsheets, communicate with drivers, and add or delete drivers from rosters. RoadWarrior supports integration with FedEx, allowing users to import and manage shipping information. It is available on monthly subscriptions and support is provided via email and other online measures.
4.Samsara
Samsara is a cloud-based fleet management solution that offers features such as GPS tracking, trailer tracking, dashboard camera, routing and dispatch, reefer monitoring and more. It is designed to help small and midsize fleet business operators track the physical location of their fleets and monitor their drivers' behavior to stay complaint with ELD and FMCSA regulations. The installed GPS device provides real-time traffic updates and displays the best available route to drivers. It collects data on unnecessary halts, vehicle performance, breakdowns and fuel waste to the back-office managers. The solution combines 'Hours of Service' with the GPS tracker and other sensors installed in the vehicle to record the driver's working hours for HoS logging and ELD mandate. Samsara offers a per device per year subscription license that includes phone-based technical support for its users. This solution can be installed in trucks, school buses, delivery vehicles and more
5.Motive
Motive, formerly KeepTruckin, builds technology to improve the safety, productivity, and profitability of businesses that power the physical economy. The Motive Automated Operations Platform combines IoT hardware with AI-powered applications to automate vehicle and equipment tracking, driver safety, compliance, maintenance, spend management, and more. Motive serves more than 120,000 businesses across industries, including trucking and logistics, construction, oil and gas, food and beverage, field service, agriculture, passenger transit, & delivery.
6.DETRACK
Detrack is a powerful delivery management software that lets you track your vehicles live on a map and capture real-time electronic proof of delivery (E-POD) using just our iOS / Android app. Our apps have been translated into 26 languages and are being used daily around the world to complete millions of deliveries. From instant real time delivery status updates to capturing evidence like customer's signature, time of job completion, items reject or failed deliveries, photo evidence of service completion and automating customer support; Detrack handles it all. There's also the ability to automate the sending texts / SMS to customers pre-delivery, post-delivery and even when the driver is heading to destination with live ETA.
7.ElasticRoute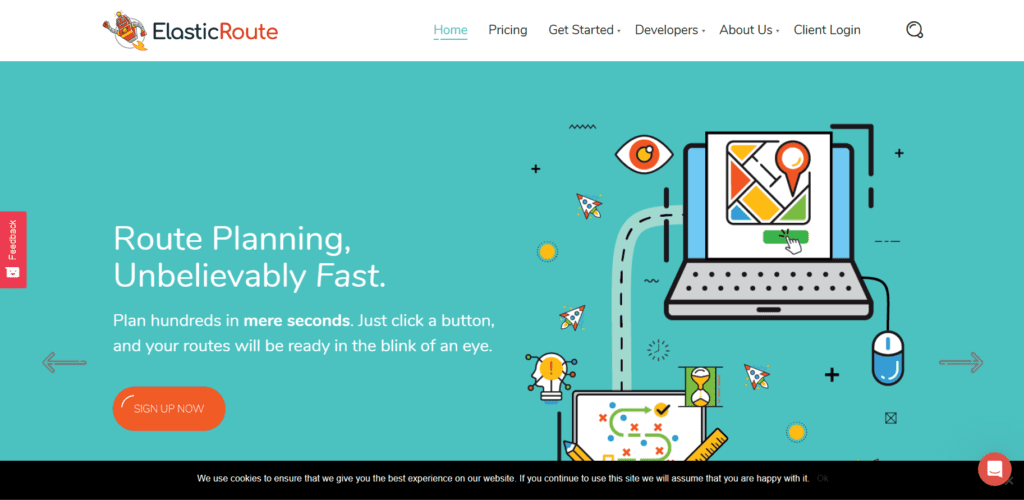 ElasticRoute is a proprietary heuristic-based route planning algorithm that solves the vehicle routing problem for businesses in field service and logistics, worldwide. It is able to generate optimized and planned routes (benchmarked at under 15 minutes for 6,000 stops) with stop sequences for each run and estimated time of arrival (ETA) for each stop. ElasticRoute also takes care of real-world constraints like multiple depots, service time, time windows, load capacity, loading time, zones, rush hours buffers, drivers' working hours and more, in the route plans. With its speed and unique algorithm, ElasticRoute is scalable and able to cater to high volumes of large fleets with thousands of stops per plan.
Any business, regardless of size and location, is able to harness ElasticRoute's capability of producing natural cluster-based routes, which reduce the time required in having to manually amend or make changes to the planned routes and reduces the resistance from drivers rejecting the stop sequence planned for them. ElasticRoute also has an open API that gives businesses the agility to integrate route planning capabilities into their existing operations and IT infrastructure to bring automation and eliminate the need to work on separate solutions.
8.OptimoRoute
OptimoRoute helps field service and delivery businesses provide stand-out service. Using sophisticated algorithms, OptimoRoute plans and optimizes routes in a matter of seconds. Underneath a simple interface, there is an endless supply of tricks, features, and shortcuts that flex to your unique needs and workflows. Use what you want. Ignore everything else. Scale-up, scale down, try new features as your business grows. OptimoRoute customers reduce time spent planning routes by up to 80% and cut fuel and driving expenses by 20%.
With efficient routes, businesses can realize significant time savings and increase the capacity of existing teams. OptimoRoute is user-friendly and flexible for drivers and service teams who use the app on their iPhone, Android, or tablet. Easily access schedules, navigate while on the road, and track location and job completion. Your field team can capture relevant information seamlessly in the app, such as signatures or photos for proof of delivery or notes about service details. Customers appreciate seeing their technician or driver's status, and everyone loves that text saying the job is done. Gain insights into organizational performance with actionable analytics, monitor employee performance, and automatically generate reports. You can create weekly schedules for drivers with various constraints such as date range and order type on tasks, improving workflows across the organization.
Additionally, managers can import orders from CSV/Excel files and store customer information for future reference. OptimoRoute Driver app supports popular navigation apps such as Google Maps, Waze, Here, Garmin, and more. OptimoRoute delivers top-notch customer service, and their team is easily reached by email or phone if you have questions or want a walkthrough of the software's features and tricks. It's easy to get started with a 30-day free trial. Pricing is available on annual subscriptions.
9.Batchgeo
BatchGeo is a geographic information system (GIS) that helps businesses create interactive maps using a drag-and-drop interface and publish them across websites. It enables employees to collect spatial, geographical or sales information from various sources including Microsoft Excel, spreadsheets, databases and web pages to display visual information through maps. Features of BatchGeo include geolocation, analytics, route optimization, data synchronization and more. The application allows sales teams to handle sales mapping activities, monitor trends and visually display customers, suppliers or leads. Additionally, it helps real estate agents maintain property listings, streamline data indexing operations and generate custom reports.
BatchGeo facilitates integration with Google Street View, which enables organizations to view property frontage photos in real-time. Pricing is available on a monthly subscription and support is extended via phone, email and other online measures.
10.Mapline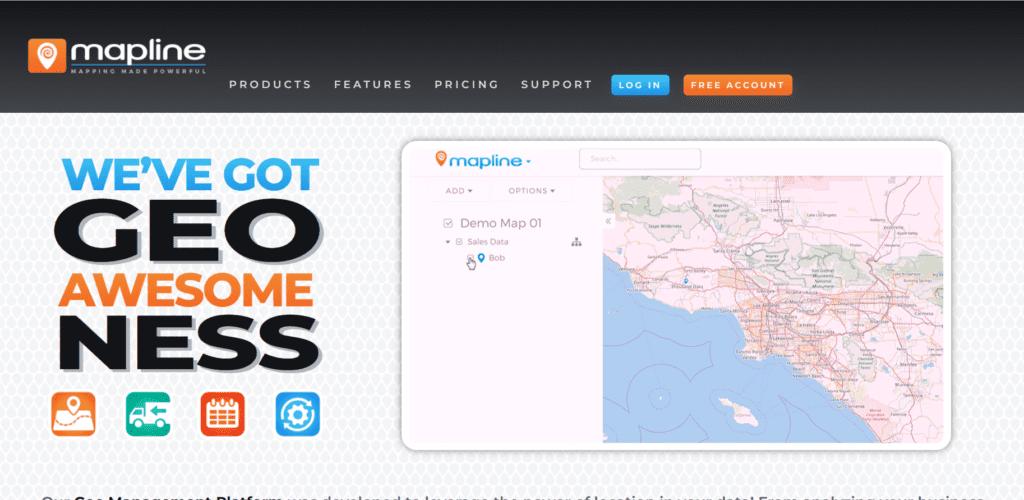 Leverage the power of location in your data with Mapline's Geo Management Suite! Visualize your data with Geo Analytics. See exactly how well your business is doing with insightful maps, optimized routes, and business analytics of unsurpassed intelligence or leverage Mapline's curated demographics and enhance your data even further. Maybe you have drivers on the go every day? Geo Dispatch automates your daily routes.
Calculate vehicle capacity, driver schedules, location priority, and delivery timeslots, and vastly shorten your route time. Ensure nothing ever falls through the cracks, even with last-minute changes. Geo Scheduling makes it easy to optimize appointments and delivery schedules based on location. Do you have technicians in the field? Assign new appointments based on their location and availability. Are some of your visits weekly, monthly, or bi-weekly? Mapline runs trillions of calculations to find the most efficient schedule for your business. Perhaps you need all of the above? Geo Operations automates all of your workflows, integrates with your existing systems, and connects you with real-time location insights.
Streamline all of your processes and automate everything, including staff assignments, proof of delivery, or follow-up actions. Every business has location data. Mapline is the key to unlocking a treasure trove of insights that drive business decisions and set you apart from the competition. See why businesses all over the globe rave about Geo Management!
Conclusion
Delivery route planning is all about optimizing multiple routes. Depending on your deliveries, you could be looking to create optimized routes with special constraints, so the Best Route Planning & Route Optimization Software listed above could help you you to plan the best route for your service.