10 Best Conversation Intelligence Software
Conversation intelligence generally refers to software that records, transcribes, and analyzes customer and prospect conversations. The software enables sales reps, account executives, and customer success managers to gain greater insight into their conversations and learn how to improve those conversations.

What is the Best Conversation Intelligence Software?
Here are the Best conversation intelligence software to use in your Business.
1. GONG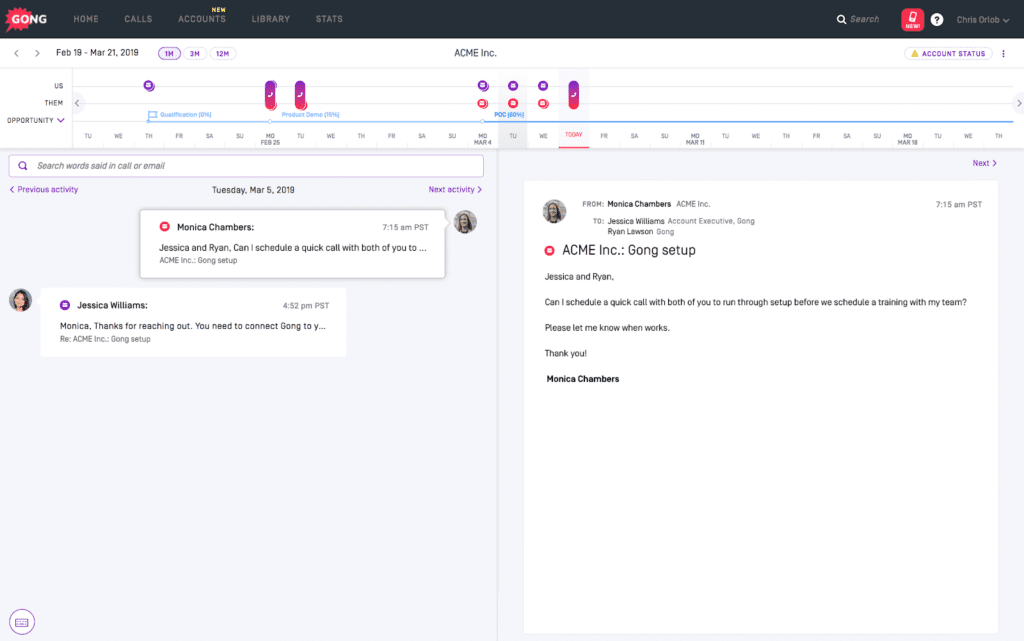 Gong analyzes your customer interactions via phone calls, emails and web conferences to give your team the insights they need, it handles the full context of your customer interactions such as: Key topics being discussed, key issues, actions Project and relationship dynamics.
It captures and analyzes front-line interactions so you can make data-backed decisions that drive revenue growth.It includes trade alerts, alerting you to risks and issues that need to be addressed before a trade fails.
Use a data-driven roadmap to keep deals on track and keep teams aligned on key numbers.Simplify pipeline management and get accurate forecasts.
You can gain a comprehensive understanding of the issues and behaviors reps experience on the phone, and gain insight into the soft and hard skills that lead to deal closing. Using Gong, managers can view team trends, spot patterns across reps, and quickly identify key areas that guide the entire team.
The software also provides a strategic plan that clearly understands how the plan really resonates with your target market and uses continuous market feedback to iterate on your plans in that area.
2. Chorus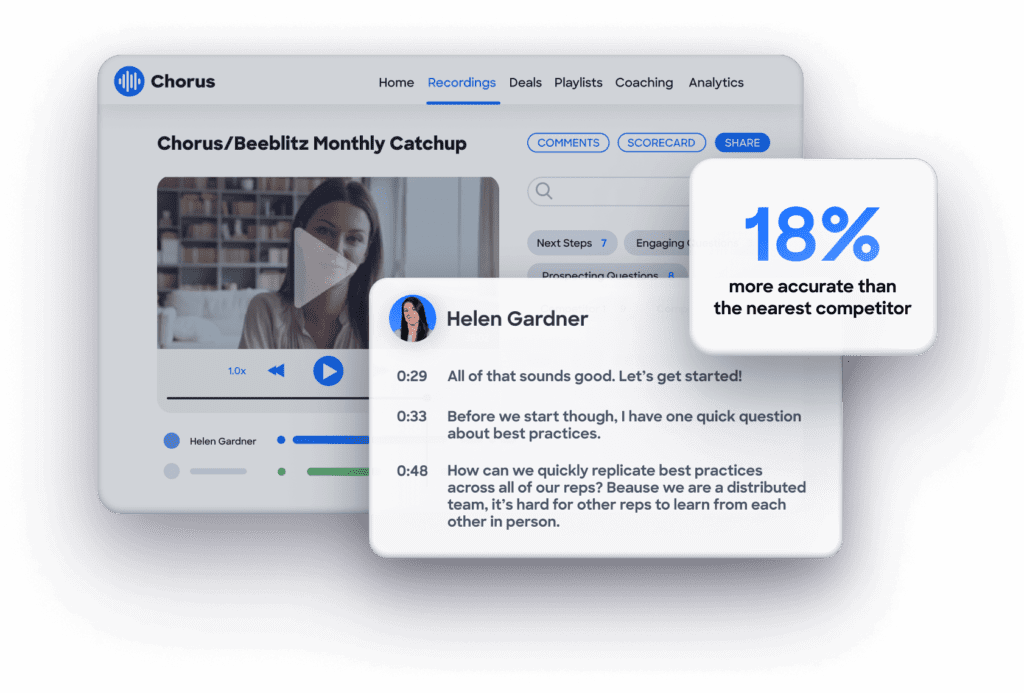 Chorus is the fastest growing conversational intelligence product offering:
Instant Access to Transcription and Insights: Helps high-performing sales teams capture and analyze all customer calls, meetings and emails to provide transparency, drive process and behavioral change, access call insights within minutes of the call and positively impact for ultimate result.
On-Boarding and sales enablement :
Identify successful behaviors that improve teamwork, reduce ramp time for new hires, encourage adherence to methods, and ultimately improve team performance.
Deal intelligence and relationship management: automatically capture and sync field service contacts and communications to your CRM for a complete view of the relationships that drive sales.Measure transaction dynamics, reduce churn, and leverage unbiased CRM data.
Market Intelligence: Capture and analyze customer sentiment to better understand trends affecting your business.
Connected intelligence : View all relationship history for each contact or company and optimize your reach based on past interactions when planning your next interaction.
3. SALESLOFT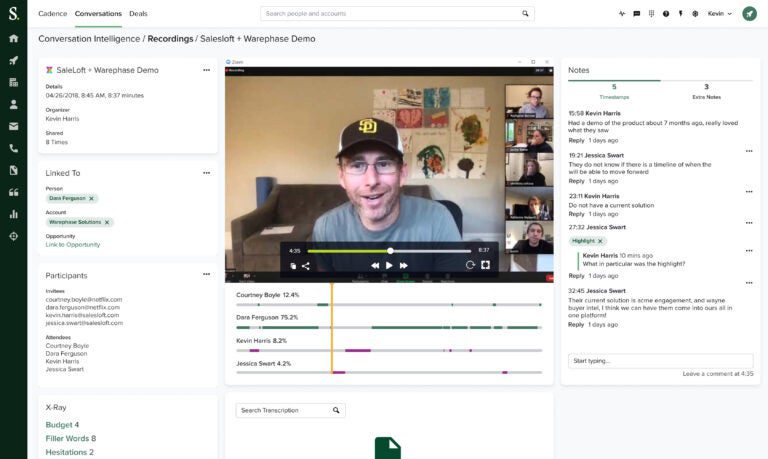 Salesloft is a sales engagement platform that helps salespeople and sales teams drive more sales.
Modern Revenue Workspace™ is where sellers perform all digital selling tasks, communicate with buyers, understand what to do next, and get the guidance and insights they need to close more deals.
With Salesloft, you can understand the impact of every sales pitch and replicate the success of high-performing salespeople across your team. Record and transcribe calls. Analyze every meeting and get a science-based sales pitch with AI-driven analytics and insights.
The software provides :
Call Discussion and Recording: Call and video recording and transcription. Your call details can be shared with your implementation team.
AI-based analytics: Understand buyer engagement in conversations and identify merchandising trends. Search transcripts for keywords and phrases.
Mentoring Playlist: Improve cold calling and objection handling, and demonstrate best practices for presentations.
Sales call tracking : Companies using Salesloft save 25% on onboarding new salespeople.
4. MINDTICKLE
MINDTICKLE is a data-driven sales enablement and readiness platform for identifying and driving successful sales force behavior. With Mindtickle, you can define the ideal rep profile, easily create programs that expand knowledge quickly, analyze how it translates into sales pitches, and improve the overall sales process.
It supports revenue teams by delivering industry-leading sales enablement, content management, conversational intelligence and coaching tools by offering : Readiness Insights, Sales Enablement, Sales Content Management, Conversational Intelligence and Sales Coaching to turn insight into performance.
This software allows you to :
Track individual and overall sales performance with proven sales practices.
Apply AI-based coaching, training, and intensive exercises.
Address the actual behavior that prevents sellers from completing transactions.
Targeted content that sales reps can access immediately when they need it.
Analyze real buyer interactions to close deals and identify skills gaps.
5. SALESKEN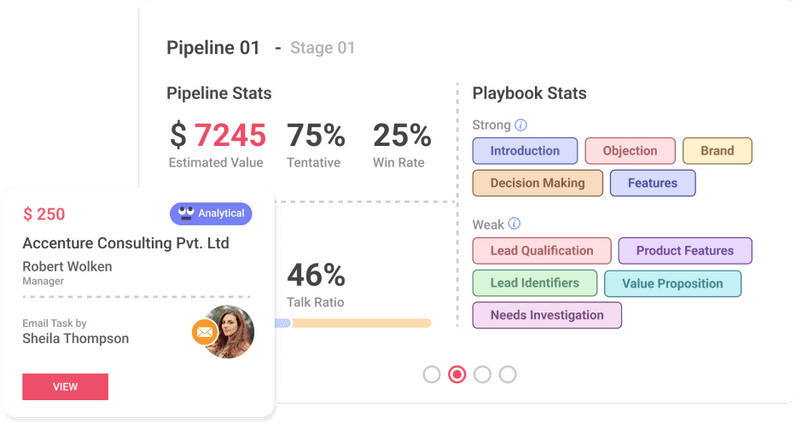 Salesken is a useful tool for sales professionals to analyze every conversation to gain insight into sales performance and help managers provide targeted coaching.
Salesken's real-time support helps agents adopt successful sales practices and guide them to success.It helps sales reps easily identify customer needs, deliver personalized and insightful sales pitches, and easily share complex product knowledge. The software helps you avoid and correct mistakes in real time and close sales as efficiently as possible.
Salesken's top features are:
Real-time cueing : Live alerts or live prompts during the call allows you to identify customer needs and adjust your tone accordingly.
Call Summarisation : With the best recording and note-taking capabilities, salesken instantly integrates with your favorite video conferencing and telephony platforms.
Post-Call analytics : You can get very detailed insights, and the search function helps you keep track of specific variables and useful information.
CRM aand QA automation : which helps automate several manual processes and repetitive tasks.
Revenue Insights & Predictability : that helps you forecast your sales revenue pipelines ahead of time.
Performance Intelligence : helps with goal-setting and maximising individual reps' as well as the team's performance.
6. WINGMAN
Wingman is an actionable conversational intelligence software that records customer calls, extends coaching, and builds repeatable sales engines.
With Wingman, you can automatically record, transcribe, and analyze every sales pitch without having to do it yourself. Close deals better, faster, and predict, act, and close deals predictably with new insights into customer interactions.
You can align product vision and GTM campaigns across your organization by sharing insights directly from your customers.
Apply advanced filters to your calls and see meaningful patterns emerge.

Features of this tool :

CALL LIBRARY: Use it for faster mentoring, DIY onboarding, and timely notifications.
Call Summary: Gain insights into your sales calls, assess your discovery skills, and increase sales productivity without spending hours on the phone.
DEAL CENTRAL: Increase risk trading, push more to the finish line, and build confidence in your pipeline.
GAME BAPES: Accelerates onboarding, encourages peer learningand improve sales, marketing and product alignment.
It also includes Battle cards and call scorecards that create feedback loops between reps and sales managers.
7. REVENUE
Revenue is a complete RevOps platform for conversational guidance , sales engagement, and real-time call insights and analytics to help you reduce cost of sales and increase productivity and predictability per rep.

Revenue gives you:
Real-time conversational guidance that helps reps exceed quotas by aligning with buyers at key sales moments.
Scale coaching to surface uncovers top reps behaviors, strategies, and techniques, then notifies them when they need or request guidance .
A library of guideable moments and conversational intelligence insights.
A dynamic sales cadence for phone calls, text messages, emails and videos.
Average Handle time to ensure your leads are connected within minutes.
Pipeline predictive analytics controls the actions sales reps must take to win business.
However, Revenue is the only solution that correlates sales actions to opportunities, revenue, and virtually every other sales outcome.
8. OUTREACH
Outreach is a a sales execution platform powered by AI-driven insights that helps you increase revenue, consolidate tools, and reduce sales execution risk. It is the only solution provider that integrates sales engagement, conversational intelligence and revenue intelligence into one platform.
The software helps sales organizations automate sales engagement and act on sales intelligence to improve efficiency, predictability and growth. With simplified, automated prospecting workflows and successful sales playbooks, salesforce can build more pipelines and optimize success.
Outreach turns information into action to improve execution at every stage of the sales cycle, from prospecting to deal management to forecasting.
Using Outreach gives you the opportunity to:
Streamline pipeline generation and seller success across your organization by streamlining and automating workflows.
Gain a clear view of customer interactions, trends and overall business health.
Reduce risk early and save time, and keep deals on track by automating and the way reps track meeting notes and action items.
Fix deal risks and prioritize actions. With automated, transparent pipeline analytics and forecast modeling.
9. BALTO
Balto is a sales acceleration software and real-time guidance platform that extends great conversations to your entire organization.Balto consists of two components: the agent app and the cloud app, it's the best way to increase conversions, provide a great customer experience, gather more information and reduce ramp times by providing best practices, objection responses and the most effective call scripts at your agent's fingertips .
In addition, the solution can provide approved language in real time during the call, helping the agent to correct errors immediately. You'll also receive automatic reminders of coachable moments, join the call right away, and give your agents the guidance they need to save call time.
With this tool, you can automatically notify managers about the situation through real-time transcription.Balto's artificial intelligence automatically analyzes each conversation and provides the data in reports.
It allows you to visualize agent performance and see who is following best practices or deviating from scripts. You can use Balto's script designer to tell Balto how to guide agents. Easily customize the phrases, notifications and reminders you'd like Balto to show agents, and when to show them.
Balto integrates with over 50 softphones and directly embeds within major CCaaS and UCaaS systems for easy agent workflows and lightning-fast time to value.
10. ALLEGO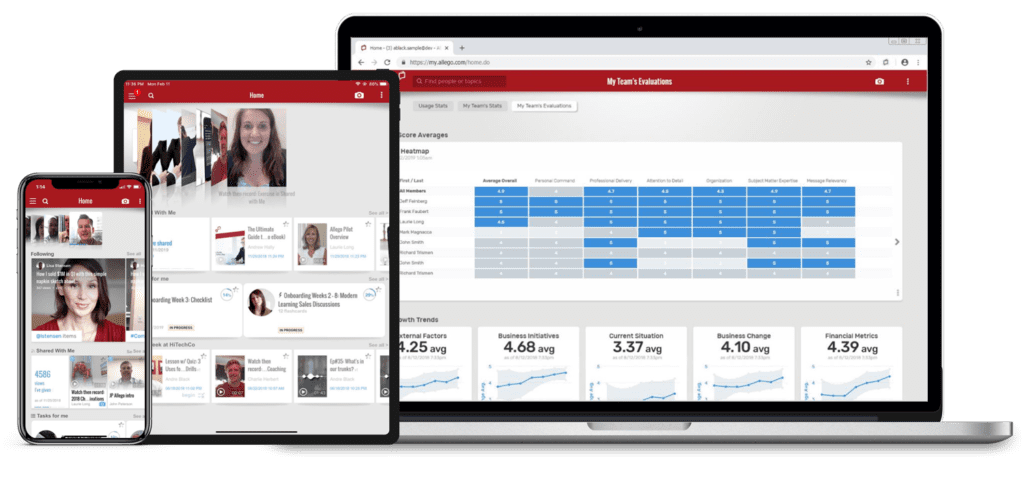 ALLEGO represents the next era of sales enablement, their all-in-one rep-centric platform ensures salespeople have the skills, knowledge and content they need to optimize team success in the virtual world.
With Allego Conversation Intelligence, you can:
Capture conversations by :
Analyzing and understanding d the reality of every sales pitch, presentation and meeting.
Finding , listening , tagging and sharing e key moments to see exactly what works and what doesn't.
Saving sellers time with automated notes and simplified CRM entry.
Coach and create top performers by :
Creating automated call notifications for email and Slack.
Analyzing and sharing important call moments.
Getting instant access to expert coaches.
Close more deal by :
Achieving sales forecasts and understand every potential engagement with deal coaching.
Identifying and replicating best behaviors with dashboards that highlight individual and team call performance analysis.
Conclusion
Before we end this article let us give you some tips to perfectly choose the best conversation intelligence software :
Identify your target audience before deploying conversational AI, each new implementation of the technology will align with your goals.
Find conversational intelligence solutions that work with the tech stack you already use. Integration should be a key factor.
Check out the after-sales support provided by Dialogue Intelligence, choose a SOC2 compliant solution to keep your data safe.
Click here to Find more Best Software and Programs