10 Best Audit Management Software
Audit management provides the foundation for reliable audit by providing simple, measurable steps to achieve specific test objectives. Documenting these audit management procedures allows auditors to fully understand ongoing activities without confusion.

Audit management software ensures that organizations implement board-approved audit policies. It also helps streamline and organize the workflow and collaborative process of preparing for an audit.
Here's a list of the Best Audit Management Software :

1. AUDITBOARD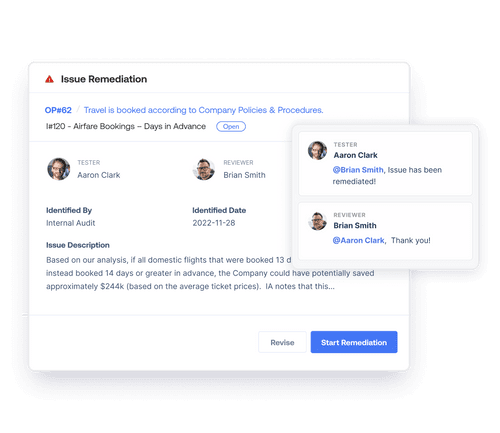 Auditboard is the leading cloud-based platform that transforms audit, risk, ESG and compliance management. More than 35% of Fortune 500 companies use AuditBoard to drive business forward with greater clarity and agility.
AuditBoard is leading a movement to transform the risk profession, closing the resilience gap and elevating audit, risk and compliance teams to positions of more strategic influence within their organisations. It integrates audit, risk, ESG and compliance to support strategic decision-making and enhance organizational resilience.
With this software you can:
Expand the Frontline: Engaging teams and stakeholders with the scope of existing and emerging risks and positioning them for greater impact across the organization.
Increase Team Impact: Empower your teams to be more efficient and impactful by eliminating routine steps, uncovering insights and focusing on activities that matter.
Connect Risk Insights: Integrate team insights to provide a true enterprise view of risk, allowing you to make risk/value decisions across teams and data sources.
Manage cross-framework compliance, including SOC, ISO, NIST, PCI, Streamline ESG program management and ensure data is audit-ready, Break silos and scale third-party risk management to meet business needs and more.
2. WORKIVA
Workiva is a purpose-built technology solutions streamline processes, connect data and teams, and ensure consistency, all in a governed, secure, auditable cloud platform. It simplifies the complexities of reporting and compliance. Discover the open, smart and intuitive way to work.
It features :
Connectivity: Along with 60+ pre-built connectors, it provides extensive coverage for applications through APIs and proprietary systems.
Data Transparency: Workiva's drag-and-drop functionality lets you explore and create datasets large and small without a data science degree. Combine financial data with ESG or other data types. Preserve lineage wherever data transformations are used.
Trusted Insights:The platform automates tedious manual operations such as collecting data, updating figures and narratives, assigning tasks, managing approvals, and more. Drill down into your reports faster. Spend less time cluttering, more strategy.
SELF-DRIVING Work : Workiva automates everyday data reporting tasks, Whether it's a template for sharing data with your CRM or a connector that sends updates to Slack.
3. LAIKA
LAIKA is the central platform for building and automating your information security compliance program. Implement controls, manage audits, answer security questionnaires, and ensure ongoing compliance.
The main features of the platform are:
Integrated Auditing: Deliver differentiated audit reports 60% faster through a seamless in-app experience.
Compliance Implementation: Quickly implement a customized compliance program with easy onboarding, roadmap and action points, guiding the implementation of controls, policy templates, and editors.
Continuous Compliance: Build trust by maintaining certification compliance for integrations and APIs, monitoring and alerting, supplier management, onboarding and offboarding, security training, and penetration testing.
4. FASTPATH
Fastpath is an intuitive cloud-based platform enables you to manage compliant access control and identity management in multi-site and multi-application environments from one place.
Through this platform, you can get:
Complete Identity Security: Fastpath efficiently and cost-effectively discovers, manages, and secures identities across the organization. Extensive connectivity, rich user context data and customizable workflows make it easy to manage all identities and access, continuously monitor and respond to changes.
Cross-Application Access Control: Fastpath analyzes access risks across applications by user, role, domain, or permission, from the enterprise level to the deepest security level. Whether you need to manage Separation of Duties (SOD) conflicts or conduct data access risk analysis, Fastpath can provide early warning of potential issues and help avoid the cost and hassle of control failures, fraud or data breaches.
Automated certification:Track who has access to your business-critical applications with Fastpath's authentication. Persistent scheduling combined with full and incremental scan options and reminder settings means you can monitor continuously without your intervention.
Change Tracking: With detailed analysis, you can track changes to transactions and master data, including who made the change and the before/after values. Keep everything under control and get on with business.
The software also features :
Unparalleled Integration: Out of the box, Fastpath works in multi-application and custom software environments to provide visibility into security risks.
Frictionless automation:Effortlessly automate processes such as onboarding, testing and evidence checking to continuously identify, quantify and eliminate risks.
5. 6CLICKS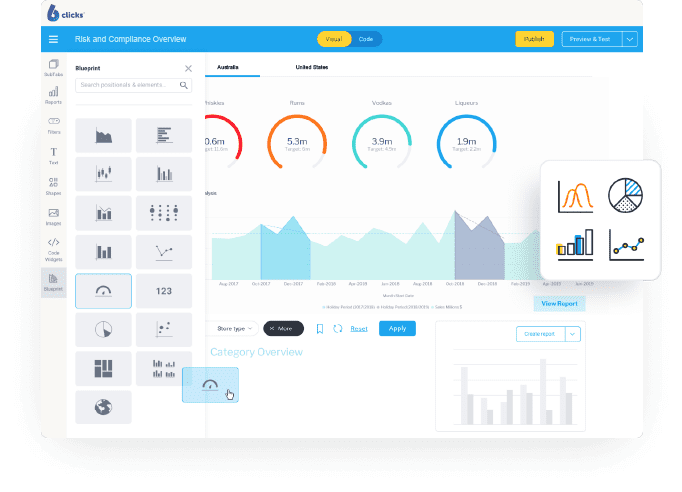 6clicks one of the best Best Audit Management Software, is an end-to-end solution for understanding compliance requirements, managing internal controls, defining ideal compliance/audit processes and workflows, automating manual tasks, and monitoring/reporting compliance status reports. It is the leading GRC software platform for risk management and ISO 27001, PCI-DSS, NIST CSF compliance.
6clicks's key features are :
Risk Management and Risk Register: Manage the entire risk lifecycle, from risk review, risk treatment plan, risk assessment, risk register, risk matrix report, to CEO and CEO reporting and analysis.
Supplier Risk Assessment: Import and manage your suppliers, conduct questionnaire-based supplier assessments throughout your supply chain, and automate risk and issue remediation.
Compliance: Determine your obligations, define and manage controls and related responsibilities, and perform compliance mapping of relevant laws and regulations.
6. MetricStream
Metricsteam Enables you to drive an agile internal audit program that is aligned with business goals and prepared for multidimensional risk, while maintaining the trust of all stakeholders. Advanced audit methodologies leverage next-generation technologies such as artificial intelligence to dramatically reduce the time it takes to sort through data to uncover insights. Internal Audit Management is designed to streamline processes, increase productivity and streamline opportunities to accelerate business performance.
The platform allows you to create agility and cross-team collaboration to optimize audit productivity and allocate resources based on highest risk impact, and gain insight into potential opportunities and areas of improvement through a systematic problem-solving process.
The benefits are many, let's take a look at some of the best:
Systematic and effective management: Define and maintain audit domains, including auditable entities and shared risk libraries.
Effective risk assessment and analysis: Document, manage and assess risks across the enterprise using a centralized risk framework. Gain insight into risks associated with auditable entities and historical audit history with audit and risk advisor reports.
Better collaboration between resources: Create dynamic audit plans with clear goals and scope, and use the resource scheduler to assign auditors based on skills/availability and allow multiple auditors to collaborate on an overall audit plan.
Simplified Audit Resources: Use the product's powerful project and resource planner and profile management tools to store auditor profiles, review resource availability and conflicts, and assign the right people to audit projects.
Structured Audit Field Investigation and Execution: Capture findings, detailed observations, and recommendations in a workfile in a predefined format.
7. Benchmark ESG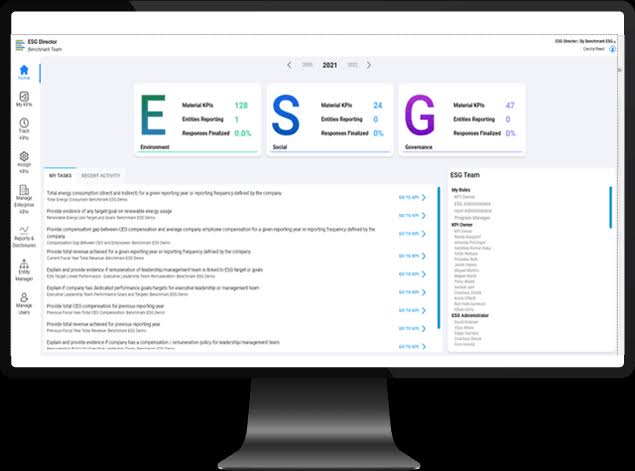 Benchmark ESG provides industry-leading digital software solutions for managing operational risk and compliance, sustainability, product stewardship and responsible sourcing in complex global operations. With their ESG data management and reporting software, you can easily compile, analyze and report investment-grade data across your organization according to major global frameworks and standards.
Here are some proposed solutions:
EHS: their EHS management software is easy-to-use, powerful and highly configurable to meet the needs of the EHS frontline and growing organizational needs. With integrated environmental, health and safety software, Benchmark ESG's solutions improve employee well-being, simplify compliance and reporting, improve sustainability and improve program performance.
ESG KPI Tracking: By seamlessly connecting systems and teams across the organization, ESG software solutions enable you to effectively respond to any ESG disclosure and reporting request and demonstrate your value to investors and stakeholders with complete, timely, verifiable data.
Sustainability Improvement : their advanced management software can help improve your sustainability management efforts in measurable ways. It gives you the tools you'll need to identify improvement opportunities, minimize your environmental impact, and establish internal best practices to deliver real sustainability results.

8. Strike Graph
Strike Graph is a platform that helps you create scalable security and compliance programs that inspire confidence at every stage of growth. Achieve SOC 2, ISO 27001, HIPAA, and PCI DSS compliance certification quickly and easily.
The platform features :
Risk Score: Risk Score guides you through 40 common risk profiles to assess vulnerabilities.
Audit Control Library : more than 300 audited controls make compliance quick and easy.
AI-powered safety questionnaire tool: their AI response engine uses your existing controls to automatically fill out security questionnaires.
System description engine: Build your system narrative with speech templates at your fingertips.
Compliance Dashboard: Give leadership a clear view of your compliance program and everyday users a basic picture of risks, controls, and evidence.
Evidence Archive: Automatically collect evidence or assign ownership to appropriate team members.
Penetration testing :Secure your system by proactively identifying and eliminating risks with Strike Graph's pen testing services.
Strike Graph simplifies security compliance by tailoring the process to your company's specific needs.
9. Intelex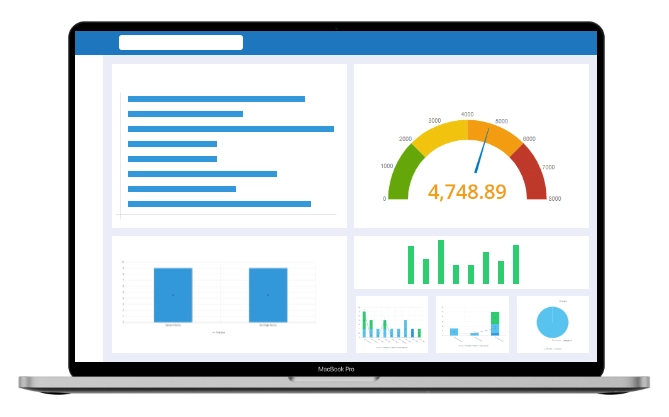 Intelex is an Audit management software that simplifies compliance and ensures your organization is always prepared for internal or external audits. You can streamline EHSQ audits by simplifying compliance across all operating jurisdictions, centralizing records and being "always audit ready," and standard forms, checklists, and documents.
Let's see some of its key features :
Flexible scheduling : Instantly capture audit details at source using a desktop or mobile device, easily initiate one-time audits or schedule recurring audits, then manage across multiple corporate locations.
Workflow automation: Automate data collection to trigger audit workflows, reports, and stakeholder notifications. Create detailed exam forms, checklists, and mandatory documentation to ensure the accuracy and completeness of exam data.
Tracking Anything, Anywhere: Increase audit productivity with a single online system to track key milestones and manage stakeholder engagement across multiple company locations.
In addition to this, with this software you can :
Streamline the collection of data and capture the evidence required to generate insights and get answers.
Reduce the administrative burden of compliance and EHS program management.
Simplify data analysis and manage follow-up tasks to correct, prevent and comply.
Integrated document control manages all audit-related records and documents to simplify record keeping, task workflow and approvals while comprehensive audit logs ensure your organization is always audit-ready.
Generate quality audit reports with a just few clicks of your mouse.
10. MasterControl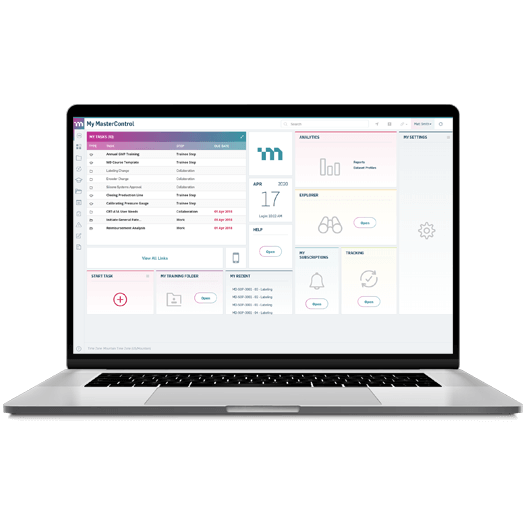 MasterControl is cloud-based for quality, compliance andProduction management software for life sciences and other regulated industries. MasterControl Platform Helps companies digitize and automate and connect key processes in the regulated product development lifecycle.
You and your team can benefit from the software's advantages:
Part of the connection platform:The audit module itself is connected to other parts of qualityManagement System (QMS), i. H. You can directly start a massevents in modules or connect to other modules to retrieve documentsAnd review training records.
Automated Planning: Risk-Based Audits of SuppliersMasterControl Risk and MasterControl Supplier use their audits Calendar to avoid scheduling conflicts.
Audit from anywhere: Conduct an audit completely offline, write up your observations, scope, summary and conclusions, then upload your audit report without needing to reenter information.
Let's see now some of the features :
Guest connection : Avoid back-and-forth email exchanges and let reviewers type directlyRespond to your MasterControl instance with a disposable account.
Auditor's response : Allows the audited entity to respond to audit findings through responses, action itemsForms or other high-quality event forms can be directly onlinetest scores.
Exam templates : Predefine criteria and conditions for each type of audit and create a templates available for each audit performed.
Examination standard text :By including specific text such asRegulatory requirements that examiners can insert immediately.
Conclusion :
Frequent management audits can have a positive impact on an organization, impacting employee performance and customer satisfaction. Some of the key benefits to consider when deciding whether to conduct a management audit are: Improves resource utilization, increases management team effectiveness, and enables business leaders to make more effective decisions.