10 Best Environmental, Social, and Governance (ESG) Reporting Software
1. AUDITBOARD
AuditBoard's connected risk platform is designed to elevate your teams, engage the front lines of your business, and help you leverage risk as a strategic driver. At the heart of our connected risk architecture is a unified data core that centralizes your organization's risks, controls, policies, frameworks, issues, and more.

The core is surrounded by a set of platform capabilities, including collaboration, automation, a workflow engine, business intelligence, and an extensible integration layer. Together, AuditBoard's unified core and platform capabilities set a foundation for our applications – RiskOversight, CrossComply, OpsAudit, SOXHUB, TPRM, and ESG.
2. MITRATECH
Mitratech is a trusted, global technology partner empowering corporate legal, risk & compliance, and HR professionals to maximize productivity, control expense, and mitigate risk by deepening operational alignment, and increasing collaboration & visibility across their organization.
With Mitratech's proven portfolio of end-to-end solutions, organizations worldwide are able to proactively identify and implement best practices and standardize processes across all lines of business to manage risk and ensure business continuity.
Mitratech partners with more than 1,500 companies worldwide, from small nimble teams needing tech-enablement, to the largest organizations in the world trying to centralize, streamline and collaborate across their legal and risk functions. Mitratech's user base spans more than 160 countries.
3. AMINDIS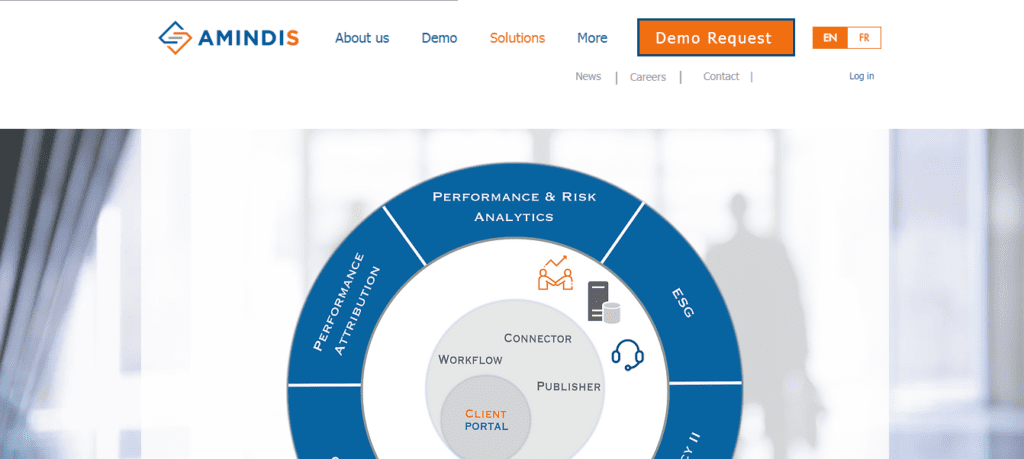 AMINDIS is a fintech with 20 years experience developing solutions towards the asset management and insurance industry. AMINDIS provides state-of-the-art in performance, performance attribution, risk and ESG analysis.
The solutions AM-DIS and IN-DIS include tools to assess the user roles, to design the business processes that must be served and to define appropriate SLAs to meet these business needs.
4. LOGICGATE
LogicGate, creator of the Risk Cloud™ platform and Risk Cloud Exchange (RCX), is helping redefine the way businesses think about risk. Through the proactive management of governance, risk and compliance (GRC) processes, hundreds of customers rely on Risk Cloud to improve organizational efficiency, reduce costs and enable revenue generation and retention. In addition to earning recognition for its technology innovation from Gartner and G2, the global company has also received accolades from Crain's Chicago Business, Built-In Chicago and the Chicago Tribune for its company culture.
"LogicGate is trusted to manage the world's leading enterprises' risk management processes. It's imperative those complex, flexible workflows connect to the tools risk management teams, and other critical business units, use every day," said LogicGate Chief Product Officer, Jon Siegler. "Our customers are using so many tools to defend their organizations—which is a step in the right direction from just using spreadsheets—and we're improving their experience by making easy-to-use, purpose-built integrations for better visibility into the complete picture of their risk mitigation and management."
5. ONSPRING
Onspring provides intelligent, process automation & real-time reporting through flexible, no-code, SaaS solutions for enterprise operations. Though our acumen is technology, we create business automation solutions with a people-first approach, which results in simplified workflows, process transparency, and elimination of manual, repetitive tasks.
Another definition. onspring is a cloud-based, no-code software for reporting, analysis, process management, and coordination. Our connected solutions for Governance, Risk & Compliance, ITSM, and Business Operations create efficiencies for your teams and put key metrics at your fingertips anytime and everywhere.
Central project portal allows teams to collaborate on internal projects, client deliverables, and company initiatives, with the ability to track project status, documentation, milestones, ownership, and more.
6. BENCHMARK DIGITAL ESG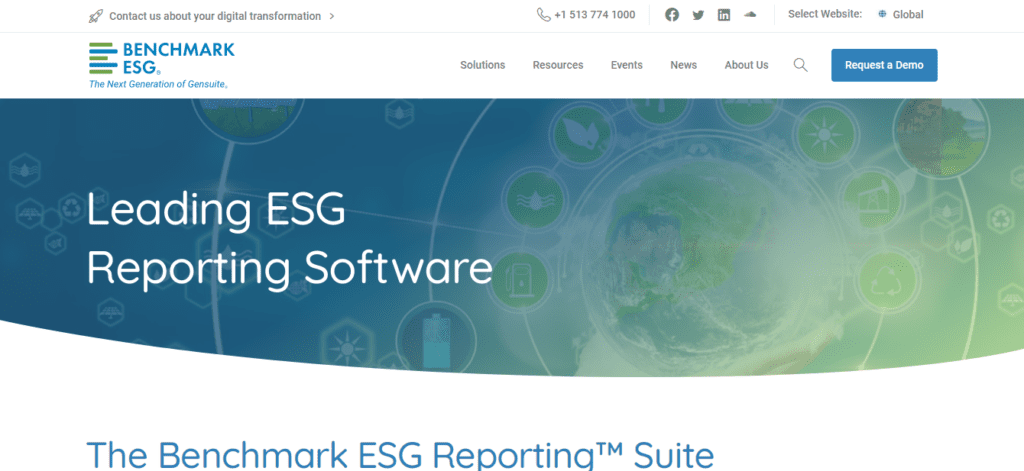 Benchmark ESG™ enables companies to implement robust cross-functional Environmental, Social, and Governance (ESG) digital solutions – locally, globally and across diverse operating profiles.
Our comprehensive cloud-based software suite features intuitive, best-practice process functionality, flexible configurations, and powerful extensions. For over two decades and through Year 2020 under the Gensuite® brand, we've helped companies to manage safe & sustainable operations worldwide, with a focus on fast return on investment (ROI), service excellence and continuous innovation.  Join over 1,500,000 users that trust Benchmark ESG™ with their software system needs for operational risk and compliance, EHS, sustainability, product stewardship and responsible sourcing.
7. BUILD ESG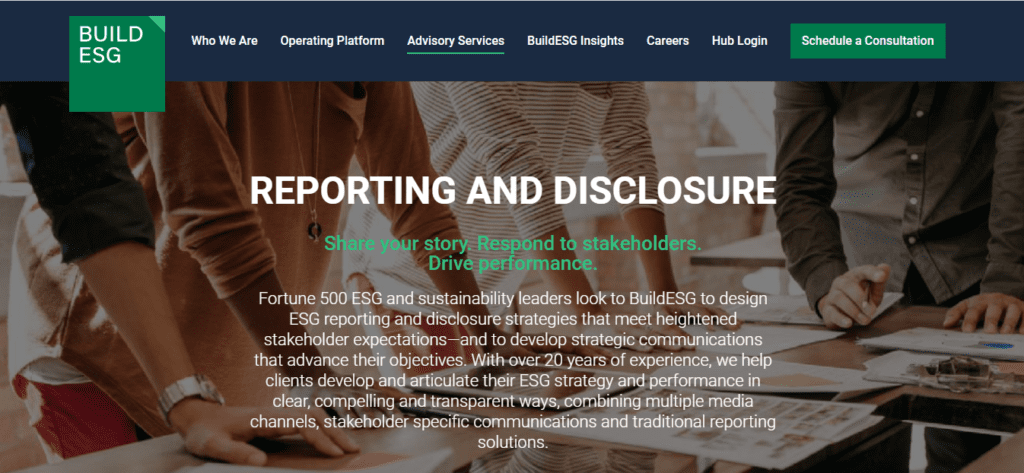 BuildESG is a member-based ESG intelligence firm the provides insights, digital resources and reporting management to the Fortune 500, alternative investors and Small- and Medium-size businesses. BuildESG's 50-person team (including its subsidiaries) serves clients across industries, with certain expertise in the financial services, private equity and energy and power sectors.
BuildESG has offices in New York and Greenwich, CT. BuildESG is a certified minority-owned company and is the parent company of BuzzWord Inc. and Essense Partners. 
8. Citation Compliance
Citation Compliance offers EHS and ESG Cloud-based SaaS platform solutions powered by artificial intelligence to help you tackle your EHS & ESG challenges with ease – Empowering EHS Teams for Success.
With 25+ years of domain expertise, Citation's team has provided clients with the tools to consistently identify applicable legal obligations, assign tasks to those obligations, stay updated to changes, remain compliant, maintain a safe workplace, streamline operations, drive sustainability initiatives, and prioritize ESG metrics.
Citation's comprehensive and secure Cloud-based SaaS platforms serve millions of end users globally and enjoys the industry's highest levels of client satisfaction. Experience for yourself how the right solution solves complex EHS challenges in simple ways.
9. CORITY
Cority, the most trusted environmental, health, safety, and quality (EHSQ) software provider, today announced the acquisition of Enviance. Based in Carlsbad, California, Enviance is a leader in environmental, chemical management, sustainability and ergonomics software leveraging a SaaS approach to deliver its EHS platform anywhere, anytime, and enterprise-wide. Enviance's software is used by over 400 organizations across 30 industries.
Cority is a recognized best-in-class EHSQ SaaS platform with a growing global customer base. Enviance's SaaS solution brings additional breadth and depth of complementary capabilities to Cority, further strengthening the offering for the shared portfolio of clients. Cority's team of 250 experts serve more than 800 clients in 70 countries, supporting millions of end users. Unearthing the root cause and key contributors relies on clean data that can be modeled in real-time using intelligent models such as workplace safety software. The company enjoys the industry's highest levels of client satisfaction and has received many awards for its strong employee culture and outstanding business performance.
10. DATAMARAN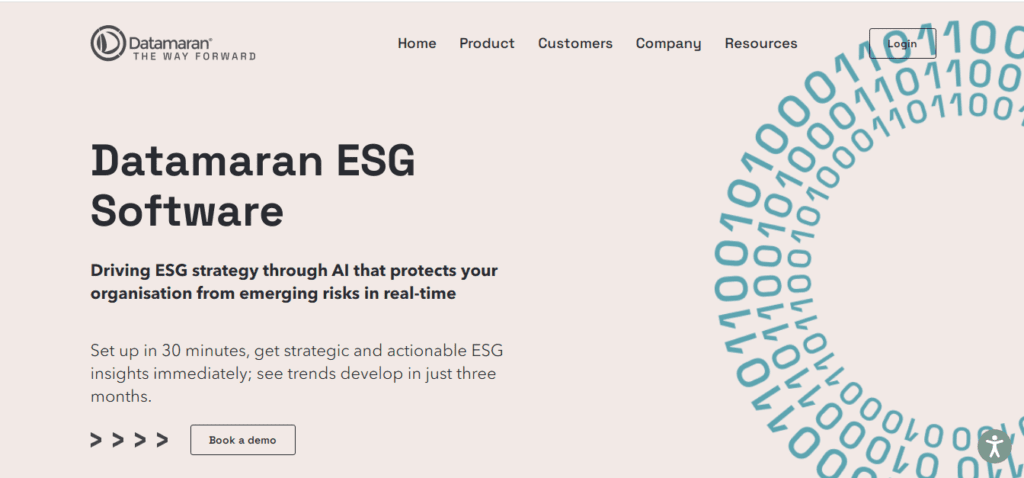 Datamaran's patented technology helps corporate leaders understand, anticipate, and respond to the shifting global landscape – with a digital, data-backed, and systematic process to integrate material risks and opportunities into strategy. Identify, prioritize, and monitor over 400 external risk factors, including ESG, innovation and technology, and geopolitical issues, on an ongoing basis – in-house, at any time.
The world's only data-driven platform to identify and monitor material ESG risks and opportunities.
Companies worldwide use Datamaran to:
– Identify the current or future legislation and public opinion most relevant to their business
– Benchmark against peers to reveal where they lead, and what to improve
– Monitor and get automatic alerts for emerging material risks and opportunities