10 Best Artificial Intelligence (AI) Chatbots
Nowadays, AI-powered chatbots are popular and heavily used in various domains. For instance, chatbots play an increasingly significant role in customer service and are gradually replacing a large percentage of human agents.

Furthermore, conversational AI has also become increasingly critical in the healthcare industry. Virtual assistance powered by AI in healthcare also helps to record patients' symptoms and give suggestions to take medications on time.
Moreover, chatbots and software powered by conversational AI also benefit education. In addition to the communication function, the technology can automatically analyze the strengths and weaknesses of specific students. As a result, chatbots and AI-based conversational software are able to personalize study suggestions for students. Especially during the pandemic, chatbots and virtual teaching assistants made great contributions to education.
AI chatbot is a piece of software that simulates conversations with users using natural language processing (NLP). It operates through messaging applications and uses machine learning to provide a human-like experience.
Artificial intelligence chatbots can help you increase sales, improve customer satisfaction, and save you time. You can also use them to analyze complaints, reviews, and feedback from a variety of touchpoints.
They provide human-like help without the need to forward your site's visitor to the representative until a complex issue comes up. On top of that, AI bots understand user intent and learn with time about different ways to phrase questions to find the best answers for your clients.Here we present to you 10 of the best.
What are the Best AI Chatbots ?
Below our pick of the top AI Chatbots tools to help you communicate with your clients.
1. OpenAI's ChatGPT
Number one of the Best Artificial Intelligence (AI) Chatbots. Notice that you don't need to understand how ChatGPT works on a technical level to use it. But for some of our readers, this information might be insightful so I'm sharing it here—technical terms alert!
AI writing models, such as ChatGPT, work by using machine learning algorithms to analyze and learn from a large dataset of human-generated text. This dataset is used to train the model on the patterns and structures of the language used in the text, as well as the meanings and relationships between words and phrases.
Once the model has been trained, it can be used to generate new text by predicting the most likely words or phrases to follow a given prompt or input. The model uses the patterns and structures it has learned from the training data to guide its predictions and generate text that is similar in style and structure to the training data.
There are different techniques that can be used to build AI writing models, including natural language processing (NLP) and machine learning algorithms such as neural networks.
NLP focuses on the interaction between computers and human language. It involves techniques for analyzing, understanding, and generating natural language.
A neural network is a machine learning algorithm that is inspired by the structure and function of the human brain. A neural network is capable of learning and making predictions based on large datasets.
On a low level, these machine learning models are just a whole bunch of code and mathematics similar to any other computer program. But these models are coded in a way that they can improve themselves.
AI writing models can be used to generate a wide range of written content, including articles, stories, and even poetry. The state of the art in AI writing at the moment is that the tools are impressive but still need human intervention.
2. Aivo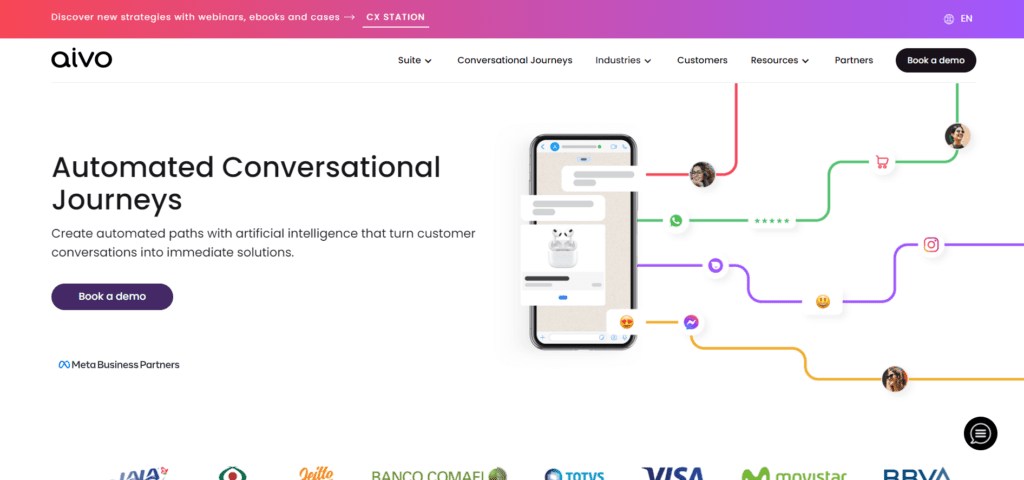 Aivo Suite helps companies automate interactions with customers using artificial conversational intelligence. By connecting Aivo Suite to your current flows and CX stack, you'll take your customers through automated conversational journeys that deliver instant, personalized solutions to their queries. Aivo's conversational AI Suite includes:
-AgentBot: Conversational AI Platform that helps companies design customer experiences, automate and solve queries with conversational AI. Available 24/7 across all channels.
– Engage: Tool to send proactive notifications on WhatsApp Business simply and without coding. Send relevant offers, notifications, and capture new business.
– Live: Let your agents jump in the conversation whenever necessary and empower them with a live chat platform with an AI-Copilot. Consolidate all questions from all your channels on one single platform.
– Studio: Drive hyper-connectivity between Aivo's platform and third-party tools and provide instant solutions. You can also enhance customer experience with these add-ons:
-Video Conversational AI: Hyper-realist video avatar with conversational artificial intelligence.
-Voice: Boost your phone support with artificial intelligence for telephone channels.
-Help: Offer an efficient self-service experience using a knowledge microsite with an AI-powered search engine. Aivo is also a Meta Business Partner and a WhatsApp Business Solution Provider (BSP) With Aivo's AI-powered Suite, you can be part of the Meta ecosystem by creating automated conversational journeys across all your channels, like WhatsApp, Facebook Messenger and Instagram.
3. inFeedo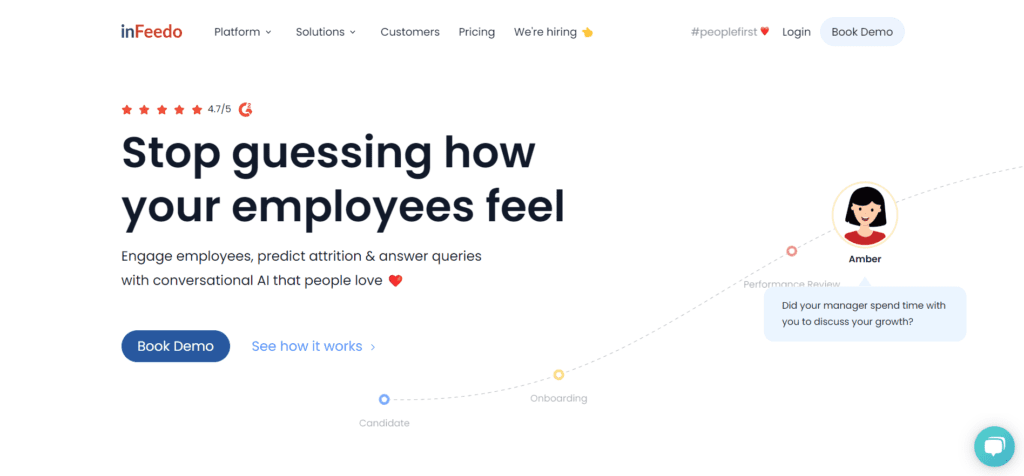 inFeedo is an employee experience platform that helps engage employees, predict attrition & answer FAQs with conversational AI .
Platform capabilities include measuring eNPS, running pulse surveys, collecting exit feedback, automate, measuring eNPS, run pulse surveys, collect exit feedback, measure hiring experiences . inFeedo can plug into your HRMS platform, external communication tools as well as Business Intelligence tools for seamless and effortless implementation.
An Early warning system- provides Implements an early warning system that continuously tracks employee behavior, to identify disengagement & alerts the right manager with automated sentiment analysis.ensuring hiring experiences and automating employee helpdesks. Also, the ability to identify people to meet, track "happiness", visualize drivers of engagement, & get AI-driven nudges to act right and act fast.
4. PARADOX Olivia
Paradox is also synonymous with Olivia, their AI assistant and flagship product named after the founder's wife. They have a straightforward aim: to cut down HR professionals' time on mundane tasks and help them focus on people-centric work instead. Olivia has many use cases for recruiting and it's as good as having a personal assistant at your disposal.
How Paradox works is that their HR chatbot Olivia converses with candidates on your company's behalf via text messages. Although it's powered by artificial intelligence, it's like chatting with a real person. In fact, the chatbot's profile picture is set to the real Olivia's photograph. You can ask Olivia to schedule interviews, screen candidates, onboard new hires, and more.
From the point of view of hiring managers and recruiters, Olivia looks like a personal assistant who asks you to configure your settings with a few taps on the mobile app. Olivia then takes it forward from there and directly converses with the candidates. You can even embed it in your 'careers' site so that when candidates are searching for a relevant job, Olivia can fetch the most relevant openings based on the candidate's experience, interests, and real-time responses. You can also use Olivia when you're hosting virtual hiring events. Olivia handles registration, candidate questions, reminders, and interview scheduling. It also has native integration for video conferencing.
5. TIDIO
Tidio Chat is a web-based live chat software which combines messages from emails, Facebook Messenger, and website chat widgets into a unified agent interface, enabling agents to deal with all customer messages at the same time, with the same tools, regardless of which channel they come in from.
Tidio Chat offers a variety of live chat options, with users able to select from chat widgets, sidebars, and dedicated chat pages, all of which can be customized. Three chat widget styles (classic, modern, and business) are available, and users can customize the popup with different colors, button positions, and editable status messages. The chat pages can also be customized with different background images and welcome messages. Users can also add a custom pre-chat survey to obtain visitors' names, phone numbers, and email addresses before a chat is started.
Tidio Chat enables users to set up a number of automations to trigger preset actions when a particular condition is fulfilled. Trigger options include a site visitor opening a new page, visiting the site for the first time, returning to the site after a previous visit, and spending a certain amount of time on a single page. The actions which can be triggered include sending chat messages or emails, and adding tags to or removing tags from customer profiles. Tidio Chat's automations are designed to recognize when customers encounter issues with logging in, form completion, or payment, and react before the customer leaves the website.
6. LAIYE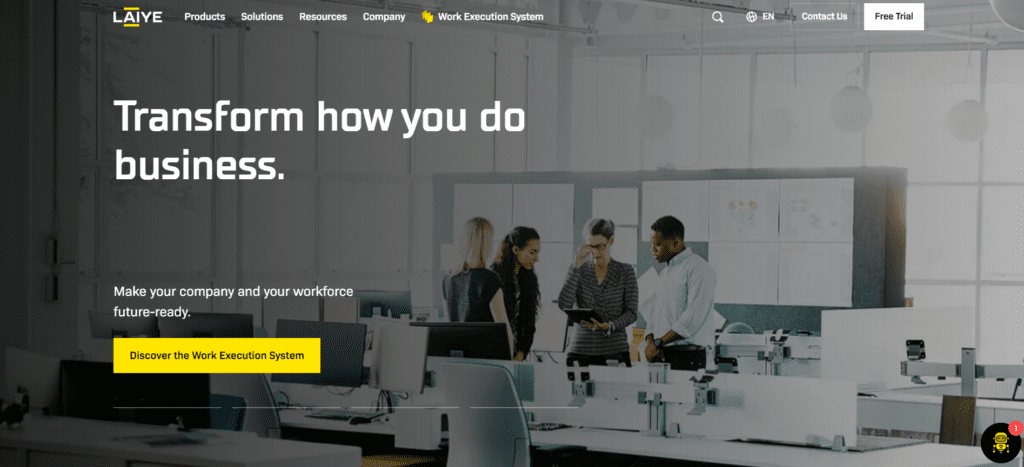 ‍Developed by Laiye, a leading RPA+AI firm, Laiye RPA is one of the few RPA solutions with advanced AI capabilities. Laiye RPA can automate manual and repetitive tasks, freeing the staff to apply their skillset and expertise on high-value and cognitively stimulating tasks. Laiye RPA is easy to grasp and can be learnt within a few hours. It comes with over 400 pre-set commands which can be used for all types of projects, including those with a series of complex processes.
Equipped with AI capabilities and OCR functionality, Laiye RPA is applicable in a wide variety of areas ranging from data entry to invoice processing. Many organisations have already adopted Laiye RPA to automate tasks in a range of sectors including Finance, Logistics, Telecommunications, Healthcare, and more.
7. Pandorabots
In Pandorabots, you can ask a question to the user and store the answer in a variable. But, you can only use that variable in the conversation itself. It is not possible to save that information to a database and use it when the user comes to your chatbot for the second time.
And this is a drawback. Because if you want to store user information permanently (for example, the email address of a user) you need to create an integration with your own database (and you probably need a developer for this).
Pandorabots has a built-in live chat, which is the most important integration of any chatbot builder.
However, there are two drawbacks with this live chat. First of all, you can only use the live chat with the webchat and landing page and not on other channels, such as Facebook Messenger and Telegram.
Secondly, you cannot automatically pass conversations to human agents. You can only use live chat when a human agent manually pauses the chatbot, which doesn't seem logical to do.
Moreover, Pandorabots provides a Github integration, which is especially useful for developers.Lastly, you can create your own webhooks using the Pandorabots API.
8. ADA
Ada helps businesses create Artificial Intelligence (AI)-enabled chatbots to streamline customer support and communication processes. It offers customization tools, which allows organizations to improve customer engagement using various interactive elements such as emojis, images, in-app video player and more.
Ada includes a chat builder module with drag-and-drop capabilities, which assists professionals with designing custom chatbots using automated replies, multimedia content and A/B testing. It offers a host of features such as compliance management, data encryption, activity tracking and more. Additionally, the predictive suggestions functionality analyses customer needs and interests to provide relevant answers and support cross-selling/upselling opportunities. Ada allows managers to gain insights into customer engagement, popular topics, conversation results and live agent interaction via analytics and reports.
It supports integration with various third-party applications including Zendesk, Salesforce, Twilio, Facebook and Twitter. Pricing is available on request and support is provided via phone, email and other online measures.
9. Botsify
Botify is the first unified suite of SEO applications that assists stakeholders at every stage of the search process, including technical SEO, content and keywords. Often referred to by customers as the "advanced version of Google Search Console", Botify provides SEO stakeholders with the data, tools and diagnostics needed to create and maintain high-quality digital resources for search engines. As a new standard in research analytics, Botify is now used by hundreds of leading international companies in various sectors including e-travel (Expedia, Luxury Retreats, Odigeo), e-commerce (Jet.com, Macy's, Farfetch, Zalando) , media (Axel Springer, Condé Nast, Refinery29), marketplaces (eBay, RetailMeNot, Monster) and digital agencies (Merkle, iProspect, GroupM).
BOTIFY – FEATURES
Automate the analysis of log files: get the log files of your server automatically inserted in a dashboard created with SEO in mind
Receive an alert to scan anomalies: receive notifications directly in your inbox as soon as scanning problems occur
Content quality: advanced content metrics such as length, uniqueness and changes.
Complete accounting of each URL: evaluate the structure and content of each page on each version of your website
Insights on real-time research: find out where your visitors come from, which devices they are using and which topics are going for the most
Website analysis: link this program to your website analysis to see how SEO changes affect user engagement
Analyze the pages "Active vs. Inactive ": easily segments pages based on who has visited in the past 30 days or not
Connect user data to any SEO indicator: find out how crawl rate and page structure are related to visits, bounce rate and more.
10. Meya
Meya is an artificial intelligence platform for building interactive AIs to be used within messaging platforms and for creating unique and personalized customer experiences. Through the system, businesses are able to take advantage of AI's power and augment their customer service agents' abilities. This would eliminate the need to add more agents to the team as companies would only need to deploy bots that aid current agents in rendering customer support. Also, Meya is capable of integrating with many applications that allow the extension of its usability. Thanks to this, businesses are able to use the platform wherever its services are needed and also utilize it for gathering related customer data, especially when it comes to customers' satisfaction levels.
The main benefits of Meya are the smart bots it can produce, its integration support that extends its capabilities, bot studio platform, and collaboration features. Here are more details:
Intelligent bots
Through Meya, businesses are able to build bots that are capable of offering interactive assistance to clients within messaging apps. Adding a bot to a company's customer service team reduces the number of agents required to provide optimal customer support. This is because organizations are able to leverage AI through the passage of control between a human and a machine, resulting in top-notch support and service rendering.
Integration capabilities
While bots built using Meya is deployable across many messaging channels, it is capable of other types of integration as well. For one, it works well with analytics platforms such as Google Analytics in order to provide insights with regards to bot interaction and usage. Also, it is able to link with natural language AIs that process user speech and then provide a structured conversational flow, allowing for a more personal and natural experience.
Bot Studio
Meya features a cloud-based platform, the Bot studio, where users do the designing, training, and hosting of their bots. All the tools required to build intelligent and interactive bots are here, including visualizer, code editor, and live debugger.
Collaboration platform
The system's admins are capable of providing access to other persons, which is a handy feature that enables team collaboration. When authorized, the particular teammate can then view the bots and even make changes to them. This way, team collaboration is supported, resulting in a more efficient and smooth process of working together instead of them being just separate individuals that maintain bots.
Conclusion
To conclude, AI chatbots are part of a growing sector. More and more companies decide to take the plunge and set up AI chatbots in their business, either to help customers or to support employees, sometimes both. At IDETA, we are convinced that the companies of tomorrow will be conversational companies, because our world is increasingly interconnected and digitized.