10 Best Artificial Intelligence AI Marketing Tools And Software
AI marketing uses artificial intelligence techniques to make automated decisions based on data collection, data analysis, and additional observations of audience or economic trends that may affect marketing efforts.

AI marketing tools can easily automate tasks such as (delivering subscriber lists, emailing customers about abandoned carts, and providing automated customer support…). And often integrates with your existing applications or platforms.
Those solutions provide digital marketers with a centralized platform to manage the vast amount of data collected.
What are the Best AI Marketing Tools And Software ?
In this post, I have compiled a list of 10 effective AI marketing tools and software reviews:
1. SEVENTH Sense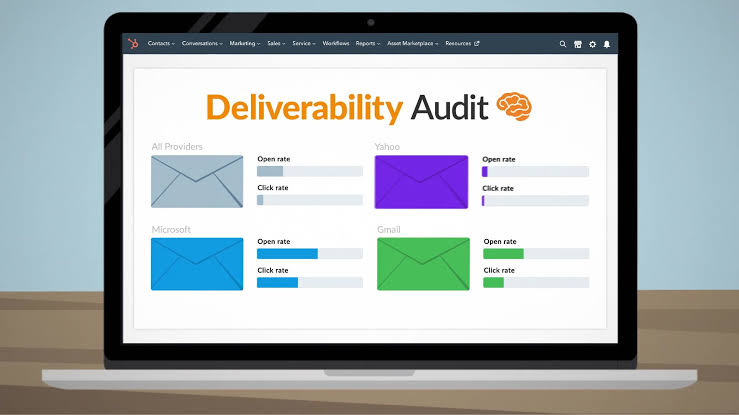 SEVENTH Sense is a AI software designed to improve maximum performance and engagement of existing email marketing programs. As the only email delivery optimization system built specifically for HubSpot and Marketo, you can use artificial intelligence to cut through the clutter while still relying on HubSpot and Marketo to deliver your emails and provide the reporting features you need.
When you use Seventh Sense's artificial intelligence to optimize and personalize email delivery times for everyone in your database, you'll see more engagement and better email marketing results.
The key features of this platform are :
Airtime optimization : True airtime personalization, emails are automatically sent to everyone at the optimal time to engage.
Email throttling: Throttling improves deliverability, allowing you to pause campaigns, make changes, and spread the load across your systems, call centers, and sales reps.
Increase Deliverability : By increasing engagement, you'll increase your sender reputation with major email providers improving overall deliverability.
Email Frequency Optimization : Customers have different needs. Automatic engagement based segmentation allows you to easily email customers at their preferred frequency.
Knowledge Transfer : Empower your sales and marketing teams to share data on when individual customers or prospects engage with your organization.
Increase Conversions : Send time/frequency optimization means happier customers, shortened sales cycles, and higher conversion rates.
2. Phrasee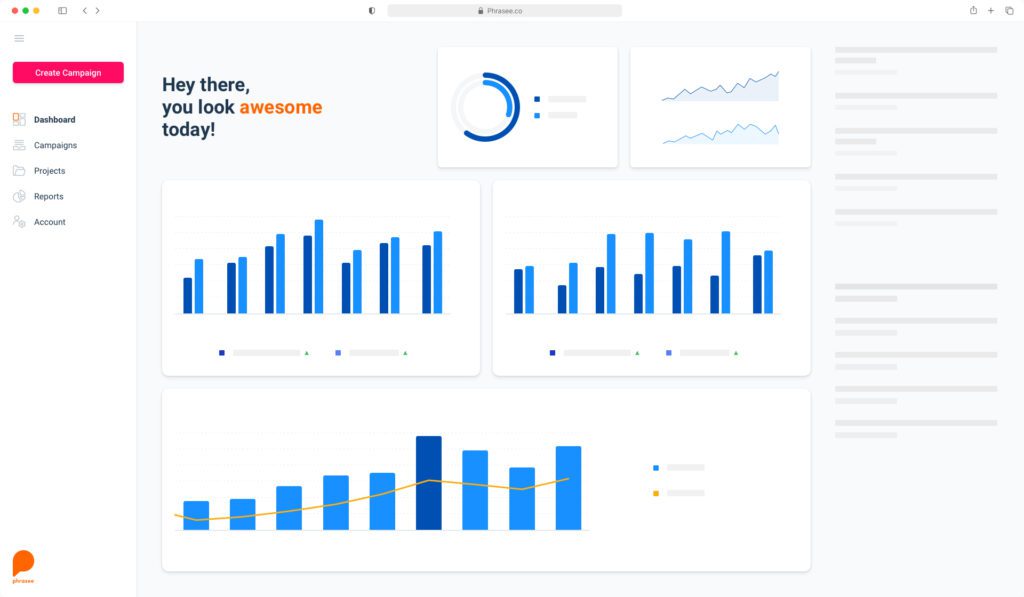 Bringing together artificial intelligence (AI), computational linguistics, and our signature customer focus, the Phrasee platform is the only tool of its kind to generate, optimize, automate, and analyze speech in real time. Every send gets smarter, delivering powerful copy seamlessly for your digital marketing campaigns.
The ssoftware has many features such as :
Natural Language Generation: Phrasee adapts language to match your brand's style, tone, audience and campaign goals. After a quick run of our proprietary NLG algorithm, you'll see creative, fluid brand language guaranteed to engage your customers and capture your brand's unique voice.
Deep Learning: Phrasee delivers a powerful brand language through our deep learning engine, which automatically learns and improves every campaign. Phrasee combines your customer data with automated experiments and marketing messages to you.
Dynamic optimization : Phrasee is the world's first technology to automate content optimization across digital channels in real time. Thanks to ongoing experimentation that happens under the radar, you get only cream-of-the-crop copy each time you press send, at every step of the customer journey.Phrasee helps you respond nimbly with a personal-feeling message that's built to engage and convert.
3. Semrush
Semrush App Center provides a collection of marketing apps that offer the widest range of marketing solutions: YouTube rank tracking, local SEO management, eCommerce keyword research, competitor ad scouting, and more. It enables your team to focus on marketing campaigns with real business impact, rather than wasting time testing and finding solutions.
With semrush you have the ability to :
Increase organic traffic with simple SEO tools and workflow: discover millions of national and local keywords, analyze each domain's backlink profile, perform a technical SEO auditAnd track your SERP position daily.
Create powerful content : Find topics that resonate with your audience, get actionable tips for creating SEO-friendly content, review and improve your content based on real-time metrics, and track brand mentions and content reach.
Reveal Competitors' Marketing Tactics : Analyze the traffic on any website and reveal your competitors' advertising strategies and get ideas for growing your market share.
Discover how to reach more prospects :Find the best keywords for every PPC campaign, monitor your competitor's ad copies and landing pages and optimize your Advertising spend (at a local level).
Build your most effective social media strategy: Schedule and post content on social media, analyze the performance of your posts and track & analyze competitor accounts.
4. Smart Writer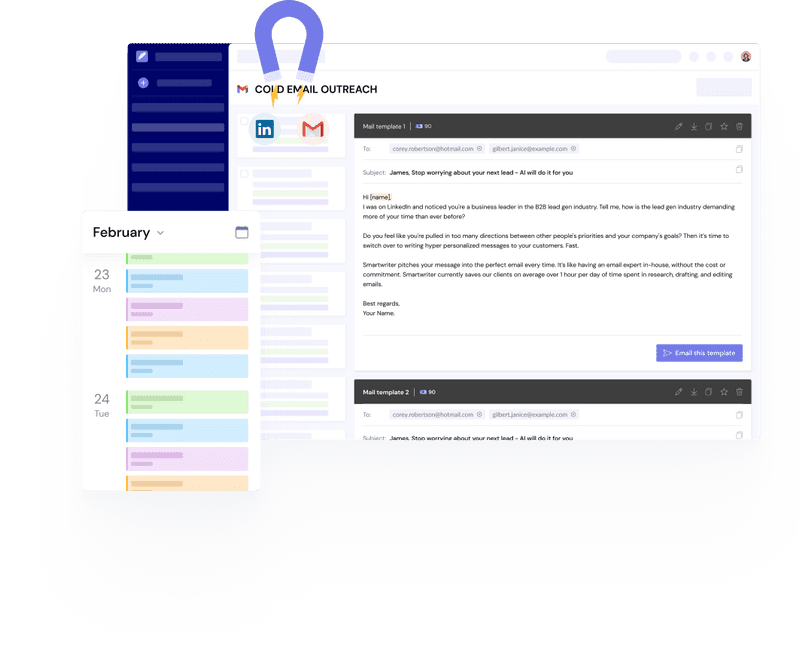 Smart writer automates your entire research and copywriting process in seconds, allowing you to send emails that can be converted into personalized messages with just one click.
With tthis software you can :
Create personalized cold emails: Create tailored emails based on your prospects' recent online activity, personalize your entire marketing campaign, and use AI to automatically compliment them on their LinkedIn posts.
Find Unlimited Leads for Any Niche: Use SmartWriter Chrome Extension to collect thousands of leads in LinkedIn Sales Navigator, create large verified lead lists in your desired niche, and schedule them automatically Personalized LinkedIn contact messages.
Unique Copy for Offline Businesses: Create Personalized Emails Based on Google and Facebook Reviews, connect with decision makers using data scattered across the web, and use emotion-switching text to book meetings with them in seconds.
Flood your calendar consistently with leads : Create unique personalised messages for your entire campaign, from the first email to follow ups, in 1 click and find verified emails of any decision maker of person in the world.
5. Optimove
Optimove is a relationship marketing hub that combines advanced customer modeling, predictive micro-segmentation, and campaign automation technologies.
The software enables marketers to maximize revenue and customer lifetime value by automatically personalizing, executing and scoring a complete system of customer data-driven interactions.
Some of its advantages are :
Discovery: Easily access unified customer data while Optimove's AI uncovers valuable engagement opportunities.
Optimization: Continuously improve your campaigns and journeys with self-optimizing algorithms and one-click recommendations.
Orchestration: Coordinate your multi-channel campaigns so each customer always receives the best message.
Attribution: Understand the impact of your CRM marketing by statistically measuring the incremental value of each customer interaction.
Optimove offers a full suite of professional services for clients looking for additional support in their customer marketing automation journey combining cutting-edge marketing skills with high-end data science, Optimove's Strategic Services Team can assist clients with customer-centric, data-driven marketing strategy and methodology, customized dashboards / BI reports / analytics, CRM outsourcing, marketing-data-science as a service, expert email marketing consulting and bespoke software enhancements.
6. Grammarly
Grammarly helps people communicate confidently across devices and platforms.Your AI-powered suggestions appear everywhere you write, guiding more than 30 million people and 50,000 teams every day to improve the accuracy, clarity, engagement, and delivery of their writing.
No matter how you like to write, Grammarly is your constant companion, providing instant writing advice so you can communicate with confidence no matter the situation.English writing support technology is scalable to work seamlessly across multiple platforms and devices.
For individuals, a free account can improve and enhance your everyday writing skills, while a premium account can help you up your game at work, school, and anywhere you want your communication to sound as smooth as possible.
Grammarly's key features :
WORKS ON MOBILE AND DESKTOP: Grammarly helps you write flawlessly on Gmail, Facebook, Twitter, LinkedIn and any other app you use.
Write better in seconds: Get real-time suggestions to improve grammar, spelling and clarity, as well as fluency, style and tone.
Stay in control: easily disable it for any application or website.
Grammarly Browser Extension: Get advanced writing support for Google Docs and other sites in popular web browsers.
Grammar Editor: Design, save and edit documents in a dedicated text editor that syncs across all your devices.
Grammarly for Mac and Windows: Write securely across your favorite desktop apps and websites on Mac and Windows.
7. MarketMuse
MarketMuse automates content auditing, removing the subjectivity of what works, what doesn't , and what's missing, so you can prioritize the right content faster.
The oplatform offers a variety of benefits :
Content Planning: Create content plans in minutes with page-level, site-level, and SERP insights at your fingertips.
Cluster Creation and Analysis: Master your topics and gain authority by creating clusters in minutes with MarketMuse.See which topics to include, their value, and insights into how difficult it is for you to rank.
Competitive Content Analysis: Your topic model reveals gaps you can exploit in the SERPs.Take the guesswork out of building content.
Keyword Research: Prioritize the keywords most likely to rank for in the cluster to build your authority.
Content brief: Your content brief is the blueprint that provides structure for topics to cover, questions to answer, links to include, and more.Minimize edits and publish faster.
Content Optimization : Identify and save at-risk content to improve your overall authority. Plus, remove the fear of writing with real-time feedback on quality.
8. AcroLinx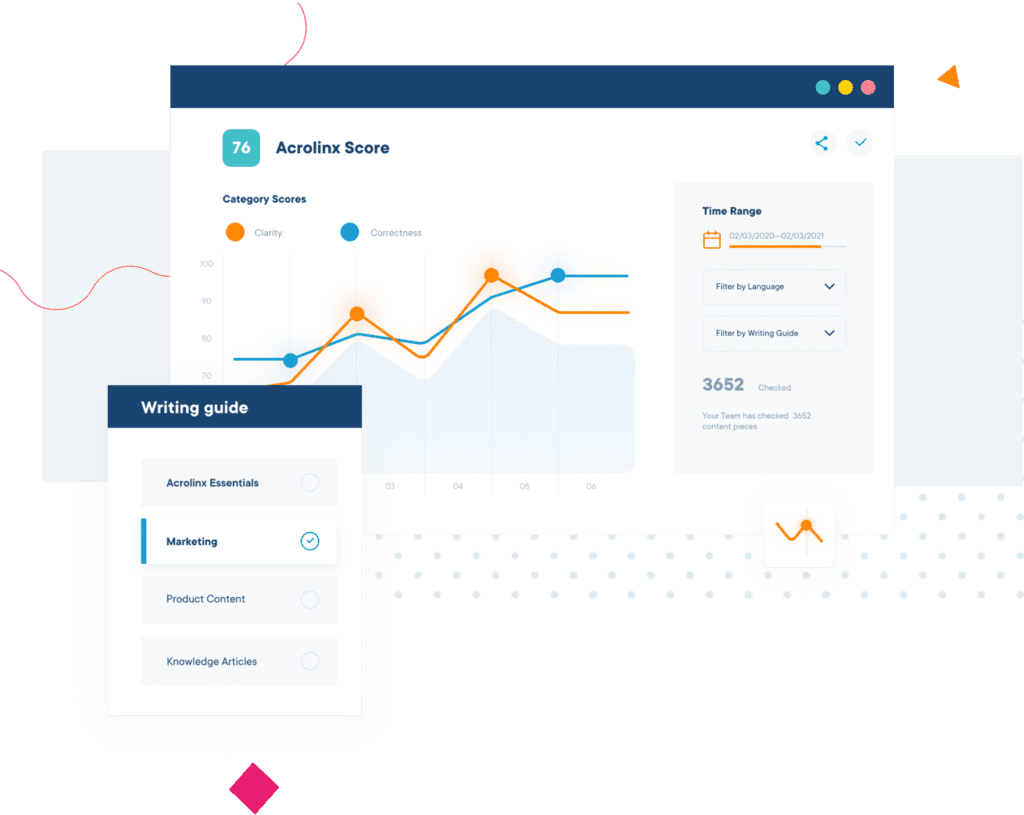 Acrolinx harnesses the power of AI to improve your enterprise content. It helps you create content that serves its purpose at every touchpoint in the customer journey, while making content creation more effective than ever.The platform is flexible and customizable.
It has the following features:
Content Analyzer: Use Content Analyzer to view your entire file library and website at once and use these insights to develop better content strategies.
Targets: Depending on the content type and audience, your content will have different goals.Define these goals and set guidelines for your writers to achieve.
Sidebar: The sidebar ensures authors meet your organizations content standards.No more inconsistencies in style, tone, voice, and terminology.
Scorecard: The scorecard gives you more details about the sidebar guide.It helps you make better decisions about improving your content and explains guidelines you may not be familiar with.
Analytics:Acrolinx Analytics collects real metrics that are meaningful to decision makers and team leaders. Use insights that help pinpoint problems and improve the performance of your company content.
9. Insta Text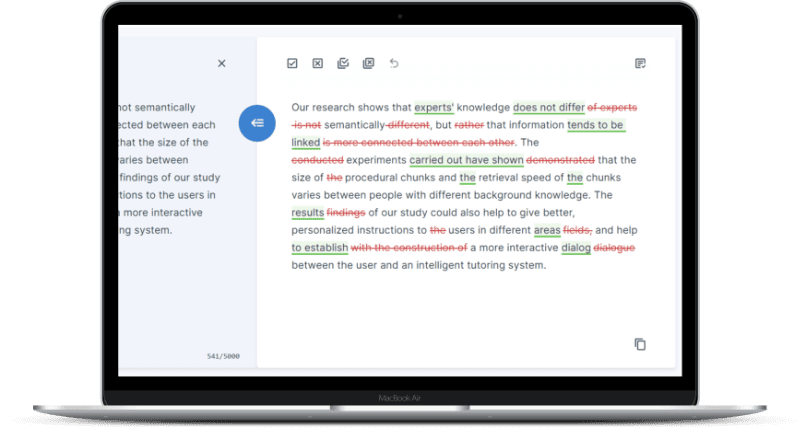 Insta text boost your productivity with AI-powered writing assistants and editing tools that help you improve and make your text more readable and understandable. InstaText improves style and wording, corrects grammatical mistakes and enriches your content.
Use the InstaText browser extension for emails and messages, documents and projects, and even social media posts.No need to copy and paste!
With the platform you get :
Self-improvement:Make your writing stand out and learn how to write better English.
Boost productivity :Improve your text interactively and quickly get ideas on how to improve your text.
Effective Communication: Write clearly and accurately, producing high-quality and efficient sentences.
The software provides more and deeper thoughts than the usual grammar, spelling and punctuation corrections that a grammar checker makes.Sentences are completely rewritten where necessary, and improvements are suggested in the wider context of the topic. InstaText not only helps you correct mistakes, but always provides specific suggestions and helps you rewrite your text with improved style and wording.
10. ChatFuel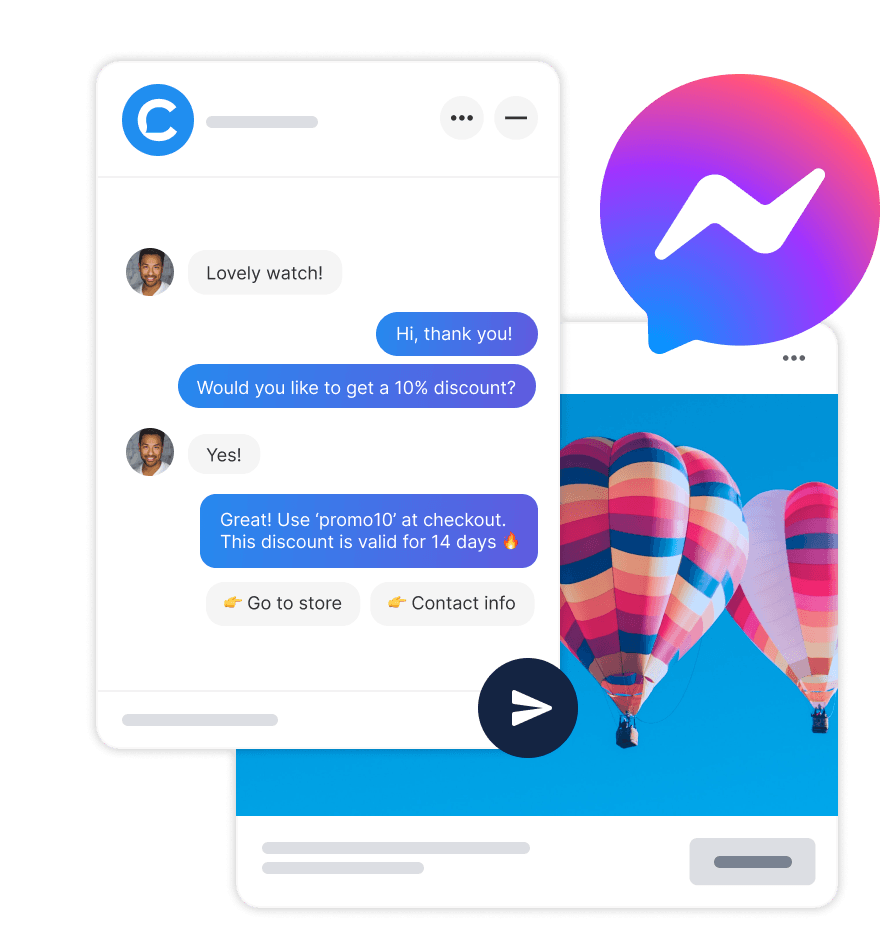 Chatfuel is a bot building system that provides individuals and businesses with a single, centralized platform from which to build conversational AI chatbots.With simple editing tools, multi-user accounts, and neurolinguistic programming (NLP), as well as seamless third-party integration and analytics technology.
The software enables you to handle any customer request, collect data, and put customers back on autopilot, through Automate customer support and sales on Pages, Messenger, Comments, and Ads, and auto-reply everywhere: DMs, Comments, Ads, Stories, and Mentions.
Chatfuel features :
Prepackaged Answers to Questions: Receive daily direct messages and comments as well as analytics for common requests to help you automate more conversations.
Templates to enable more revenue options:
For sales: Generate leads from reviews and ads, qualify them, post promo codes, and more on autopilot.
For Customer Support: Answers to FAQs, recommend products, collect users feedback and email automatically.
Bring Triggered Messaging to Your Social Networks: Audience Segmentation Using Internal CRM Systems and Planned Re – Engagement sequences you can designand optimize.
Conclusion
Choosing the right platform is a critical step in launching an AI marketing plan. Marketers should be keen to identify the gaps that platforms are trying to fill and choose solutions based on capabilities.
One thing to keep in mind when choosing a tool is the level of visibility needed to determine why the AI ​​marketing platform made a particular decision. Depending on the algorithm used, a digital marketing team may have a clear understanding of why a particular decision was made and the data that influenced it, whereas an algorithm using deep learning at a higher level may not provide a clear rationale.