10 Best Artificial Intelligence (AI) Face Generator
On the Internet we can find a wide variety of websites with which it is possible to create faces using AI. Some of these sites are responsible for automatically creating a face so that the user does not have to do anything, simply admire it and download it if desired. Other pages allow you to configure the face to obtain a specific face, being able to choose the skin color, the type of facial expression, etc.

What are the Best AI Face Generator ?
In this article, we look to detail some of the best AI face generator programs for you in an attempt to highlight that with the click of a mouse, you can create a fully fledged person that has never even existed.
1. GENERATED PHOTOS
Generated Photos is the frontrunner among AI-based face generation applications. With its seamless quality and stunning editing capabilities, it has become a popular choice for noteworthy platforms like BBC, Forbes, and Daily Mail.
This top-of-the-line program is worth the cost due to its wide selection of faces that look truly realistic. While many programs can quickly generate faces, Generated Photos takes things one step further with their array of powerful tools that make it easy to customize your work exactly how you want it.
Some of the pros of Generated Photos include:
Comprehensive random face generator
Easy-to-use and automatic
Highly realistic faces
Used by top names like BBC and Forbes
2. ProfilePicture.Ai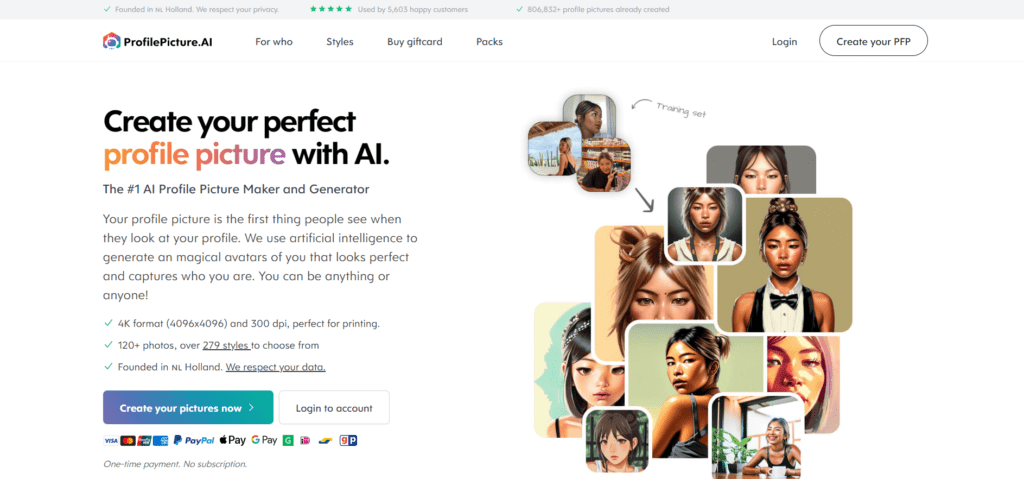 Profile picture ai is a paid tool which will allow you to create the perfect profile picture. Your profile picture is the first thing people see when they look at your profile. We use artificial intelligence to generate an image of you that looks perfect and captures who you are. You can be anything, anywhere, or anyone! Perfect for Instagram, Tiktok, Facebook, Twitter, and other social media platforms.
3. BoredHumans.com
The BoredHumans Generator is renowned for its powerful algorithms and machine learning capabilities, enabling users to generate realistic-looking faces with ease. It draws from an expansive database of over 70,000 real human images, ensuring that each outputted face looks as realistic as possible.
Additionally, the platform also includes a previous existing version with animated images which, though not entirely lifelike, can be quite intriguing. And that's in addition to all the other artificial intelligence-based tools available on this online platform.
Some of the pros of BoredHumans include:
Powerful algorithms
Easily generate realistic-looking faces
Database of 70,000+ real human images
Previous existing version feature
4. This Person Does Not Exist
This Person Does Not Exist is an innovative tool that has revolutionized the concept of generating random faces. Its signature feature is the ability to provide realistic-looking faces in a matter of seconds with just a single click.
The technology makes use of various elements and facial features, such as teeth, hair color, background, and accessories, to make the generated faces appear more authentic. Such sophisticated capabilities make this tool truly remarkable, providing users with customized digital identities for their intended purpose in no time at all.
Some of the pros of This Person Does Not Exist include:
GAN technology with two neural networks
Generated faces are less than 90% recognizable by ordinary people
NVIDIA "StyleGAN algorithm"
Refresh option to change the generated face
5. Rosebud AI
This web service allows you to upload photographs and to choose from your image bank to be able to edit and alter them through the use of Artificial Intelligence. This will help you to cover a range of use cases and possibilities, whether for commercial or domestic use. Every image on the platform is free to use and you can always modify them to your liking.



6. Marketing Tool
Marketing Tool's random face generator offers an easy way to give a realistic appeal to any fake image. This cutting-edge technology utilizes facial impressions and features of real photos, creating natural-looking faces with no artificial elements.
The tool takes advantage of the strongest Generative Adversarial Network (GAN) offered by Nvidia to ensure real vibrancy and emotion in each face that is generated. Furthermore, you are able to access over one million auto-generated fake faces through this tool, making it one of the fastest and most comprehensive processes available on the market today.
Some of the pros of Marketing Tool include:
Facial expressions and features of real photos
Natural-looking faces
GAN by Nvidia
More than one million auto-generated faces
7. Random Face Generator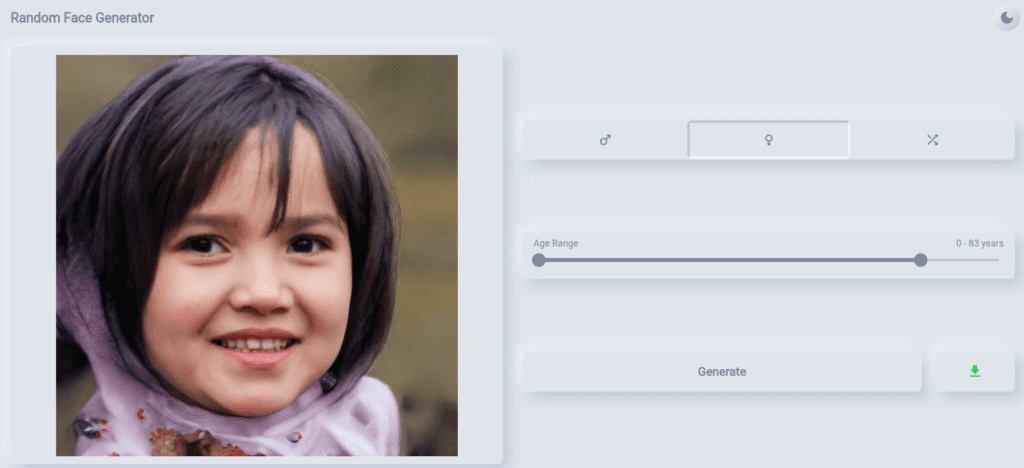 Powered by GitHub, Random Face Generator features an intuitive and efficient interface. With this generator you have the capability to control more than just gender – you can also choose to adjust the age of generated faces, ranging between zero and 100 years.
After processing, it makes downloading your AI-generated face an easy task. These images are highly versatile, so they can be applied in many ways. The generator is the perfect tool for anyone looking for ultra-customized random faces.
Some of the pros of GitHub Random Face Generator include:
Intuitive and efficient interface
Control various features
Age between 0-100 years
Download AI-generated face easily and quickly
8. FaceHub
Like its image-swapping counterpart, the Facehub Video FaceSwap changes the user's target face, but this time in a video of their choice with that of models, existing celebs or even other images that you provide. What sets this application apart from other apps of its kind is how the AI accurately and efficiently edits the original source image into a product which leaves no traces of its activity on it whatsoever.
Whether you're just bored of spending months under lockdown or want to erase that familiar quotidian, this app has got everything for everyone. The video produced looks just as good and untouched as if it were filmed like just another video. Just drag and drop your desired image on the home screen and watch the magic happen in just a few seconds. If this doesn't satisfy you and you're left yearning for more, then by paying a marginal fee, you can gain access to a larger range of models and celebs with whom to interchange the face(s), get rid of the watermark and gain access to more features to get the desired result you require.
9. UI Faces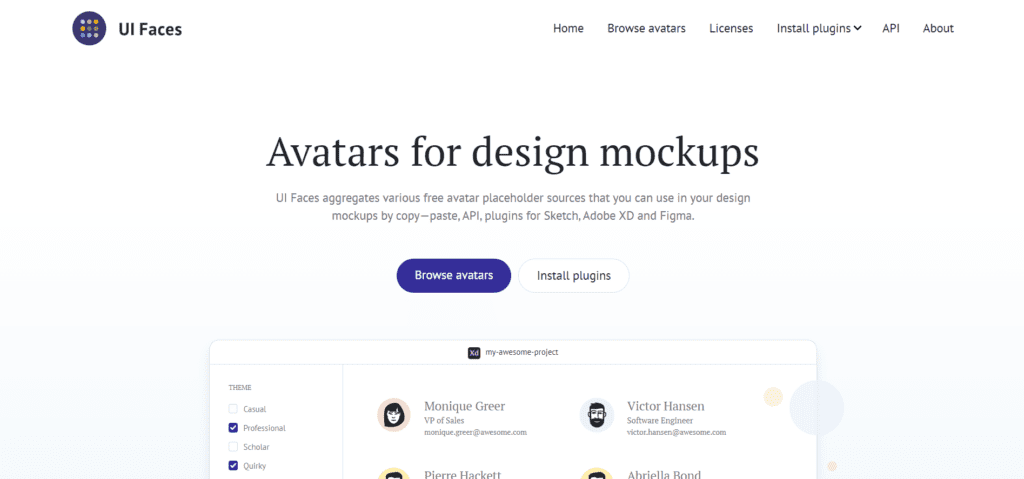 UI Faces aggregates thousands of avatars which you can carefully filter to create your perfect personas or just generate random avatars.
Each avatar is tagged with age, gender, emotion and hair color using the Microsoft's Face API, providing easier filtration and sorting.
UI Faces doesn't host or own any of the displayed photos. It only aggregates links that point out to publicly displayed photos on their respective websites. Check source license before you decide to use a photo in a live project. You can find all the licenses at uifaces.co/license.
The plugins for Sketch, Adobe XD and Figma are using UI Faces API and providing one-click generation of avatars in your design tool of choice.
10. DeepSwap
The main goal of DeepSwap is to make the complex deepfake technology accessible to everyone, and we can say that it accomplishes this goal perfectly.
When you open DeepSwap in your web browser, you'll notice two things: First, a sample video showing what the tool is capable of. Second, a prominent "Create your own video" button that you can click to get started.
The first thing you need to do when creating your own deepfake using DeepSwap is to upload the video, image, or GIF you want to swap. You can upload videos that are up to 100 MB large and 120 seconds long, images that are up to 10 MB large, and GIFs that are no larger than 15 MB.
Knowing that DeepSwap is a relatively young deepfake tool, we approached it with some reservations, not sure how convincing results it would produce.
To our surprise, DeepSwap reliably produces deepfakes that are as convincing as deepfakes created using much less user-friendly tools, and it does so within a few seconds.
Of course, you'll come across some glitches here and there, but that's the case with pretty much all deepfake tools. What's more important is that the glitches are not so severe that they would make the resulting deepfakes unusable.
Conclusion
Creating AI generated faces with artificial intelligence is an exciting way to explore the capabilities of the technology. However, the results are often not always very favorable or suitable. It is interesting to see how far technology has come in the meantime and what else will be possible in the future.