10 Best AI Video Generator & Video Editing Software
Video is a way of delivering the message in a short time but comprehensively for a long time. The world has shifted towards videos as the best source of conveying a message.
Video editing and creation consume too much human energy and are laborious too. Therefore the best alternative is artificial intelligence that provides excellent automation videos with perfection.
Video content is a must have for businesses and content creators wanting to compete in this highly visual environment. Reports have shown that more than 80% of online traffic is video traffic, and an increasing amount of people prefer it over other forms of online content like text and images.

What is AI video generator?
AI video generation is the next level of videography where you can get videos of your choice, either promotional ads, main channel videos, business-related videos, or general work.
Many AI, the video generator software, are available, making it challenging to select which one to go. But, you must always go for your convenience as cost-effective, has multiple features, and is either a newbie or an expert.
If you are a video editor, a content creator, or a producer, You must know the best AI video generators.
What is the Best AI Video Generator & Video Editing Software?
1. Synthesia.io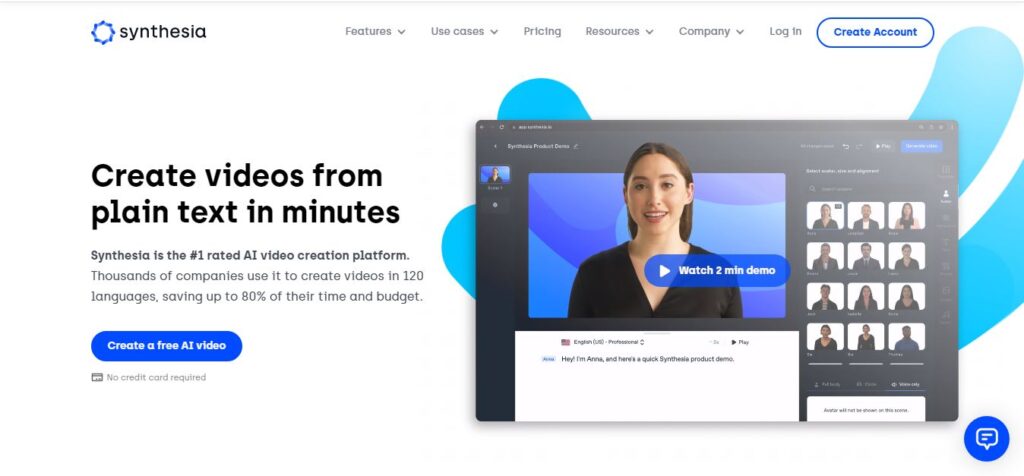 Synthesia.io (Synthesia AI) is a video generation platform that uses artificial intelligence to create professional videos. The software is designed to help businesses create videos without needing to show their own faces.
Did you know that you retain 95% of a video's message, compared to 10% if reading it in text?
Companies of all sizes are converting their training, sales or support content to AI video. Enable your employees and customers to experience engaging video content, instead of reading through boring PDF documents.
Synthesia STUDIO frees you from expensive video productions
No cameras or film crews are needed. Choose your avatar, type your script in one of 65+ languages, and your video is ready in minutes.
Synthesia STUDIO transforms your text into speech
Turn your text-based content into bite-sized videos to improve engagement, conversion, and retention for learning, support and sales content.
Synthesia STUDIO gives you flexibility.
Changes in product, regulations or compliance policies? No problem! Edit or update your videos at any time.
2. FlexClip
FlexClip is fantastic online video editor in which you can easily navigate and edit videos to one's own gusto.
Video is the biggest thing these days but it is so time-consuming. FlexClip takes that out of the equation and makes it super easy to get going and be creative.
FlexClip offers 3,000+ exquisitely-designed templates for education, business, marketing, festivals, special events, and social media platforms with great efficiency. Not only is it time-saving for video making but also extremely helpful to your needs for various occasions.
You can make your video more engaging with animated texts, funky widgets, dynamic overlays, intros/outros, etc. Also, you will find royalty-free videos, music, photos from 4,000,000+ stock assets for your needs.
The easy-to-use video editor allows you to effortlessly cut, trim, convert, combine, speed up or slow down video clips.
Other key features of FlexClip:
– No need to download and install any additional software.
– Storyboard + Timeline Mode, for both beginners and professionals.
– Possibility to manage everything with the drag and drop of the mouse.
– All-in-one toolkit includes a slideshow maker, a movie maker, a background remover, a gif maker, etc.
– Up to 100GB of cloud space available so you can work on your video projects flexibly, across devices without worrying about losing files.
– Support all the most popular formats, such as MOV, WEBM, M4V, MP4, AAC, FLAC, M4A, MP3, etc.
– Highly precise cutting, splitting the video.
– Zoom, rotate photos and video clips.
– Option to record your own voice over.
– Option to record the screen and webcam.
– Save and download unlimited video projects.
– One click to embed videos on your site and share videos via social icons or URL.
– Exports based on the most common proportions, such as 16:9, 9:16, 1:1, 4:5, 21:9 format.
– High quality video creation, including 480p, 720p and 1080p. FlexClip is perfect for:
– Educators who need to record and make education videos to connect with students, parents and faculty.
– Companies that want to create product demos or business videos without download anything.
– Individuals that want to make home movies for special moments like Birthday, wedding, Christmas, etc.
– Influencers that want to be able to make videos for their YouTube channels.
– Organizations that need to display schedules with slideshows.
– Marketing agencies to create viral marketing videos.
3. PICTORY
Pictory is an AI solution that transforms long content such as blogs, webinars, podcasts, and white papers into high-value, high-visibility short videos for social sharing.
Pictory takes on the heavy lifting of various content creation tasks, such as:
– Extracting dozens of short video highlights from webinars, video podcasts, demo recordings, or customer interviews
– Converting blogs and white papers to short summary videos
– Editing webinar recordings or demo videos merely by editing the text transcript
– Captioning videos before sharing them on social
– And coming soon, exporting social text and video to Hootsuite to conquer your social media calendar
In everything you create with Pictory, you can easily customize and add your branding – Logo, color scheme, intro, and an outro with a specific call to action.
4. Lumen5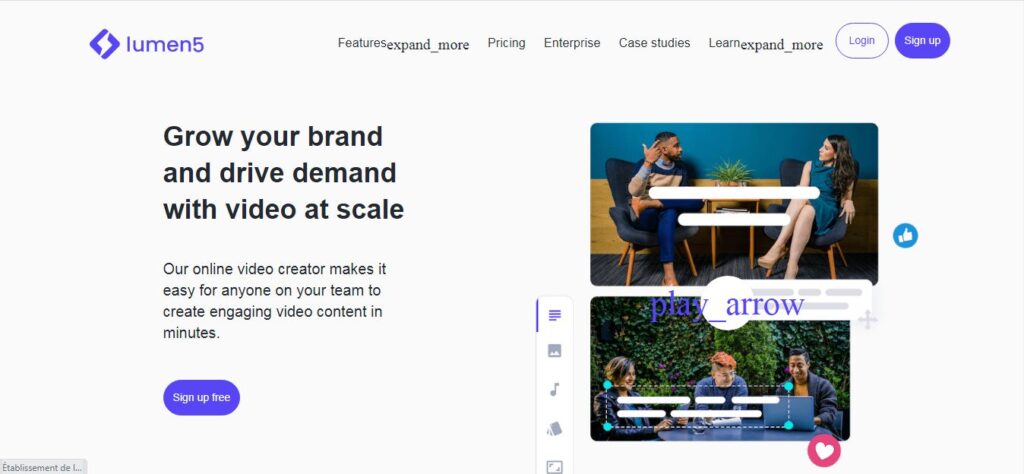 Lumen5 empowers your global team to create social media content in minutes. We work with enterprise brands, organizations, and creatives to produce highly-engaging videos that get results. Powered by AI and designed for business, our platform allows you to focus on storytelling while relying on our technology to help you bring ideas to life. Lumen5 is the ideal solution for social media and marketing teams to drive growth, scale their business, and increase engagement.
5. DESIGNS.AI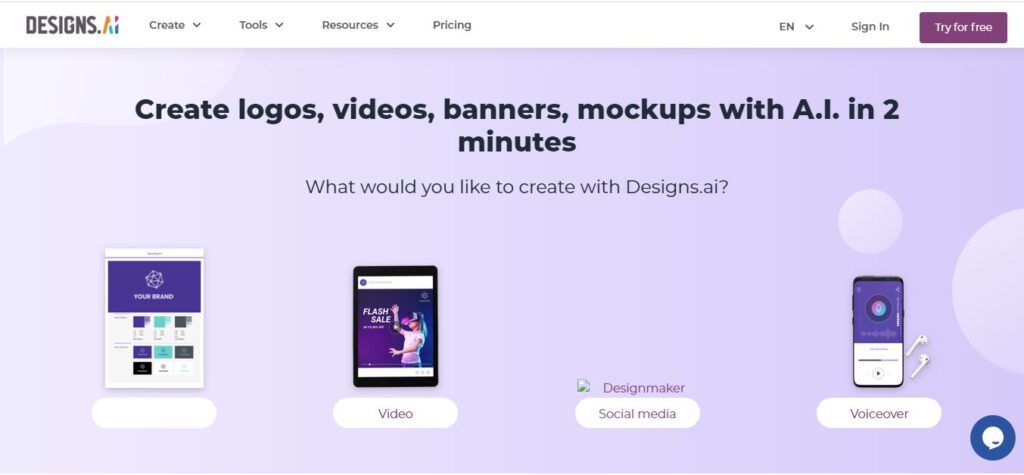 Designs.ai is built with the mission to empower imagination through artificial intelligence.
Designs.ai is an online platform that uses proprietary AI technology to make design accessible to everyone. This means that even without design experience, you'll be able to create stunning marketing portfolios in less than 2 minutes with the help of our user-friendly interface and AI powered tools. Designs.ai is the perfect tool for SME owners, marketplace sellers, startups, agencies, influencers, freelancers, and marketers.
Our essential tools help you create stunning graphics, compelling videos, personalized logos, and smart mockups — all while saving precious time and resources. We also provide you with extra tools to assist you in your design process.
In addition, Designs.ai's easy collaboration feature allows you to invite your teammates to work on your projects, while its integration function enables you to save your brand assets and use them across your different creations.
Here are the main tools that we have within the creative suite:
Logomaker : Build your logo and brand with A.I.
Videomaker : Experience AI powered text-to-video-tool.
Mockupmaker : Showcase your brand on various mediums.
Designmaker : Get quick, quality designs with smart templates.
6. VEED.IO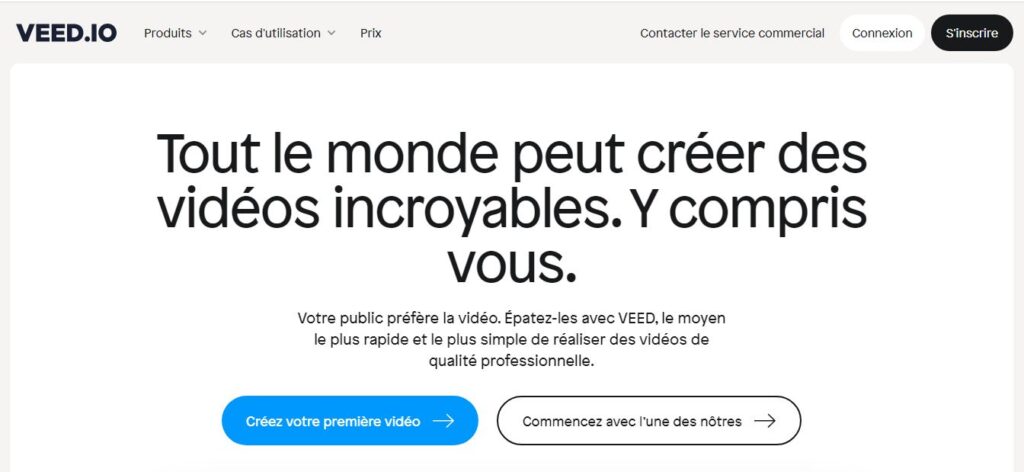 VEED.IO offers online video editing, recording, hosting and sharing. Key features include one-click subtitling, translation, noise reduction, cropping, cutting, transitions, custom branding, compression and format conversion.
VEED is ideal for teams as it is cloud based. Avoid slow file transfers and laptop storage issues. Instead, keep all your video projects online and accessible. Allow multiple editors to work on the same project. Share videos via a URL, collate feedback comments and keep existing videos up to date. When you're ready to share simply use a URL or embed the video directly into a website.
Common use cases for VEED include social media videos, training videos, help videos, marketing videos, recruitment videos, onboarding videos, internal comms videos and much more.
7. Synthesys
Synthesys is a solution that adds the brainpower of thousands of people to a team. by reading through all data and highlights the important people, places, organizations, events and facts being discussed, resolve highlighted points and determines what's important, connecting the dots together and figures out what the final picture means by comparing it with the opportunities, risks and anomalies that are looking for.
8. Elai
Elai.io is a text-to-video platform that allows anyone to build customized AI videos with an AI presenter from text input in a matter of minutes.
Elai.io main features:
– 1080p Full HD videos.
– 4K Ultra HD videos (depending on plan)
– Up to 50 minutes per month (depending on plan)
– 65+ languages.
– 25+ avatars.
– Selfie avatars.
– 30+ templates.
– Auto-generated subtitles.
– Free stock music, videos and images.
– Voiceover upload.
– Create video from PowerPoint/PDF
– Custom music and fonts upload (depending on plan)
– Up to 5 users (depending on plan)
Elai.io custom avatars:
– A personal custom avatar is available for an annual fee of $500.
– Cartoon avatar for an annual fee of $500.
– Selfie avatar (taken with your smartphone) for an annual fee of $259.
9. Invideo
InVideo, our mission is to re-invent video creation and make it accessible to the world ultimately. We firmly believe that the future of video creation is in the browser, collaborative and easy, across devices.
Currently, armed with 5000+ unique designer templates, 9M+ premium media (including iStock), a large audio library for every mood/genre and so many more customisable features, we are aggressively moving towards our north star metric.
InVideo's flexible timeline and drag & drop editor further enhance the user journey of making professional videos within minutes on the browser.
Customer feedback is key to the way the product is shaping up every day. We're only and only building for the end user, who makes videos for a living.
In a nutshell, anybody can make scroll-stopping videos with InVideo. With 7M+ users from 195+ countries who have made millions of videos in 75+ foreign languages on InVideo, we look forward to the road ahead.
10. GliaCloud
GliaCloud is a technology company aims to make communication easy for everyone. Our flagship product, GliaStudio is an AI video generator that allows online publishers or marketers to automatically convert texts into videos.
GliaCloud is an equal opportunity employer and committed to building a diverse and inclusive workforce. We value our people regardless of race, color, religion, sex, sexual orientation, gender identity, national origin, disability, or other protected attributes. We welcome qualified individuals to join us in our journey of building a better world with AI.
Conclusion
Most online publishers rely on social networks to reach audiences, and video content provides more organic reach than other types. At the same time, it has traditionally been both time-consuming and costly to produce and disseminate video content.
Artificial intelligence (AI) is changing this outlook, making it easier than ever to generate video. At the same time, it has never been more accessible to create video content with the wide range of AI video generators available.