10 Best Employee Referral Program and Software
The Employee Referral Software is a powerful tool that allows employees to play an active role in their company's recruitment process. This software enables employees to refer potential candidates from their personal and professional networks who they believe would be a good fit for a job opening in their organization.

The Employee Referral Software offers a range of features such as easy referral submission, resume uploading, and status tracking. These features streamline the referral process and allow for a more efficient recruitment process. With the ability to refer candidates directly through the software, employees can easily provide their recommendations to the recruitment team, saving time and effort for all parties involved.
What are the Best Employee Referral Program and Software?
Keep reading to know more about the Best Employee Referral tools
1.ReferralRock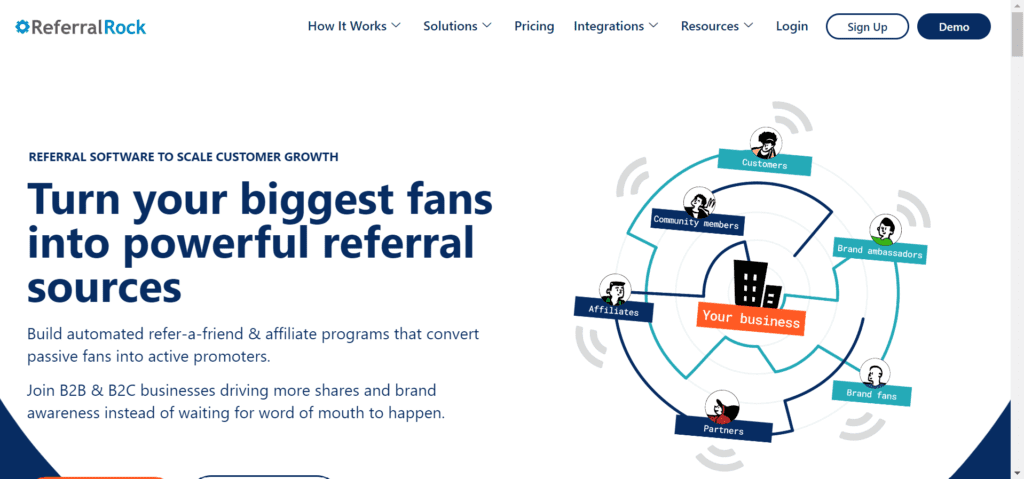 ReferralRock is referral marketing automation software that helps businesses of all sizes launch, manage and track their referral programs. It provides a comprehensive set of tools to create and manage referral campaigns, rewarding existing customers for referring new customers.
Here are some reasons why you should try this software :
Enable sharing across the customer lifecycle: Easily share content from your email automation, CRM, and embedded experiences (mobile and social media), offer incentives that fit your brand, keep advocates informed, and engaged with notifications.
Integrate them into your existing workflows: share them with your email automation, help desk and e-commerce systems throughout the customer lifecycle, enrich and track data through your CRM or other system of record, communicate directly and integrate with their developer-friendly API or use Zapier.
Get insights on referral activities to increase ROI : See every share detail to optimize the sharing experience, measure engagement of first time referrers plus your most engaged fans and understand referral behavior from anonymous brand visit to new customer conversion.
Prove ROI quickly : Expert services to help onboard and tailor the program to your unique business needs and customize the sharing experience from quick-start email templates and portal experiences
2.Boon
Boon is a one-of-a-kind referral platform designed for incredible efficiency and effectiveness. No matter what stage of your business you are in, designing a successful employee referral program is easy.
Boon provides an intelligent dashboard to help you visualize, track and analyze your referral program growth to demonstrate return on investment.
Some of the main features of Boon are :
Automatic update: Can automatically fetch and update jobs from your existing career site, no integration required!
Effortless Setup: Build a successful employee referral program and let employees send referrals in 30 seconds.
Improve existing tools: Turn all your job postings and recruiting materials into referral opportunities. Boon's simple referral widget allows your employees to send referrals from anywhere.
Available on mobile and web: Whether your team is on-site or remote, a simple and seamless referral process is always available out of the box.
Integration and Customization: On its own or as a complement to your existing Applicant Tracking System and/or hiring tools, Boon offers a tailored referral recruiting platform to fit your needs.
3. EmployeeReferrals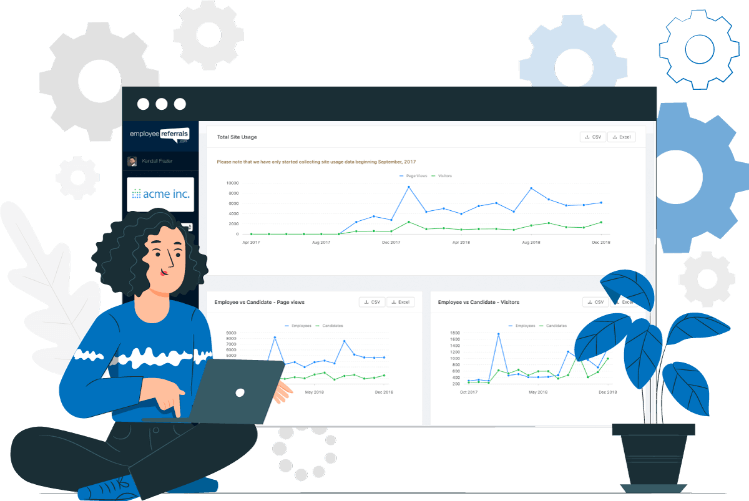 EmployeeReferrals is a referral platform that encourages employee referrals via email, text, and automated approval. Save administrative time with analytics, reporting and integration.It helps employees find referral opportunities that are right for them. Their job recommendation engine matches employees and candidates to jobs based on: geolocalized address, job title, address, work address, and more.
let's see the key features of this platform :
Increase diversity and inclusion: Reward different referrals and attitudes with custom campaigns and bounties, include diversity questions on your referral form and remind you to consider diversity when submitting referrals, and learn and implement what others in your industry are using best practice. Benchmark your performance and compare it with your peers.
Engagement Engine: Engage your employees with custom emails that highlight your new jobs, public events, and Compare open and click rates weekly, send a new email each time, and schedule a year in advance.
Brand Ambassadors: Build an army of brand ambassadors incentivized by rewards and referral bonuses. Your employees' social media posts carry the weight of their personal approval and reach out to people who don't follow your brand.
Internal Mobility: In order to retain talent, it is important to provide employees with avenues for internal mobility. Companies often struggle to attract the right people to the right jobs.
4. Erin
Erin is an employee referral software platform that automates referral management to motivate employees to make more employee referrals. With ERIN, employees can track their employee referrals, track bonuses and incentives, earn points for events, and seamlessly share referral links on social media.
ERIN's employee referral and internal mobility software platform delivers the recruiting results you've always wanted.This solution effortlessly mobilizes your workforce with real-time communications, engaging gamification, and key technology integrations.
The features of this platform are :
30-Second Referrals: Refer employees in 30 seconds via email, text message or social share and track referrals and bonuses instantly.
Internal Communications : Keep employees in the loop with their robust internal messaging center that automates emails, updates open jobs, promote company policies, and more.
ATS Integrated: ERIN integrates with your existing ATS and HRIS to fully automate the management of employee referrals.
Gamification: Reward employees with daily points and prizes for referrals, run bonus campaigns, and boost engagement.
5. Teamable
Teamable is a software platform designed to help companies build and manage their employee referral programs. The platform integrates with a company's existing applicant tracking system and offers a range of features to simplify and streamline the referral process.
With Teamable, companies can easily reach their employees and encourage them to recommend qualified candidates for open positions. The platform uses artificial intelligence and machine learning to analyze employee networks and identify potential candidates who might be a good fit for a particular role. This helps expand the candidate pool beyond traditional recruiting channels and can lead to faster, more efficient hiring.
Some of Teamable's key features include personalized job referrals, automated referral tracking and management, and analytics and reporting to track referral program success. Teamable combines candidate skills and diversity data so you can search your network to find the right fit, pick the strongest connection, and get introduced .
With thus tool , you can harness the power of your team's collective network to scale, manage, and track your employee referral program as a natural extension of your recruiting process.Transform your candidate's experience, and grow relationships far beyond email. Use their campaigns & modern conversational platform to share your vision & mission through chat and videos in real time.
6. Jobvite
Jobviteis a strategic partner to drive your company's performance and provide leading enterprise recruitment software. Evolve Talent Acquisition Suite is an end-to-end solution that integrates with your organization's existing technology stack to improve the candidate pipeline, accelerate hiring results and simplify the experience.
It allows you to remove the manual process behind employee referrals and ensure each referral is properly tracked against incentive and eligibility requirements. Track engagement activity, referral bonuses, trial periods, and referral ownership.
Leverage data-driven innovation: Amplify your recruiting strategy with data-driven insights at every stage of the hiring funnel. Accelerate and optimize your recruiting strategy by leveraging data-driven insights across the entire TA lifecycle.
Minimize your inputs and maximize your results: optimize your results and minimize your inputs at every step with streamlined recruiting that makes talent acquisition easier for your company and more engaging for candidates.
Leverage AI-Backed Automation: Their end-to-end technology combines the power of AI with the human touch of recruiting boosting your team's capacity with intelligent automation built to find quality candidates and match your open requisitions.
Boost Your Employer Brand: Deploy personalized candidate interactions and custom brand experiences like never before with a fully-configurable suite and extensive integrations into your HR tech stack.
7. Phenom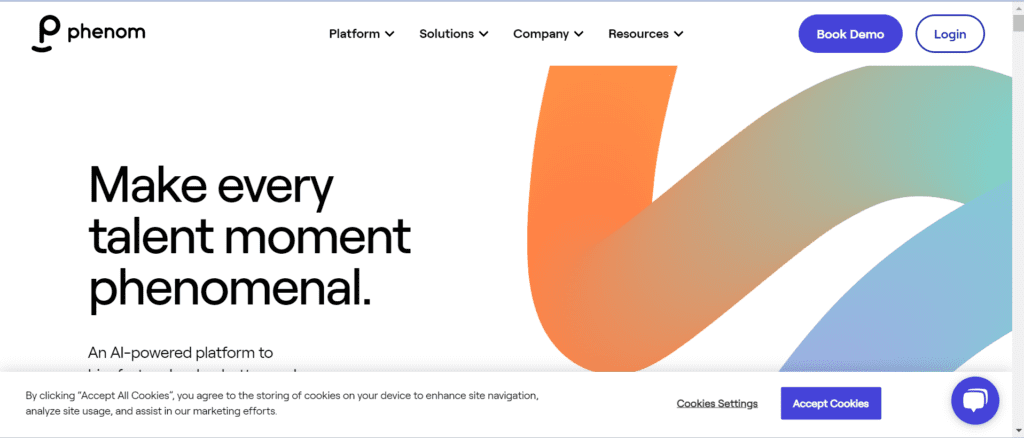 The Phenom Intelligent Talent Experience connects your people, data, and interactions, using intelligence and automation to deliver amazing experiences throughout the journey all so you can hire faster and retain them long-term.
Job seekers receive job recommendations and content tailored to skills, fit, location and experience so they can find and select you faster,enhance and assess talent pipelines with dynamic rosters, AI insights, and suitability assessments, while simplifying interview screening and scheduling.
Phenom helps employees develop and improve their skills by connecting them with personalized growth opportunities. Their talent marketplace offers smart career paths, gigs, mentoring, and ERGs to keep employees agile, engaged, and motivated. The more you use it, the smarter it gets – creating a data-driven engine that provides insights into your workforce and helps you make better decisions.
To know more here are some of the key features of this platform :
CRM: A candidate relationship management system that helps recruiters build relationships with top talent and manage their candidate pipelines.
Chatbot: An AI-powered chatbot that can answer candidates' questions and provide guidance on the application process.
Campaigns: Automated email campaigns that help recruiters stay in touch with candidates and keep them engaged throughout the hiring process.
Employee Experience: A range of tools and features designed to help companies manage and develop their existing employees, including performance management, learning and development, and succession planning.
8.Manatal
Manatal is an artificial intelligence recruitment software that enables HR departments and staffing agencies to search and recruit in the most efficient way.It offers a range of features to help recruiters manage candidate pipelines, collaborate with team members, and automate administrative tasks.

Share your job on 2,500+ free and paid channels: Share your job on 2,500+ free and paid channels, including local, global and professional job platforms such as Indeed, LinkedIn, Monster, CareerJet, JobStreet and more.
Centralize your resume database: Connect any job board to Manatal to automatically bring together all applicants on one platform. Candidates who apply will have their profile created in Manatal and attached to the position they have applied for.
Design Your Branded Career Website Without Code: Design and launch your branded career website without any technical development. Showcase your employer brand using rich media, including images and video; customize application forms with fields in multiple formats.
Automatic extraction of resume information: Candidates applying through your career page, job boards, or any other channel are parsed and scored based on their capabilities, work experience, talents, and skillsets.
Launch and manage your candidate referral program : Manatal Candidate Referral System is designed to support and frame your employee referral program. View, add, and tag referred candidates, save referrers' contact information, and aggregate valuable data from your career page directly into Manatal.
9.Comeet
The Comeet Platform is a state-of-the-art applicant tracking system (ATS) that includes a candidate pipeline. Whether you're seeking an ATS, looking to selectively outsource your recruiting efforts, or extend your team with full-stack experts, Comeet has a recruiting solution for you.
The platform provides everything you need to quickly source, interview, and hire candidates, all in one place. With features tailored to HR, hiring managers, and recruiters, it's easy to manage your entire hiring process efficiently. Comeet's built-in candidate pipeline allows you to easily track and manage candidates throughout the recruitment process. You can move candidates through different stages, schedule interviews, and communicate with candidates directly from the platform.
It also provides real-time analytics and reporting to help you track your recruitment metrics and optimize your hiring strategy. You can see how many candidates have applied to each job posting, track your time-to-hire, and identify areas for improvement in your recruitment process.
It also features :
Recruiting : Elastic Recruiting is better and faster hiring on auto-pilot by leveraging recruiting experts and technology who source, screen, schedule, and manage the process for you.
Sourcing : allows you to find qualified and interested passive candidates at the click of a button. Industry and recruiting experts are on hand to use their skills, experience, and time to source the best talent based on your specific needs.
10.CleverConnect
CleverConnect is a cloud-based recruitment software platform that provides a range of tools and features to streamline the recruitment process and improve candidate management. The platform is designed to help companies find and hire the best possible candidates in a shorter amount of time.. Its sourcing and candidate management features help recruiters attract and build relationships with top talent, while its reporting and analytics tools provide valuable insights into recruitment performance.
Some of the features of this platform are :
Job Distribution and Posting: It provides tools to distribute job postings across multiple channels, including job boards, social media, and other online sources. The platform also includes features to manage and track job postings, allowing recruiters to optimize their recruitment strategy.
Sourcing and Candidate Management: It offers a range of sourcing tools to help recruiters find and attract top talent. The platform also includes features to manage candidate data and communication, allowing recruiters to build relationships with candidates and improve the candidate experience.
Integrations and API: It integrates with a range of other HR and recruiting tools, allowing recruiters to streamline their workflow and improve efficiency. The platform also provides an API for custom integrations.
Conclusion
Choosing the best Employee Referral Software requires careful consideration of a few key factors. Here are some tips to help you make an informed decision:
Look for a software platform that is easy to use for both employees and recruiters. The software should be intuitive and user-friendly, with a simple interface that makes it easy to submit referrals, track progress, and monitor the status of referrals.
Choose a software platform that provides comprehensive reporting and analytics. This will help you track the success of your referral program, identify areas for improvement, and make data-driven decisions to optimize your recruitment strategy.
By considering these factors when choosing an Employee Referral Software, you can select a platform that is tailored to your organization's specific needs and helps you attract top talent through employee referrals.