10 Best Shipping Software
If you are an ecommerce seller, you have a lot of hats to wear and many things to worry about. One of the biggest headaches is managing shipping. In today's world, customers have high service expectations. They want their products to arrive promptly and efficiently.

What is the Best Shipping Software?
Given the complexities of fulfillment, that's a big ask. Thankfully, there are now many applications to help you. In this article, we discuss the best shipping software to use in your business : Small and Big Businesses, Ecommerce… We will reveal our top 10 picks, plus other options for you to consider.
1.Shipping easy
ShippingEasy is the easiest online shipping platform for growing businesses. With ShippingEasy, merchants can access discounted shipping rates, automate shipping, and get time back to focus on building their business. Robust integrations with Shopify, Amazon, Etsy, eBay, BigCommerce, WooCommerce, Wish, Walmart, and other leading online channels allow merchants to manage orders, shipments, and customers from everywhere they sell—all in one easy-to-use platform.
2.ShipMonk
ShipMonk is an order fulfillment company that helps e-commerce businesses get orders filled.
This fulfillment company has three U.S.-based company warehouses where it stores, packs, and ships products. ShipMonk handles the tough work so you don't have to .
ShipMonk ecommerce services include:
Storage
Packing
Subscription box fulfillment
Shipping
And more!
The ShipMonk software makes order fulfillment so easy. With the ShipMonk software, you can track order fulfillment progress, inventory, and shipping. ShipMonk handles the fulfillment job so you can focus on other areas of your business, like marketing and buying products.
3.Shippo
Shippo connects ecommerce sellers with the best rates at 85+ carriers and the United States Postal Service. After connecting your store, you can sync your sales channels to manage all orders in one place. The software tracks shipments and sends notifications to customers.
A return label can be generated automatically free of charge. Shippo offers analytics, insights, and reports. These include intelligent defaults plus configurable automations to keep you on top of shipping at all times. This is a no-code solution with no minimum volume requirements.
This tool integrates with platforms such as Square, Shopify, WooCommerce, and Wix. Shippo costs from $10/user/month.
4.ShipStation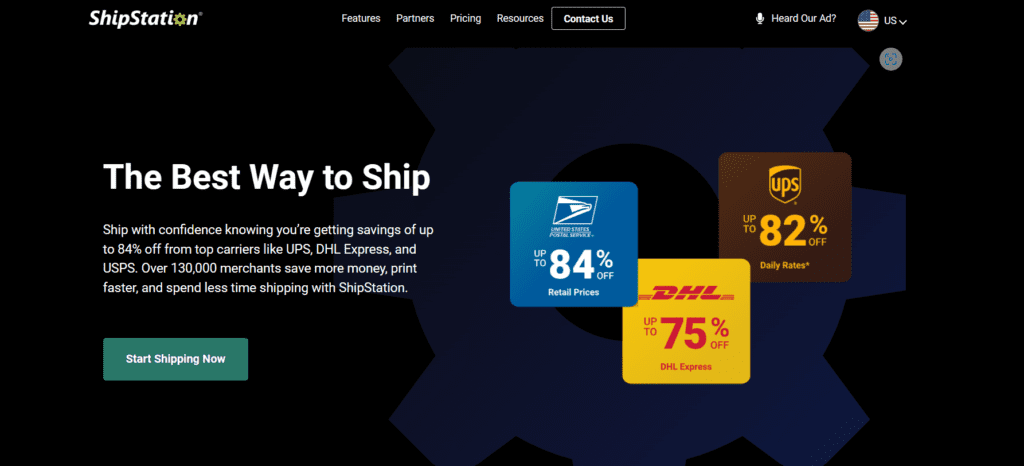 ShipStation is a multi-channel, multi-carrier shipping suite for managing all aspects of ecommerce fulfillment. Features include discounted shipping rates, batching, customer branding, and inventory management. You can import orders from over 60 sales channels and automatically apply configurable presets and shipping options.
The software updates you with shipping status and tracking information for each channel. ShipStation also offers customizable packing slips, email, and tracking page templates. This makes it possible to brand your shipments and enhance the customer experience.
Additional features include prefilled international customs forms, detailed reporting, and advanced user permissions. This tool integrates with platforms such as Amazon, eBay, WooCommerce, DHL Express, and Shopify.
5.Shipedge
Shipedge is a cloud-based Supply Chain Solution that helps 3PL warehouses, distribution centers and eCommerce companies run efficient order fulfillment Omni Channel operations. Get complete channel automation across your supply chain (selling channels, suppliers, & shipping carriers), a mobile barcode scanning app, automatic ship rate shop, and a module for returns and exchanges. Shipedge started as an etailer turned 3PL. We've designed the system to resolve the pain paints we know well.
they used in Third Party Logistics (3PLs), Fulfillment Warehouses, Distribution Centers and e-tailers/ecommerce companies with their own warehouses.
6.Shiptheory
Shiptheory communicates directly with your desktop and thermal label printers. Whether you have one or 100 printers, Shiptheory will automatically generate shipping labels and send them to the correct printer without you ever needing to click a button. Need more control? Use a barcode scanner to trigger the printing of shipping labels to different desktop and thermal label printers. Need even more control? Manual print labels directly from your browser. Shiptheory provides a flexible shipping rules engine that allows you to create simple and complex shipping rules. Shipping rules control how orders are sent with your carriers based on a combination of shipping destination, order weight, value, product SKU's, and more. Shiptheory integrates with all of your systems, making it easy to automate shipping labels. their development team stays ahead of channel and carrier updates, keeping your shipments moving. No more desktop software or manual data entry required.
7.COMFREIGHT
Comfreight helps you to use there free load board to book. Connect with carriers or brokers with your own private groups or leverage the open market for more options. The fastest and safest freight payments. Manage terms, automate payments and offer quick pay. Risk-free. Eliminate collections & credit risk. Automate your workflows. Our API Integrations enable you to easily manage complex freight payment scenarios and optimize processes. Make new connections or create a private group to automate invoicing and carrier payments. Request payments, get status updates, photograph and digitize documents and automate all of your invoices in a few taps. Integrating with our payment and booking APIs enable you to automate workflows inside of your own apps. Freight tech that works for you. they are leading digital freight payments and software so that you can grow and thrive in the 21st century. Make your company more efficient by leaps and bounds.
8.Multiorders
Multiorders is a powerful multichannel e-commerce management software designed for Small and Medium-sized businesses.
The software provides an easy-to-use solution for multichannel selling, order fulfillment, automated label generation, real-time inventory tracking and analytics – all in one package.
– Integrate sales channels like Shopify, Amazon, Ebay, WooCommerce, Wix, Magento, BigCommerce, Etsy, and manage orders within a single interface.
– Connect shipping accounts like UPS, FedEx, Royal Mail, and DPD to automatically generate labels when a carrier is selected. The system automatically updates order statuses and tracking information.
– Sync Inventory items and let the system automatically update your stock levels after each sale is made.
– Be on top of your sales numbers with detailed analytics, which helps you analyze business, while Multiorders completes most of the back office tasks for you.
– Selecting any pricing plan allows you to use all of the perks of Amazon FBA and USPS Commercial pricing.
9.VIP PARCEL
VIPparcel is a web-based shipping solution that lets users buy USPS postage at discounted rates. Users can conveniently print postage at home and skip the line at the Post Office. In addition, their software features integrations with E-commerce marketplaces like eBay, Kyozou, X-Cart, Magento and more.
Whether you are a consumer or small business owner, VIPparcel claims to give users the highest level of USPS discounts. However, we've still seen better rates elsewhere. In reality, there are other shipping software options that give you deeper discounts by offering a special mail class that VIPparcel doesn't called Priority Mail Cubic. Therefore, we suggest doing some homework to maximize your savings whenever you buy postage online.
Feature Overview:
Discounted USPS shipping services, both domestic and international
Automatically import your orders from a wide variety of marketplaces and shopping carts
Customize and automate your shipping with their API
"Test print" postage with unlimited attempts at no charge
10.Zenstores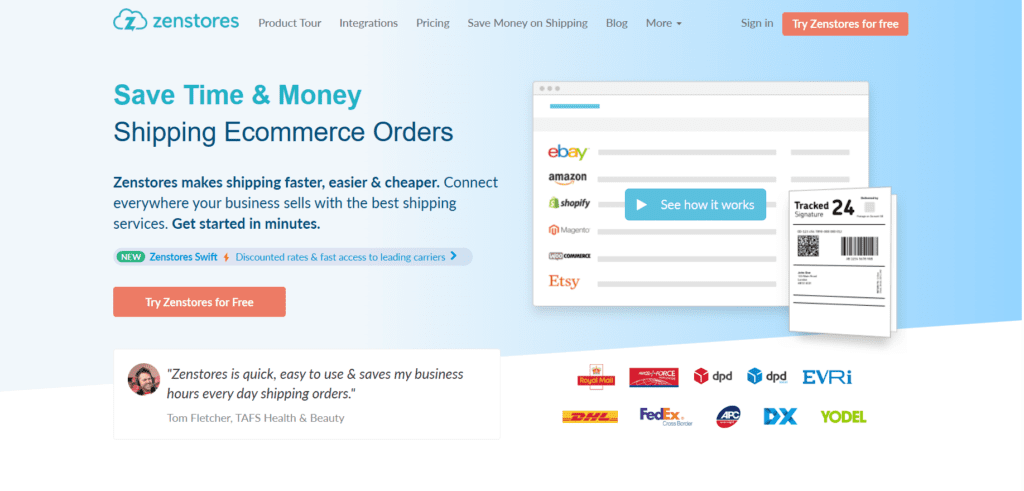 UK's #1 Shipping Software For Growing Businesses Your business mission control Connect everywhere else your business sells to Zenstores. Then view one up to date order list, in sync, and ready for dispatch. Speedy courier label printing Connect your store with Royal Mail, Hermes, DPD and many carriers. Print thermal or integrated labels, in bulk, in seconds. Save money on shipping Connect your own carrier accounts or use ours and access discounted shipping rates.
Whether you're just getting started in ecommerce or your business is shipping tens of thousands of orders a month — Zenstores is ready to help your business succeed.
Conclusion
Your shipping software should not only free up your time as a business owner but also enhance the customer experience. Providing tracking information to your customers will give them ease of mind once they hit purchase in their shopping cart.
If you still aren't sure what the best shipping software is for your business, then you may need to try a few of these shipping options. Most of them offer free trials with no credit card required, so you can see which of these ecommerce shipping options is right for you.
If you're looking for a good shipping software solution to help with your ecommerce business, there are many options available. There's no shortage of platforms out there, so don't be afraid of trial and error as you find out what works best for you.