10 Best Configure Price Quote (CPQ) software
Have you ever heard about configure price quote software? If not, you're in the right place.

CPQ is a sales tool for businesses and sales reps to quickly and accurately create quotes for configurable products and services.
Configuring a quote can be a time-consuming task, especially when a product or service has many variables. CPQ software aggregates these variables, allowing companies to optimally configure a product or service , price it based on cost, competition, and local economic factors, and offer customers the absolute best deal price possible based on all those factors.
What is the Best Configure Price Quote (CPQ) software?
Let's take a look at the best CPQ software to use for your business.
1. SALES FORCE
Sales force revenue cloud is an end-to-end revenue management solution based on the Customer 360 platform that enables you to optimize your entire revenue cycle.
With Revenue Cloud, companies can connect their sales, partners, operations and finance teams to create a single source of truth for revenue and customer transactions, from purchase to renewal to revenue recognition.
With Sales Force Revenue Cloud, you can also :
Increase your salesproductive forces: by streamlining ne your sales process with guided configuration, built-in price approvals, and simple quotes.
Drive growth in every channel: by maximizing customer touchpoints across channels so you can convert faster.
Extend your recurring revenue stream with one-time, recurring and pay-as-you-go pricing for more customer loyalty.
It also comes with various products to help businesses control revenue growth across channels, such as :
Salesforce CPQ, Billing, Subscription Management, Partner Relationship Management, Sales Cloud, Service Cloud, and B2B Commerce capabilities.
2. Hubspot Sales Hub
Hubspot Sales Hub is a powerful sales software built on the HubSpot Growth Platform that helps teams close more deals, deepen relationships and manage their pipelines more effectively using a full-featured sales CRM, sales engagement tools, quoting and CPQ capabilities including reporting and analytics . Plus, the ability to seamlessly integrate with over 1,160 tools in the HubSpot's app marketplace.
With this tool you can:
Generate sophisticated branded offers in seconds.Send quotes to close deals faster when your product is in focus.
Get a comprehensive view of your processes so you can predict effectively and achieve great results.
Send chat conversations to the right sellers to build better relationships and close more deals.
Sales centers remove friction by consolidating all tools and data into one easy-to-use tool,
Sales Hub is available in four versions:
3. DEALHUB
DealHub A unified and zero-code platform for price quotes , contract and subscription management. This quoting software is fast to implement and easy to use, creating professional price quotes and proposals in minutes.
With DealHub, you can:
Generate error-free quotes in any branded format (e.g. DealRoom, PDF, Word, Excel).
Configure custom quotes based on customer needs.
Automatically trigger upgrade, up-sell, and cross-sell recommendations to increase transaction volume.
Ensure consistent pricing and discounts across the organization.
Streamline the sales process to maximize efficiency.
Update new products, configurations and prices in the back end.
It integrates with Salesforce, Microsoft Dynamics 365 for Sales, Freshworks, Hubspot and Sugar CRM.
The DealHub platform also includes:
Configure price quote (CPQ)
Real-time buyer intent insights.
4. PANDADOC
PandaDoc is a cloud-based Quote Management Software that helps users create proposals, quotes , HR documents, contracts, and more.
Businesses use PandaDoc to improve document workflow, insight, and speed, while delivering amazing experiences to their customers.
With over 40,000 customers, PandaDoc enable teams to provide customers with a more professional, timely and engaging experience, due to its powerful document creation and workflow capabilities.
PandaDoc, will allow you to :
Customize digital quotes and quickly share them with your customers.
Create pre-approved templates, content blocks and lock down all legal information to avoid costly mistakes.
Eliminate documentation errors with features like variables and conditional logic.
Ensure data consistency with native CRM integration that simplifies the entire document workflow.
Improve security and trust with built-in legally binding electronic signatures.
Recieve notifications the instant your prospect opens, views or eSigns a quote.
5. PROPOSIFY
Proposify is a quotes software that helps growing teams eliminate documentation bottlenecks, gain the insight needed to understand and scale processes, make timely commitments, and improve forecast accuracy.
The software provides :
a simple, streamlined workflow with pre-approved content that enables your reps to send out the best proposals .
Centralized content repository so reps know exactly where to find pre-approved templates.
Pipeline so you can see what stage each proposal is in.
The main features of Proposify are:
Interactive pricing : Customize pricing options, fees, taxes, and discounts for each offer with an interactive fee schedule.
Electronic Signature : with 32% faster sign-off .
Notifications and reminders : Receive updates on views, completed payments, and unsubscribed subscriptions.
Content Library : Use folders and filters to organize product descriptions, case studies, sections, and graphics.
Design editor : Make customizing proposals .
CRM integrations, pipeline, snapshot, metrics, and more.
6. APPAROUND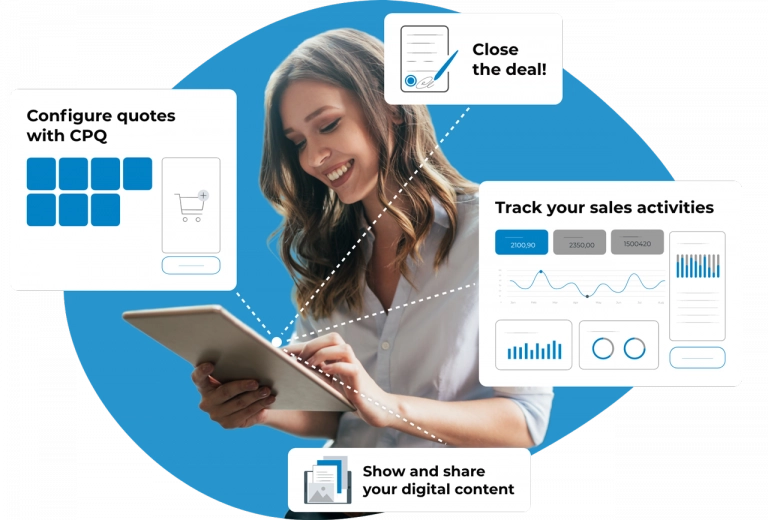 Apparound The leading digital platform for sales cycle management that enables salespeople to be more effective in the negotiation process, streamlining their work and increasing customer retention.
The key features of apparound are :
Share content : Distribute marketing materials such as brochures, catalogs, product specs, presentations, videos, price lists, and promotions to your sales team in digital format at the same time.
Quote Configurator : Create error-free quotes for complex quotes, including multi-product quotes, optional services, packages, discounts, and promotions.
SOLUTION ADVISOR : A guided sales tool that recommends products based on customer needs.
Contract Builder : Contract fields are automatically populated with information gathered from customers, and you can also personalize contract structure and layout.
Electronic Signature : The contracts can be signed directly on the seller's device.or in self-service by using the OTP authentication.
SALES TRACKER : Track quotes and customers.
Data manager : Collect information and get feedback from customers, employees or partners.
Additionally , this software also features admin portal that allows you to run your new sales in minutes and web client that give you the possibilty to use apparound from any computer browser.
7. ORACLE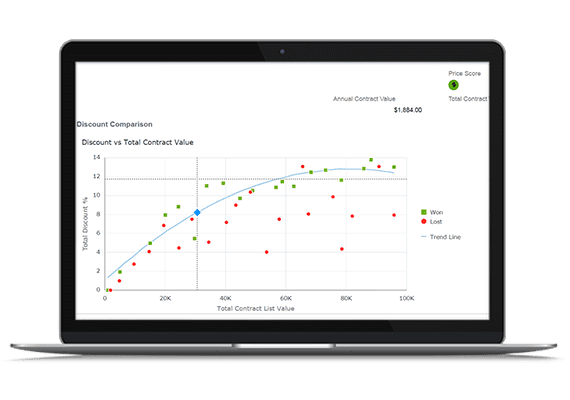 Oracle is a sales management software that helps businesses sell products, services, and solutions faster. Give your reps and channel partners the guidance they need to find the best solution for each customer. Oracle Sales Cloud also offers CPQ Cloud, a complete solution for managing the entire quote-to-cash process it :
Generates ideal quotas, manage territories, adjust sales compensation and develop a sales plan that meets and exceeds your business goals.
Uses data-driven tools to guide sellers to take the best action and save time.
Communicates with your CRM and accelerates deals with adaptive search and a digital sales assistant.
Improve efficiency with subscription management and CPQ to help reps sell more to existing customers.
Oracle CPQ Cloud can be deployed on its own or in conjunction with leading CRM, e-commerce, services, and ERP platforms to deliver an omnichannel customer experience while removing friction between quoting and paying.
8. CONFIGURE ONE
Configure one is a Configure Price Quote Software that covers the entire process from sales to production . Configure products, calculate prices, send quotes to customers, secure orders and create technical documentation.
it enables users to complete a sale and submit an order through the web , calculate priceses dynamically or uses bill of material data , create unique configurations of complex products and provide comprehensive quotes for customers.
configure one features :

Product Configurator : Rules and logic intelligently guide users through the product configuration process, while 3D visualization options show customers what they've created in real-time as each option is selected.

Pricing Tools : Calculate prices based on bill of material item data or generate prices dynamically without a BOM. BOM pricing can pull item price and cost data directly from the integrated ERP to keep pricing accurate, current and secure.

Personalized quotes docs : Include line items for full price configuration, view and edit BOMs through the Quotation Interface, manage customers, and create dynamic quotation files.

Omnichannel sales: Monitor orders with customizable reports and order queues to review orders before final approval.
9. QWILR
Qwilr is a document creator that provides the latest in design, web-based technology, impressive recommendations and automation for your customer communications.
With Qwirl, you'll be able to :
Quickly create proposals from a library of reusable blocks.
Choose a pricing plan that suits your needs.
Automatically create personalized documents from your CRM to generate invoices for your finance team.
Select, accept, e-sign and pay – once, from any device.
Reduce the number of steps to complete a transaction by offering buyers interactive pricing, electronic signatures and payment options.
Scale your team and maintain sales velocity.
Integrate with business tools , connect directly to Salesforce, HubSpot, Slack, Xero, and more.
With page notifications, you'll see when your page has been viewed, the sections they've followed, and when they'll view it again
10. VARSTREET
Varstreet is a web quoting software that manage all your business processes and has multiple modules like quoting, eCommerce, CRM, procurement, analytics,sourcing, marketing etc.
With tthis tool, you can :
Create attractive and professional rich content, images and technical specifications.
Sell your products online with their B2B eCommerce platform for VARs.
Acquire your products at the best possible price with their real-time distributor feeds from 45+ distributors with over 7 million products from popular manufacturers.
Streamline the way you resell your IT products and services and optimize your revenue.
Get free rich content like images, tech specs, long descriptions, related products etc. from multiple sources including Etilize, IceCat, top vendors…
Conclusion
Thus, no matter how many CPQ software there are you have to choose the best one for you.
But first, there are a few things you need to consider when making this decision. Here are some tips that will help you:
Make sure CPQ solutions don't degrade your sales team's performance.
Invest is based on artificial intelligence solution.
Make sure the solution is easy to understand and automatically updated.
Choose a CPQ solution that supports coordination and collaboration across channels.
Finally, see if it can integrate with other applications like contracts, billing, etc.
That's it, now you are ready to increase your business revenue, profit and customer satisfaction!