10 Best CRM For Travel Agency
A CRM (customer relationship management) is at its core a database of customer data. CRM systems have evolved to a sophisticated point where they can now organize this data to provide tons of customer service, marketing, and sales solutions. A CRM system means you can run your business operations from one place.

Businesses of all sizes can benefit from a CRM as well as businesses in any industry. Some providers offer niche systems that fit into one industry whilst others are flexible and customizable and can suit various business sizes and industries.
1.Rezdy
Rezdy is a cloud-based B2B solution that helps tour operators sell their products on websites and multiple distribution networks. The solution's open platform helps users integrate internal systems and web applications with the offered booking engine. It works with multiple websites including WordPress, Joomla and Drupal that helps in integration of the booking form.
Rezdy provides its users with techniques and plugins to help products reach out to online customers. The solution helps distribution channels like online travel agencies, marketplaces and hotel chains find and access more products to offer to their customers. Additionally Rezdy offers features like multilingual support for booking form, social media integration and industry standard SSL protection. It uses PayPal for all its transactions. Rezdy is configurable on mobile devices and can be used with different internet browsers like Google Chrome, Internet Explorer, Safari and Mozilla Firefox. Pricing is per month. Support is provided via online forum and phone.
2.Tutterfly
Tutterfly is an all-in-one CRM platform that is industry-specific and is designed for travel agents and tour operators. The software runs all the sales operations efficiently with an integrated sales interface that gives the user a complete overview with full independent operations. Users can tap into multiple online and offline channels to market in every possible way to maximize success. It also provides its users with an easily accessible support system and custom responses.
Tutterfly software offers a novel lead conversion system by which one can customize their approach and save leads by pitching the right offers at the right place. The software allows its users to scale their business virtually and build a strong foundation for a successful business. It develops an unparalleled app experience to its users for all kinds of travel businesses. The software is mainly suitable for travel agents, tour operators, small and medium companies. Users can customize the interface for maximum performance.
3.Wetravel
WeTravel was designed to support travel businesses by digitizing and streamlining operations. Through its intuitive platform, WeTravel supports businesses to increase sales conversion and increase revenue, trim administration time, and automate processes.
The platform's capabilities continue after setting up the trip page to marketing your tours and handling traveler administration, it hosts a network of payment solutions to enable control of how travelers pay for their trips–with installment and mobile-friendly payment options–to a range of payment options to instantly transfer payments to global suppliers, handle and control employee and internal payments, all executed with the absolute security of bank-grade encryption and trusted financial partners.
4.ANIXE
Anixie CRM is a customer relationship management software designed for travel agencies. It helps travel agencies manage their customer interactions and data throughout the customer lifecycle. Some of the features of Anixie CRM include:
Customer and booking management
Sales pipeline management
Marketing automation
Customer service and support tracking
Reporting and analytics
Integration with other travel industry tools
5.Toursys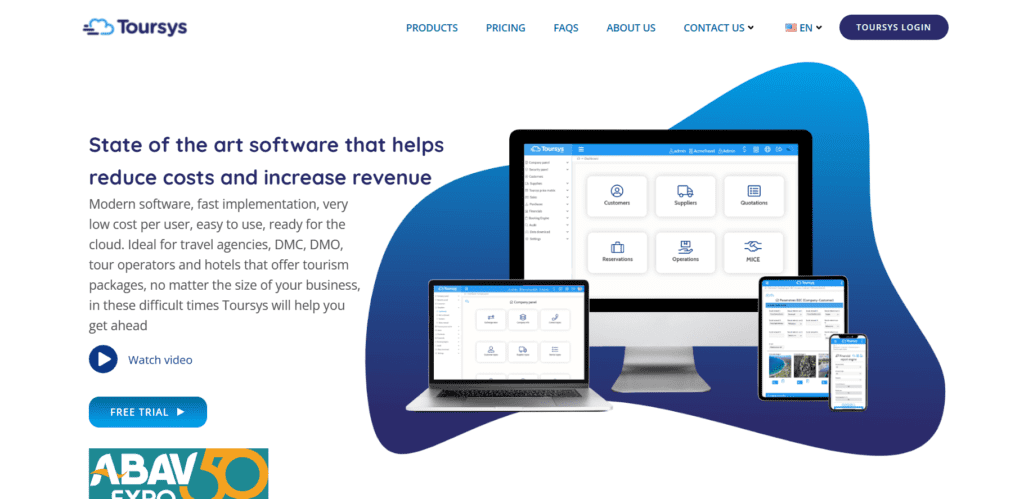 Toursys is a workflow automation platform for travel agencies, tour operators, DMCs, activity operators and small hotels. With its easy-to-use design, low cost, speedy implementation and fast performance users will easily create quotes, reservations and manage operations efficiently.
Toursys manages clients, providers, rates, terms, reservations, operations, accounts payable and receivable. It is multi-language & multi-currency.
Toursys will help companies increase productivity, reduce costs, increase profits and customer satisfaction. The system creates quotations in minutes rather than hours, automatically confirms reservations with suppliers and allows users to operate with less staff.
6.EZUS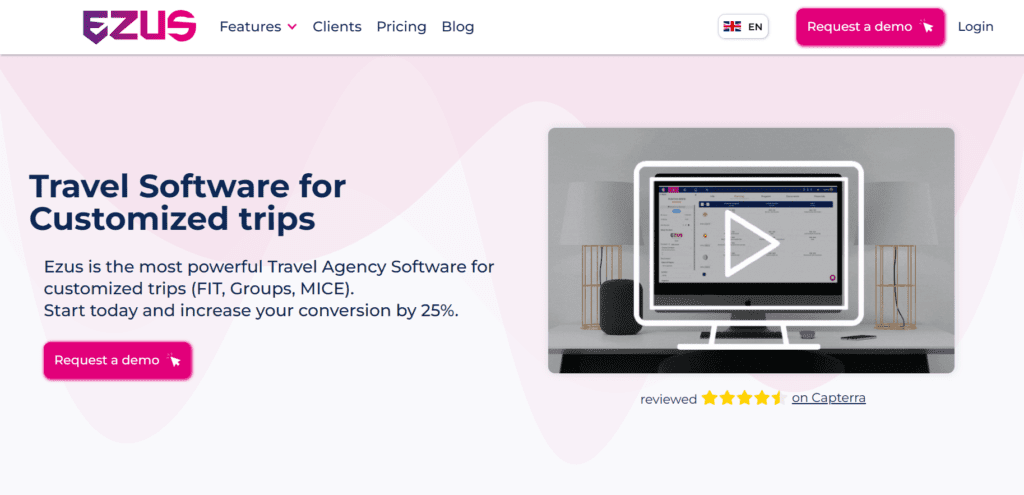 Ezus is a cloud-based travel planning software that helps DMCs, agencies and travel planners create and sell custom travel proposals, automate programs and centralize suppliers. The platform includes tools for managing catalogs, programs, budgets, documents, sales, finances, tasks, and more.
Ezus centralizes customer and supplier information in a single collaborative tool through its internal CRM and catalog. To manage projects, users can create tasks with reminders and deadline and update the status of projects. The statistics dashboard provides insight into ongoing project statuses, open tasks, and potential margins and budgets. An overall view of the sales pipeline keeps users up-to-date on deal stages.
Ezus allows travel agencies to optimize their catalog by arranging and classifying products, with the ability to reuse and customize travel offerings. Instant budgeting from the program screen allows users to modify prices and manage margins, and travel documents can be generated with one click to send to clients. Ezus also includes tools for managing finances to ensure all payments are made and collected in a timely manner.
7.Youli
YouLi Group Travel Made Easy includes a booking platform with built-in customer engagement and automation tools for group tour operators, travel agents, and retreat planners
– Take Individual and Group Bookings – Manage Room Inventory
– Build Itineraries, Trips Pages, send out Trip Quotes
– (Re)Launch in days with Plug N Play Travel Website or get custom web development
– Collect interest with built-in registration forms
– Optimize with all Tasks and Documents in ONE place All-in-One Solution for Group Trips:
– Website, itineraries, tasks, documents, people, and payments in one place
– Launch websites in days, not weeks
– Human-centered tech with a supportive community for non-techy travel professionals.
8.Darwinbox
Darwinbox is a human resource management software designed to help businesses handle various administrative operations such as attendance tracking, payroll management, employee engagement, expense management, talent management, analytics, and more on a centralized platform.
Built for the evolving world of work, Darwinbox acts as a one-stop-shop to streamline HR processes and has a talent management suite catering to every philosophy. Its solutions combine highly configurable workflows, smart and mobile-first interfaces to deliver the ultimate employee experience and adoption.
Pioneered in AI powered innovations like HR Voicebot, Advanced Talent Analytics, OCR for documents and expenses etc, Darwinbox helps organizations unleash a new age of digital efficiency, intelligence and human-like tech experience.
9.Capsule
Capsule CRM is a cloud-based solution for small to medium businesses. It helps foster customer relationships with features like email marketing, website personalization, social media service, automated reminders and more. Organizations can enter basic contact information, pipelines, goals and budgets and start building an in-depth, personalized pipeline with full access to customer details.
key Features
Contact Management: Stores and tracks information corresponding to all contacts, including opportunities, leads, vendors and customers. Contact and communication information is shareable on a company-wide, team-wide and individual level, making collaboration seamless.
Document Management: Enables publishing, storing, editing and sharing documents like agreements, proposals and more via a central platform.
Tasks and Calendar: Manages and tracks tasks and activities that get synced with the calendar to manage daily schedules. Routine tasks can be set on periodic repetition and processes can be defined using interlinked tasks.
Sales Pipeline: Provides a complete view of the sales pipeline and manages sales opportunities by tracking critical stages, values and probabilities of closing a deal.
Reports: Monitors every aspect of the sales cycle from sales data to pipeline insights and activity stats to aid data-driven decisions. Rule-based success factors support generating revenue forecasts.
Teams & Roles: Allows creation of teams, lead assignment and new opportunities to designated sales representatives for project management. Managers can control access based on the user, user role, groups and more.
Customer Support and Case Management: Offers a dedicated customer support portal that tracks and resolves issues. Create and share a knowledge base to address common questions by customers and manage call center activities for faster response time and higher customer satisfaction..
10.Kapture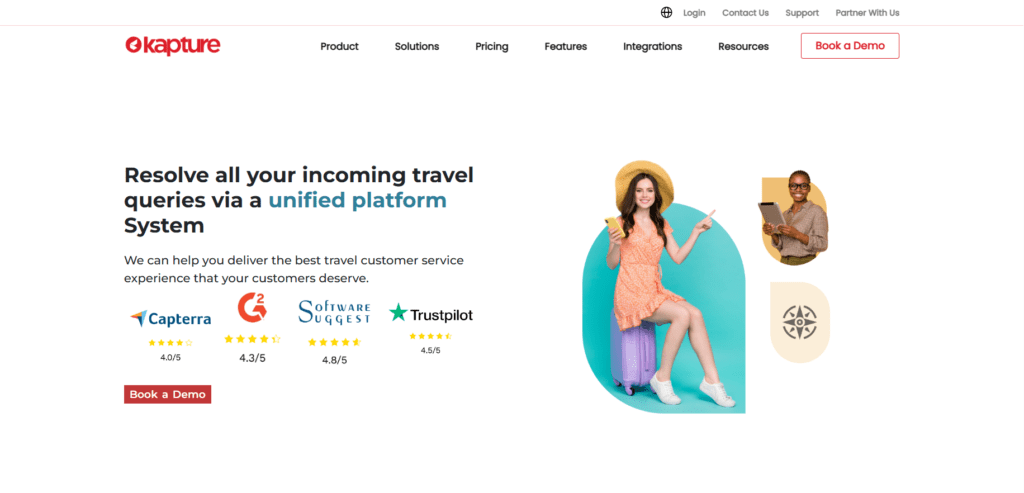 Kapture CRM is a cloud-based customer relationship management solution which helps enterprises of all sizes automate sales, distribution, customer service, marketing and collections processes. The platform enables users to manage pre-sale activities from a centralized location.
Primary features of the Kapture CRM include alerts/escalations, appointment and email management, surveys and feedback, queue management, live chat, performance metrics, CRM and sales reports, marketing analytics and automatic lead capture. Kapture CRM offers predefined templates to help users send customized mailers to clients. The unified dashboard allows users to track calls, available agents, call types, responses and more via a unified dashboard. The platform allows firms to connect to users across multiple platforms including social media, email, chat and through direct marketing campaigns. Its analytics functionality provides interactive reports with pie-charts and excel sheets to gain insights into sales and marketing campaign performance.
Kapture CRM enables businesses to maintain a database of customer interactions, leads, support tickets, queries and refunds. The platform integrates with various third-party applications including SAP, Oracle, WordPress, Shopify, Yelp, FreshBooks and Twilio.
Conclusion
These are not all the possibilities and advantages of CRM for a travel agency. With a customized system, it's easy to create your own powerful tools that allow you to improve your company's profits, scale it, and automate work processes. Contact us, and our specialists will provide a detailed consultation and help you decide on a choice. A CRM system for a travel agency is a powerful tool that must be implemented if you want to scale and develop your business.