10 Best Electronic Signature Software
Gone are the days of signing documents with pen and paper. Electronic signature software is faster, more convenient, and much more environmentally friendly.

Electronic signatures are legally binding. The best electronic software tracks the entire signing process, automatically generating an audit trail. You can get started for free with many of my recommendations.
E-signature software frequently integrates with third-party applications, including CRM software, ERP systems, HR management suites, and accounting, to facilitate quote, contract, and supplier management efforts.
What is the Best Electronic Signature Software ?
1.DocuSign
Docusign's platform can be accessed online or through an app on your phone. The process of signing a document is as easy as clicking on an icon, typing in your signature, and pressing send.
The Docusign app provides the same functionality as the desktop version but with a few more features like instant access to recent documents signed with Docusign, sending signatures directly from your camera roll and having up to five people review drafts of contracts before they are finalized.
In addition to signing documents electronically, Docusign also offers document storage and management tools for business users who need to store files securely in one place or share them with team members.
DocuSign helps your business:
* Send, sign and track agreements quickly and easily
* Boost customer satisfaction by providing a superior signing experience
* Standardize the agreement process
2. Adobe e-sign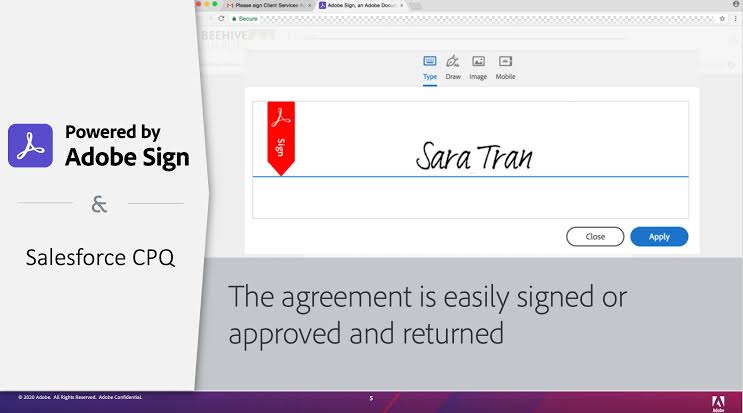 At Adobe, we believe that documents are more than just a collection of information and proof. They are foundational to connecting people and ideas, pushing business forward. Adobe Acrobat Sign helps your business move faster.
Acrobat Sign is the only intuitive e-signature solution that combines simple and secure e-signatures with the power of Adobe Acrobat.
With Acrobat Sign, you can create, sign, send for signature, manage, and track documents – all from one Adobe platform. You can create delightful signing experiences for your customers and teams by enabling them to sign documents on any device or browser – anytime, anywhere. No additional software download or accounts are needed.
As Microsoft's preferred e-signature solution, Acrobat Sign seamlessly integrates with your favorite Microsoft apps. Save time by signing and requesting signatures – all right from Microsoft 365, Teams, Outlook, and more. Plus, you can access smart integrations for Salesforce, Workday, and many more apps you use every day. Minimize legal and compliance risks by choosing Acrobat Sign, designed to be globally compliant and legally-binding in nearly every country in the world ,and just download adobe sign.
3.Sign now
SignNow is cross-platform e-sign software with a robust API. This makes it easy for businesses to embed electronic signature capability into their websites and apps.
It's so easy you can create complex e-sign workflows and facilitate online signature requests without writing a single line of code. While there are other e-sign platforms out there that offer similar functionality, none are as straightforward as signNow.
signNow also integrates with a wide range of third-party apps. You can sync it with your CRM, accounting software, payroll system, ERP system, and marketing automation software with ease For such a powerful solution, signNow is surprisingly affordable
4.Signwell
SignWell is electronic signature software that you can use to sign documents. Upload Word, PDF, and other files and use SignWell for all of your document signing needs;(best electronic signature app ) .
Signwell is an exceptional application because it allows users to know exactly when the sales documents have been viewed by the recipients. The application has the ability to share and track presentations, statements of work, and other read-only documents. Fillable documents like contracts and proposals will also automatically have this level of tracking. Signwell makes the signing, tracking and approving of documents extremely easy. Users will find themselves spending less time on paperwork because the features in Signwell will allow them to finish all the nitty-gritty aspects of completing their documents quickly and efficiently
SignWell also enables users to send various sales documents such as proposals, bids and estimates to their clients and get their approvals on the relevant documents. Additionally, SignWell provides users with field suggest capability and the functionality to manage the contributions of multiple people working on specific documents. Services are available on a monthly or annual subscription basis that includes helpful support from real people (not automated).
5.PandaDoc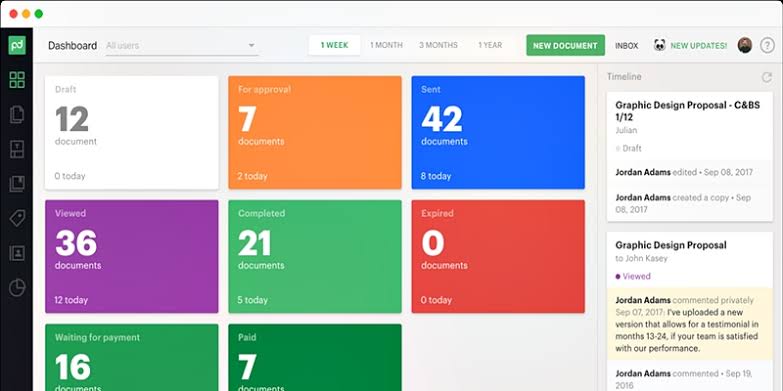 Teams use PandaDoc to improve document workflows, insights, and speed while delivering an amazing experience for their customers. Businesses trust PandaDoc's all-in-one document automation software to streamline the process to create, approve, and eSign proposals, quotes, contracts, and more. With powerful document creation and workflow capabilities, teams can provide their customers with a more professional, timely, and engaging experience.
PandaDoc provides organizations complete digital document solution. Its users are able to create, send, sign, and track documents online, as well as to securely process paperless transactions. The service is aimed at sales teams in SMEs and large enterprises.
Documents, that can be handled by this platform are proposals, quotes, contracts, HR documents, receipts, invoices, etc. PandaDoc offers set of templates and preset text blocks that makes quoting easy and fast. It streamlines the way sales teams creates and sends sales papers, making closing deals more effective.
It is possible to share documents within the organization's departments, or defined groups of people. PandaDoc also features CPQ functionality, pricing tables, e-signatures, proposal generation, image library, and more.
6.Hellosign
HelloSign is the intuitive way to sign and request signatures securely online. Add legally valid signatures to any agreement—from new-hire offer letters to loans to sales contracts to NDAs. An award-winning user interface, robust admin controls, document tracking, and enterprise-grade security that's more secure than pen and paper methods all come default out-of-the-box. Sign faster.
HelloSign helps businesses sign contracts 80% faster, on average, than traditional paper-based contracts that take on average 15 days to sign and return. Increase document completions. With features like tracking, automatic reminders, and mobile signing, HelloSign has improved document completion rates by up to 96%. Send agreements fast. An award-winning, intuitive interface combined with features like templates and data validation means HelloSign is fast and easy for anyone to send agreements for signature. Work from the tools you love. HelloSign integrates seamlessly with apps like Salesforce, Slack, Oracle, HubSpot CRM, Microsoft Word, so you can send documents for signature directly from your favorite tools. Automatically file and store agreements. Automatically save signed documents and find them anytime in your preferred cloud storage, whether that's Google Drive, Dropbox, Evernote, Box, OneDrive, or SharePoint.
Make every agreement court-admissible. Every HelloSign agreement is affixed with a court-admissible audit trail, which protects all parties and reduces remediation costs and legal challenges. Keep everything secure. All of your documents are kept private using encryption both in transfer and at rest. Add deeper functionality. The HelloSign API embeds robust eSignature functionality directly into your app, workflow, or website. Features like embedded signing, custom branding, and embedded templates create a truly seamless in-product signing experience. An exceptional developer experience and dedicated API support team means you get a secure, reliable, and feature-rich signature experience with an average implementation time that's over 2x faster than the industry average.
7.signeasy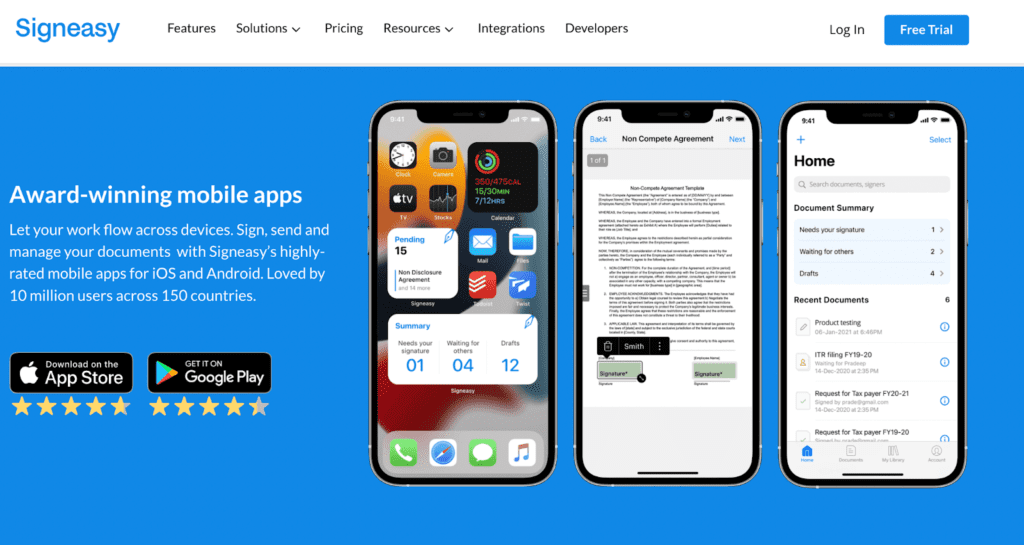 Signeasy is an easy-to-use workflow and automation platform to sign, send, and manage critical business agreements; Signeasy is the easiest and fastest way to sign and send documents for signature from your phone, tablet and computer.
Signeasy integrates with many popular productivity and business applications like G Suite, Office 365, Dropbox, and Box, as well as leading email providers like Outlook and Gmail. Signeasy's app for iOS and Android has been downloaded more than 6 million times, regularly ranks among the top 100 grossing business apps on the App Store, and is consistently rated #1 in customer satisfaction for SMB eSignature solutions by independent software review sites.
8.Proposify
Proposify proposal software helps growing teams remove document bottlenecks, and get visibility into the most important stage of your sales cycle: the close.
Proposify is the online proposal software that gives you control and visibility into the most important stage of your sales process. The close. From deal design to sign-off, get the confidence and flexibility to dominate deals. Create impressive sales documents that stay consistent and error-free. Receive the insights to scale your process, make timely engagements, and accurately forecast. Deliver a seamless sign-off experience for your customers and prospects. Features include a flexible and user-friendly design editor, electronic signatures, CRM integrations, data-driven insights, interactive pricing, content management, approvals, and so much more.
9.SignRequest
SignRequest is a cloud-based electronic signature solution that allows users and their partners to approve and sign electronic documents online. The system allows users to send and sign an unlimited number of documents from any device.
SignRequest allows users to store and manage multiple documents and contracts requiring single or multi-party signatures or approvals, and checks whether the signer needs to click an approval button or add their signature. An unlimited number of templates can be created, allowing users to build a document once and send it multiple times. Several documents can also be sent in the same request. Users with SignRequest accounts can save their signature, allowing them to add it to documents with a single click. Other signatories can then affix their signature by hand, by downloading or by typing. For documents that require multiple parties to sign, users can manually determine the signing order. Reminders can be sent to signers manually or automatically for documents awaiting signature.
SignRequest can be customized with company branding and its users can add logos and change color schemes. Signers can be redirected to custom landing pages after signing, and the default subject lines for signature request emails can be changed. SMS and bank payment verification features are also available for an additional fee.
10.Lightico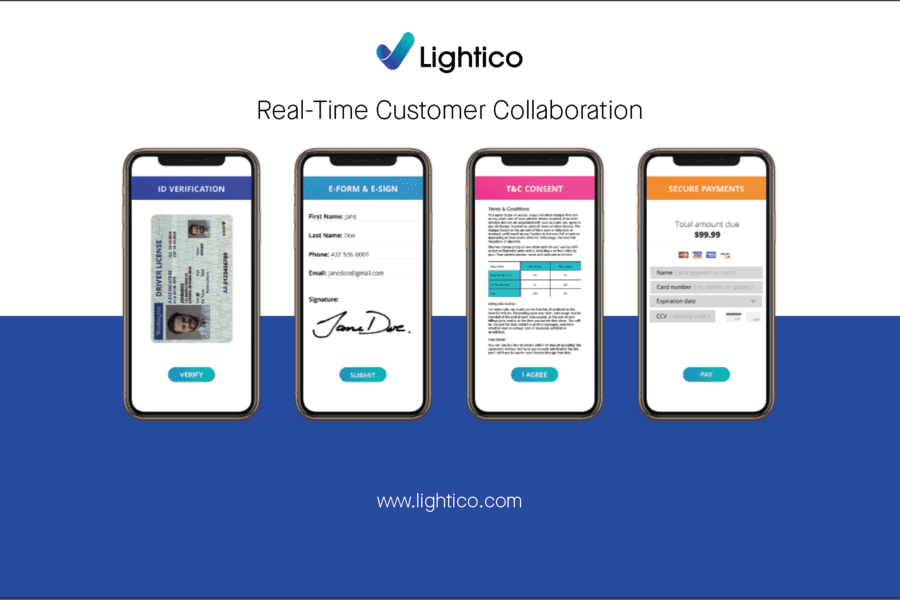 Lightico is an electronic signature software that helps businesses get customers' signatures, even when using their mobile phones. No app needed, just sign with your fingers.
Sign documents and forms electronically, even collect customer credentials (driver's license, utility bills, etc.), share images, fill out smart forms, and get real-time e-signatures. Use Lightico and stop redirecting customers to emails, prints, scans and faxes. Do all your tasks in one go. No app required. #sellmoreandfaster.
Customers easily finger-sign from their cellular phone.
Instantly get eSign documents, eForms, PDFs in real time – With ad-hoc documents or pre-formatted templates.
Use through API or stand-alone – Via text/SMS or email.
Don't chase customers by email or lose deals – get eSignatures on the spot.
Free Trial.
Lightico's real-time customer collaboration platform empowers your agents to collect forms, documents, e-signatures, photos, consent to disclosures and to verify ID instantly while they have customers on the phone by simplifying customer interactions in the last mile of the customer journey, businesses make it easier for their customers to be their customers, earning their trust and loyalty, translating to higher profits.
While it may seem like all electronic signature software does the same thing, every solution is unique. It can be challenging to find the best option for your business if you don't know what to look for.
If you're ready to improve your workflows and start signing documents electronically, signNow and SignWell are the best options for most people.