10 Best Market Intelligence Software
Market intelligence is defined as information or data that an organization obtains from the markets in which it operates or intends to operate, to help identify market segmentation, market penetration, market opportunities, and existing market indicators.

This can give a company an important advantage over its competitors, allowing them to understand their target audience and assess insights into their various products.
What is the Best Market Intelligence Software ?
To know more let's dive into the best market intelligence software :
1. DEMANDBASE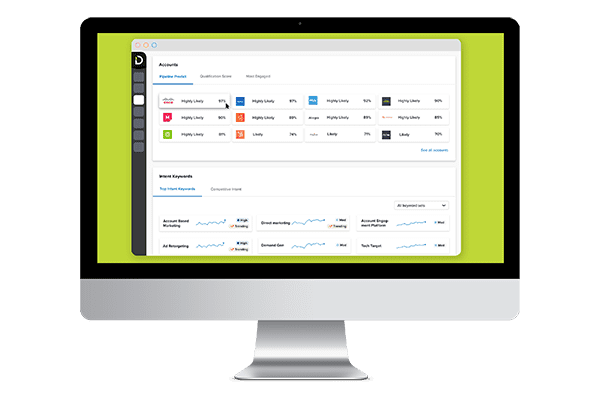 Demandbase's sales intelligence software inserts customer intelligence into every step of B2B sales, so you can sell smarter and catch competitors who are caught off guard. Access continuously updated company, contact, technical diagram and intent data in your CRM, browser and more.
With this software you can:
Access millions of company and contact profiles.
Use your private network to warmly introduce potential clients to people they already know.
Create sophisticated client lists and buying boards from our intelligent database of over 80 million companies and over 127 million contacts worldwide.
Target precisely with one-click data sync to CRM. Your account information is complete and up to date.
Use the Demandbase browser extension to get full contact details, including email addresses, direct dial numbers and mobile numbers.
You can sync data directly to your CRM. This way you always have clean and complete data.
This Sales Intelligence software puts their Account Intelligence at your fingertips : inside Microsoft Dynamics 365, Salesforce, or your browser.. so you can find more of the right prospects at the right time, engage with them on a deeper level, and win more.
2. SEMRUSH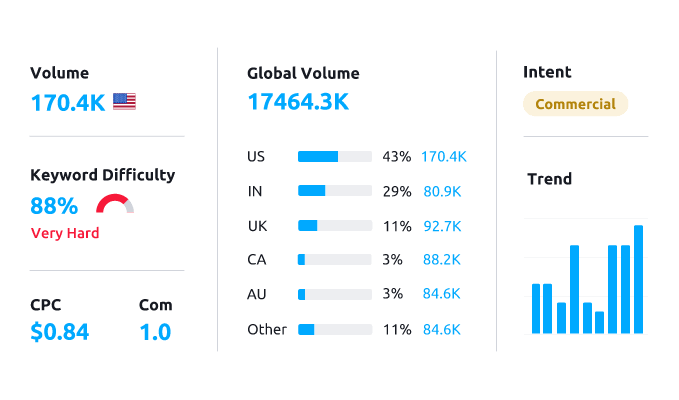 Semrush is the leading online visibility management software-as-a-service platform. With over 55 online visibility management products, tools, and add-ons, including tools for search, content, and more.
It features :
SEO Tools and Workflow: so you can discover millions of national and local keywords, analyze each domain's backlink profile and perform a technical SEO audit.
Content Marketing: Find topics that resonate with your audienceAnd get actionable tips on creating SEO-friendly content.
market research : Analyze each website's traffic, uncover competitors' advertising strategies and generate ideas to increase your market share.
Advertising: Monitor your competitors' ad copy and landing pages and optimize your ad spend.
Social media: Schedule and publish content on social media, analyze the performance of your posts, and track and analyze competitor accounts.
Agency solution: Get quality leads on a regular basis, automate client reporting and referrals, create white-label client portals, and share project progress details.
3. NETBASEQUID
Netbasequid one of the best Best Market Intelligence Software, Netbasequid is a platform that uses advanced artificial intelligence to process billions of indexed resources in various forms of structured and unstructured data, enabling brands, agencies and consulting services clients to make intelligent, data-driven decisions accurately, quickly and efficiently decision making.
With netbasequid you will have a variety of features such as:
Analyze comprehensive consumer data to gain a complete understanding of your target audience.
Use news and social insights to inform your marketing strategy and maximize campaign performance.
Use customer analytics to offer more attractive offerings and higher market acceptance, and ultimately drive more sales.
Identify and address the key drivers of brand health.
Analyze news trends to monitor and increase your brand's share of voice, understand what your target market is consuming, and maximize the effectiveness of your campaigns.
Assess your brand's competitors, broaden your view of market trends and consumer behaviour, identify competitive risks and challenges, uncover new opportunities, and inform your strategies.
4. DISCOVER ORG
With DiscoverOrg you can Generate more leads and target leads by using your B2B business contact database and buying signals to connect and close ideal customers.
This software allows you to :
Edge out the competition: Build targeted lead lists with DiscoverOrg's simple yet powerful cloud-based platform.
Define your market: Create buyer and account profiles to coordinate sales and marketing efforts and enable ABM.
Identify top targets : Find key decision makers and customers who match your ideal customer profile in just a few clicks.
Prioritization and Forecasting: Identify, score and rank opportunities based on ideal fit and propensity to purchase.
Increase leads and pipeline: Connect and engage with qualified prospects using advanced insights and real-time buying signals.
Manage, cleanse and enrich your data: Add and update existing and incoming lead data in real-time to ensure the information stored in the application is always current and accurate.
Precision exploration : Beat other recruiters to the punch with automatic alerts about major personnel changes like promotions, layoffs and more.
5. MELTWATER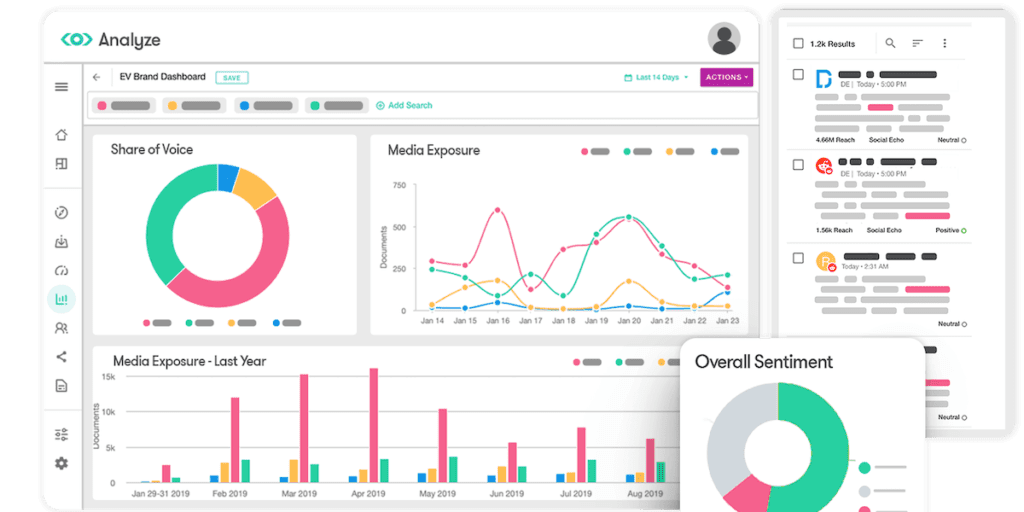 MELTWATER, number 6 in our list of the Best Market Intelligence Software, it enables leading companies to navigate an increasingly fragmented media landscape and align PR and marketing teams.
This ssoftware is perfect for :
Brand management :Protect against the risk of reputational damage. Protect your brand by proactively monitoring and engaging in conversations that affect your company's reputation.
Social Media Management: Engage by Meltwater simplifies the process of planning content, engaging with communities, and measuring the performance of all social media channels.
Media Relations: Reach the right journalists with personalized outreach at scale. Meltwater's media contact database and Telegram distribution capabilities help you ensure media coverage is what your executives want to see.
It provides access to the latest PR measurement tools, allowing users to quantify their PR impact. Social media analysis provides a clear picture of user brand and customer sentiment.Meltwater's smart media contact database lets users connect with main media influencers, bloggers, journalists and more and finally create presentations for stakeholders and share insights with internal work groups through a shared dashboard.
6. LEAD411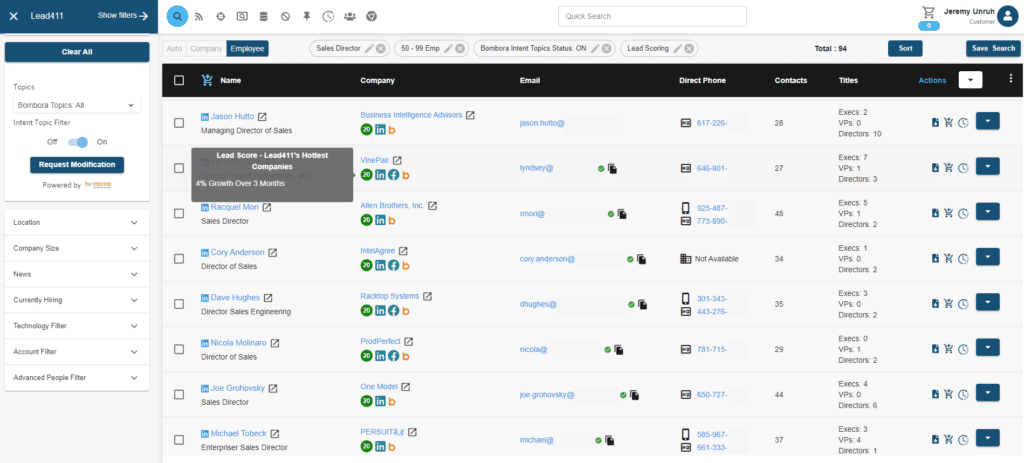 Lead411is the premier source of verified lead data, including verified inbox response emails with a 96% accuracy rate* and the industry's largest number of direct B2B phone numbers. Lead411 also provides Bombora intent data within our platform, enabling you to find companies and contacts who are actively searching for your services/solutions.
The software includes several services such as:
Sales Services: Allows you to build a healthy pipeline of verified emails and B2B direct calls, closing more deals and generating more sales.
SAAS and Technology: Their advanced technology search makes it easy to find companies using popular technologies like Salesforce or more obscure technologies like Moodle.
Marketing Services: If you create custom lists for clients or custom audiences for ads, Lead411 makes it easy with easy data filters and export options for almost any scenario.
Recruitment: with their growth intent will find companies that are currently hiring, planning on hiring, or planning on opening new locations so you can engage with the ideal companies today.
7. FACTIVA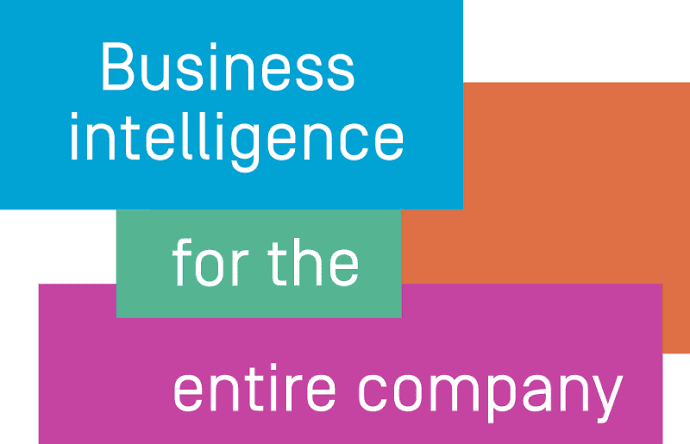 Factiva helps you identify opportunities, accelerate decision-making and manage reputation with trusted business intelligence. Rely on an unrivaled selection of global news and data, accessible on mobile devices or through advanced feeds and API integrations through a robust research platform.
Some of its main features :
Research and Strategy:Support strategic decision-making, uncover competitive advantage, and deliver actionable intelligence through global news, data, and insights.
Advanced Analytics and Data Mining: Generate deeper insights, improve sentiment analysis, uncover hidden relationships, make accurate predictions, and enrich data visualizations with news data powered by advanced analytics models.
Media Monitoring and Corporate Communications: keep an eye on your brand's reputation and stay one step ahead of potential issues with a content database from 200 countries in 32 languages, comprehensive monitoring tools and management solutions.
Competitive Intelligence: Gather market intelligence, track competitors, and provide strategic guidance with reliable world news, in-depth company and executive data, and multi-channel delivery.
Sales Channel and Business Development:Use news from more than 33,000 global sources and a database of millions of company profiles to empower your global sales and business development teams to grow pipelines, target companies and connect with customers.
Factiva continues to offer more technology websites and expand its content set in emerging markets. Another focus is the API, designed to facilitate the integration of content into client platforms.
8. ALPHASENSE

With Alphasense, you have the ability to discover comprehensive market information in one search. Access thousands of advanced business data sources that are indexed, searchable, and all in one place.
It provides:
Strategic Insights: Identify critical information in millions of documents from more than 10,000 world-class business data sources.
Reduce Risk: Access our research platform to monitor your competitors in real-time as well as competitors and portfolios with AI-powered smart alerts.
Seamless workflow: Annotate, edit and share research with your team to save time and maximize efficiency.
Besides, with alphasense you have several functions:
Content: so you can access 10,000+ sources of advanced business data, including broker research, transcripts, SEC filings, news and trade publications.
Search: Discover relevant data points across millions of documents using AI and NLP search technology.
Workflow: Streamline your research workflow with annotation, modeling and approval features.
9. SPRINKLR
Sprinklr Modern Research shows leading brands how to become customer-centric by turning customer data into actionable insights and new business opportunities at scale. You can turn data from millions of conversations into actionable insights across your organization, giving you a single, unified 360° view of customers to make faster, more informed business decisions.
With this software you can:
Turn AI-powered listening into a competitive advantage: Sprinklr lets you better understand feedback on your products and services, as well as key insights into your competitors' products and strategies, so you can identify key market trends and capitalize on unmet customer needs.
Build your business with real-time customer insights: With its AI engine, you can turn the real-time voice of customer data into actionable insights, then share them in any format on any device across the organization to foster collaboration and innovation.
Mitigate risk and protect your brand: Modern Research gives your team real-time insight into current events, trending events and brand crises before they become consequences – so you can make proactive, informed decisions about your own media strategy and tactics.
Their AI automatically groups and combines reports from traditional and modern channels to generate custom brand stories to ensure you're always capturing true share of voice and earned media value metrics.
It also gives you the following options:
Conduct unlimited research with Listening Explorer.
Turn passive into active with smart alerts.
Visual Insights Seeing is believing.
Plan better digital strategies with competitive insights and benchmarking.
Uncover blind spots with Sprinklr's AI-powered conversational insights.
Inform every business decision with audience insights
10. SERPSRAT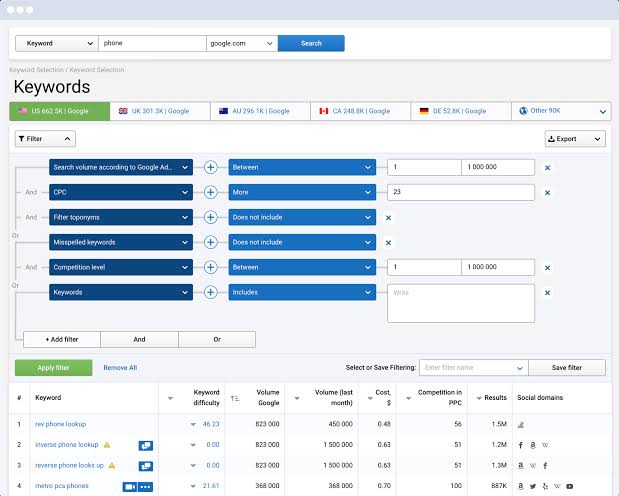 Serpstat is an all-in-one SEO platform that includes website analysis, keyword analysis, backlink analysis, rank tracker, site audit, clustering, text analysis, and keyword quality control.It provides SEO and PPC professionals, marketers and large digital agencies with 50+ tools to perform site-wide analysis, competitor analysis, content creation, keyword harvesting, backlink checking, auditing, clustering and performing daily rankings track.
You can use the largest database to collect keywords for your website and analyze the following indicators: volume, popularity, competition, keyword difficulty. Keyword collection and analysis is based on regional search results and competitor sites in your field.
This software is very useful for:
Collecting profitable organic and paid keywords to use in your SEO and advertising.
Monitoring changing URL and domain parameters.
Tracking your posts and those of your competitors daily.
Detailed domain or URL analysis based on various ranking factors. This data gives you insight into issues that may be negatively impacting your visibility in search.
Backlink research helps you identify toxic backlinks or find link opportunities while researching your competitors.
A website audit uncovers issues affecting website performance and identifies optimization opportunities, making it easier and faster to get to the top job.
It's ideal for SEO specialists, PPC specialists, business owners, copywriters and journalists.
Conclusion
Marketing intelligence is important because it provides your business with the basis for all decisions. Analyzing the collected data is invaluable as it provides insight into the company's target audience, growth potential, market opportunities, competitive analysis, and other future goals, shows how you compete with direct or indirect competitors, and helps you spot lies to foresee the future. It guides your company's decisions by cutting through market noise.