10 Best HR Software for Small Business
with talent shortage tripling in the past 10 years, today's HR is no longer a back-office function, but a strategic partner in keeping the company competitive. After all, employees are a company's most valuable asset. It is no coincidence that the most competitive companies also have the most talented skills.

This is why scouting for the best HRIS software for small business is important. Beyond helping you manage timesheets, payroll, benefits, workforce analytics, and performance analytics, it helps you to hire and onboard the most fitting candidates.
What is the Best HR Software for Small Business?
In this guide, we've listed the best HR software that can scale HRIS functions either by itself or in integration with other HR-oriented apps. Different companies may have different HR process priorities, so your choice of software will depend on which process you give the most weight to, be it payroll processing, time tracking, training, or any other HR goal.
1. Namely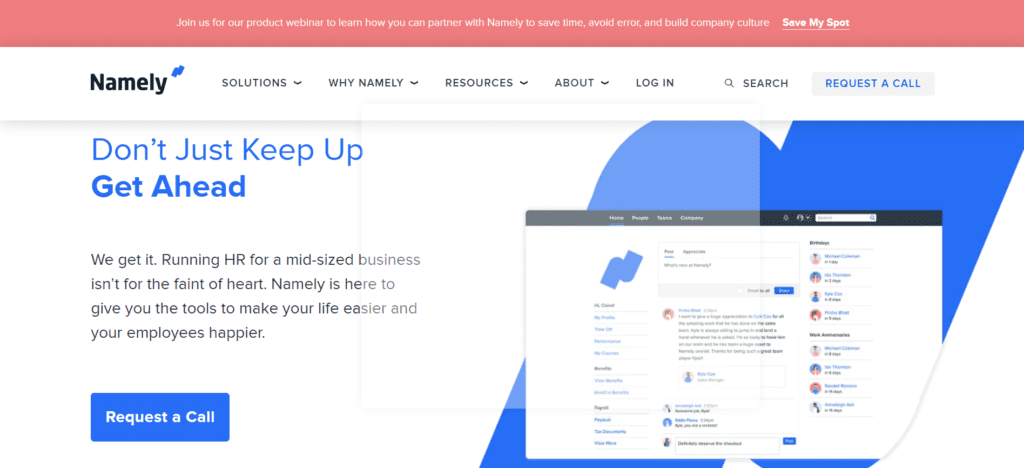 Namely is an HR, payroll, benefits and talent management platform that was launched in 2012. It currently serves more than 1,200 midsized companies.
Unlike most software solutions, Namely only has custom pricing plans. You'll need to reach out to the team directly to learn how much you'll pay based on the features and services you need. However, the tools' basic features include a self-service employee portal, analytics, reporting and compliance database.
Namely can simplify your benefits administration system with an online enrollment wizard. Once enrolled, users can get an overview of its benefit plans while HR teams can configure plans and integrate payroll for immediate processing.
Namely offers enhanced services like managed payroll and managed benefits. The company has dedicated payroll specialists to process payrolls and perform audits to offload your administrative burden.
In addition, Namely gives you access to benefits consultants that can conceptualize cost-effective plans and run your programs with ease. It works with leading carriers, traditional health insurance companies and supplemental plans so that you have access to a diverse variety of world-class benefits.
2. JAZZ HR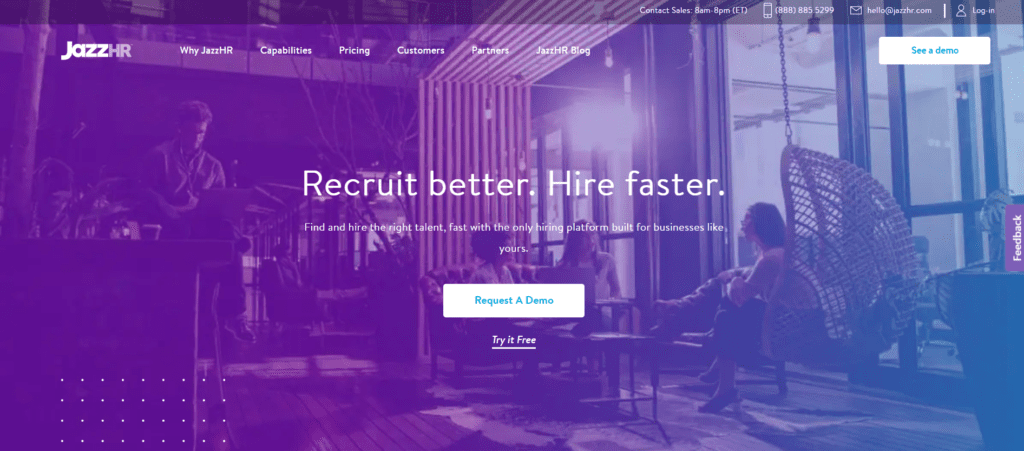 JazzHR lets you optimize the recruiting process according to your feasibility. You can now build your work customized workflows. Depending upon the job type, you can set different stages of hiring process as well. There is automatic task assigning also available that keeps you from performing redundant tasks manually.
You can publish your job posts to several online job boards at once. In addition to that, you can also avail popular social media sites to display job ads. You can post your company profile in a much professional manner that helps you to attract the most deriving candidates.
Once candidates have applied for the job, you can go through quick screening of CVs. You can set filters so that to extract the most suitable resumes for your job. This saves a lot of time that goes into CV reading otherwise.
JazzHR works with desktop as well as mobile devices. Therefore, you can post ads from office or any other remote location. You can also conduct online interviews through the interview software that comes with the package. Based on interviews, you can also compare candidate skills enabling you to make a decision based on facts and figures.
JazzHR has also got intuitive reporting tools. There are compliance reporting tools which ensure that you always adhere to legal matters as well as there are recruitment reports available. There is a custom report builder where you can design your own report formats.
3. bambooHR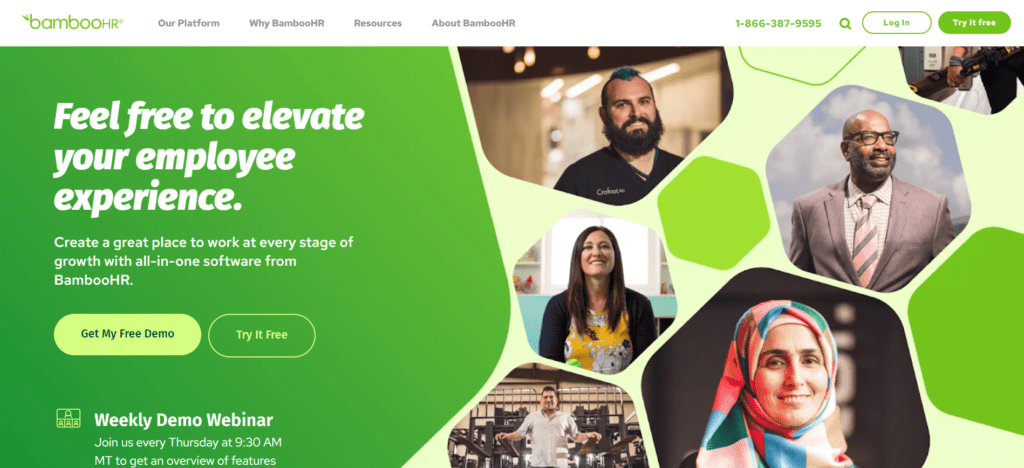 BambooHR offers an easy and integrated Applicant Tracking Solution (ATS) included with the award-winning, cloud-based HR platform. Onboarding tools, e-signatures, time off tracking, performance management plus easy reporting and convenient mobile app keep you working your best. Freed from the spiral of data management, HR professionals are more effective, more efficient and more human. Attend a demonstration and benefit from a free trial version.
Benefits :
Bamboo HR offers a complete and intuitive human resources management platform, covering all personnel management tasks, from payroll and performance reviews to leave management and succession planning. – The software is easy to use and customize to meet the specific needs of each business.- The solution is compatible with many other business management tools such as Slack, Zapier and Workday, thus offering easy integration with existing systems.- The service customer is responsive and knowledgeable, offering fast and efficient assistance in the event of a problem.
Disadvantages:
The cost of Bamboo HR can be relatively high for small businesses with limited budgets. – Some advanced features, such as succession planning, may require more complex setup, which can be time-consuming and require technical assistance additional.
4. Gusto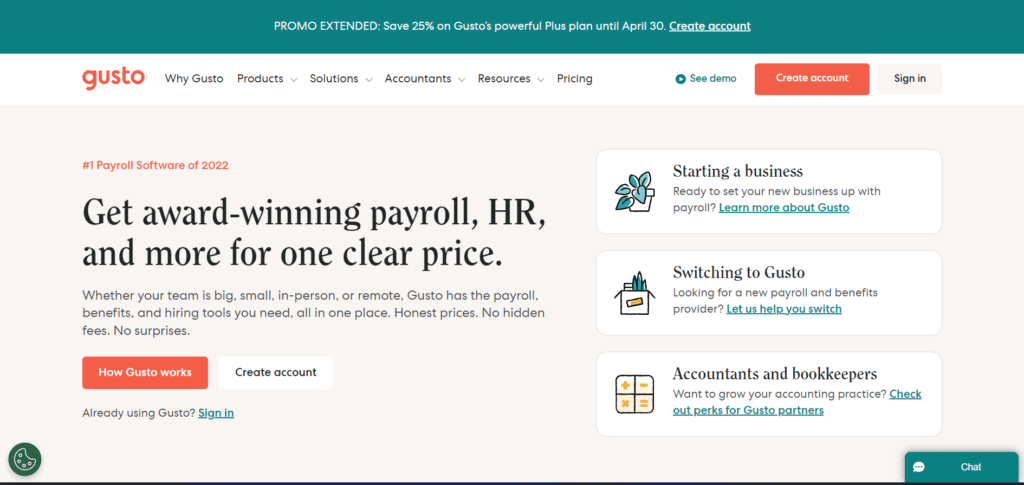 Gusto HR is an online HR services tool designed to simplify the complex and tedious processes involving payroll, benefits, and HR for modern businesses. It won our Expert's Choice Award for 2019 as well as the Supreme Software Award for the same year.
The app also delivers a solid set of payroll features, coupled with an unusually well-designed user interface, and innovation and automation functionalities that impress even experts. Plus, businesses get to use it at a fair price tailored to their exact needs.
Gusto stands out in a crowded field of established payroll services. Though still relatively young, Gusto provides a smart set of commonly used payroll tools for small businesses and an exceptional user experience that should appeal to managers unfamiliar with payroll. It has steadily improved over the years, adding new functionality recently in areas like user permissions, state payroll tax registration, global contractor payments, and HR support tools.
5. Zenefits TriNet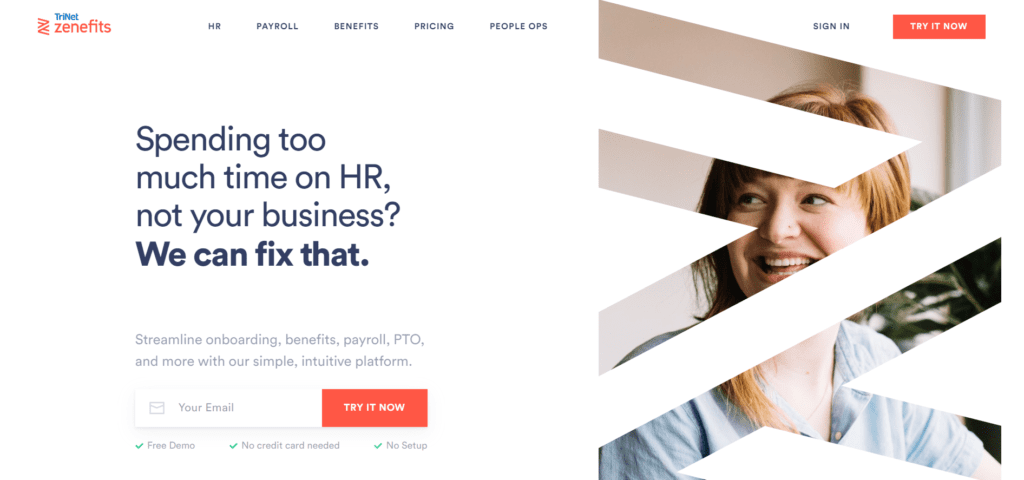 Zenefits is a human resource software solution best for businesses interested in running payroll for full-time and contingent employees, as well as automating important onboarding and offboarding processes.
Pros
Zenefits' payroll can compensate contingent workers such as part-time employees and interns
Zenefits can run automated background checks for your new hires
Zenefits can create Google Workspace, Salesforce, and Slack accounts for new hires
Cons
You cannot create and distribute job postings directly from Zenefits
Zenefits does not offer native expense management features
You cannot preview reports in Zenefits which hinders your workflow
6. Connecteam
Connecteam is an easy-to-use employee management, communication and collaboration software. The platform app offers a lot of great features that make it very useful for businesses, especially those with a majority of non-desk employees. In this Connecteam review we will cover everything from pricing and plans to features, ease of use, user reviews and customer support to help you decide if it's the right solution for your business and its team.
Pros
Free plan for up to 10 users
All-in-one software for employee management
Efficient employee time tracking
Highly customizable with friendly user interface (UI)
Responsive customer service
Cons
Requires a lot of upgrades to access more features
Pricing can be expensive for smaller teams (less than 30 users)
Some users complain about occasional lag and app freezing
7. RIPPLING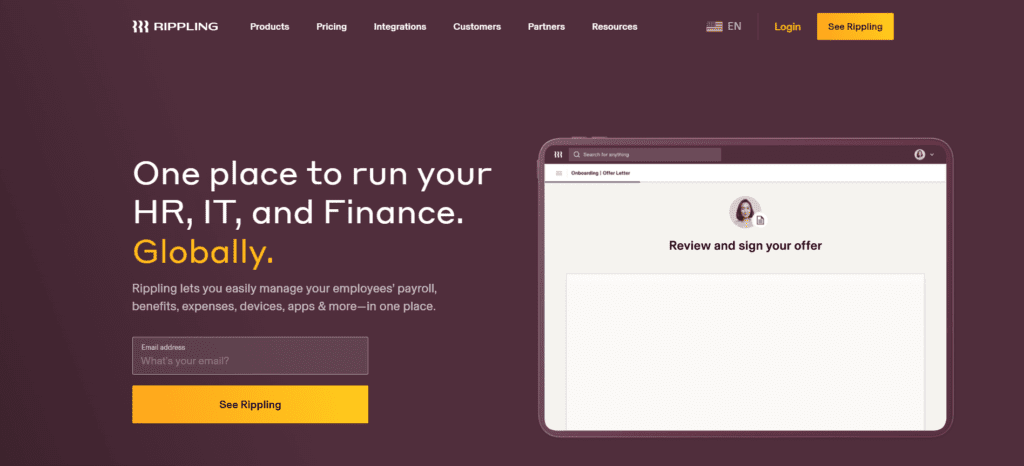 Rippling gives businesses one place to run HR, IT, and Finance. It brings together all of the workforce systems that are normally scattered across a company, like payroll, expenses, benefits, and computers. This enables users to manage and automate every part of the employee lifecycle in a single system.
For example, when onboarding a new employee, Rippling can take a new hire from anywhere in the world and set up their payroll, corporate card, computer, benefits, and even third-party apps like Slack and Microsoft 365—all within 90 seconds.
8. deel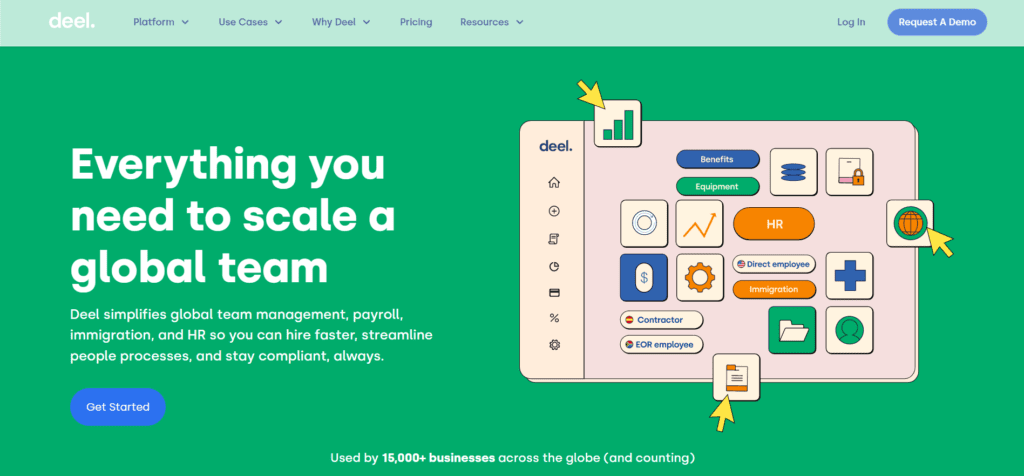 Deel is global payroll and compliant hiring built for remote teams. That means anyone, anywhere can get hired and paid with Deel. Using a tech-enabled self-serve process, companies can instantly hire full-time employees or independent contractors across the world legally, in minutes.
Deel's international presence lets any business hire a remote employee or contractor with localized legal contracts in over 150 countries. Run global payroll with local payroll experts and local entities, protect teams with local health partners, and manage equipment and equity with secure document tracking. Deel does it all.
Today, Deel serves more than 8,000 customers from SMBs to publicly traded companies, helping over 100,000 workers get paid from anywhere.
9. GoCo
GoCo is a cloud-based human resources, benefits and payroll solution designed for small businesses. The platform automates the process of collecting required documents for newly hired talent, enrolling new employees in benefits plans and adding employees to company payroll with the appropriate tax and benefit deductions. GoCo payroll's features include auto-sync, new hire setup, employee change, benefit deduction and final paycheck calculation.
Its compliance includes employment eligibility, federal & state tax, benefit compliance, ACA compliance and PTO compliance. The platform helps users access an array of benefits plans to enroll employees into new plans online. The solution offers access to benefit experts through the Employee Support Line to answer benefits related questions and maintain compliance with relevant agencies. GoCo integrates with existing payroll providers and syncs information changed within its dashboard across all linked platforms. Pricing of the product is based on a monthly subscription and support is extended via phone, email and online help desk
10. Paylocity
Paylocity is a software platform designed to give HR pros a way to manage daily tasks in payroll, benefits, talent, and workforce management. The vendor states their technology is backed by a culture that cares about client success, and that they take the time to get to know customers and understand their needs. Paylocity works with users to identify the solutions that will benefit a business today, while paving the way to a better tomorrow.
Paylocity has a robust app marketplace with over 300 integrations. Key integrations to note include Betterworks, BreezyHR, ClearCompany, Culture Amp, Engagedly, HiBob, iCIMS, Kallidus, SkyPrep, QuickBooks Time, and others.
Conclusion
When getting the best HRIS software for small business, you can start with a priority function, then scale to an end-to-end solution. Our list above gives you a wide selection of solutions to start building an HRIS platform. They vary by priority feature. Some focus on time tracking and talent acquisition, while others banner people analytics and reporting. But they all lead to a solid foundation for having an HRIS infrastructure that, ultimately, will help you manage the right people for the right job with their time and productivity optimized.
See Also : 10 Best HR Software for Startups