10 Best Load Board For Carriers, Truckers and Brokers
Finding the perfect load board can be a challenge for everyone in the freight business, whether you're relatively new or have been at it for a few years.

What is the Best Load Board For Carriers, Truckers and Brokers?
With so many different platforms, it can be hard to determine which load board best suits your business, In this article, I have prepared 10 Software for you.
1.LOADBOARD
123Loadboard is a freight matching marketplace founded in 2004 to help brokers and shippers transport goods across North America. The site publishes almost 4.4 million loads per month and boasts a massive network of loads and trucking companies.
123Loadboard helps truckers and shippers find loads through their interactive dashboard. Here, you'll be able to discover loads by city or state, plan for multiple loads, track routing and mileage, calculate revenues, check company reviews, credit scores, and much more.
While 123Loadboard features a wide variety of loads for truckers and brokers, their filters can be quite limited for those who have more granular preferences. There are three paid subscriptions available, which are Standard, Premium, and Premium Plus.
2.amazon relay
Amazon Relay is an exciting program beneficial for fleet services and delivery business owners. Moreover, Amazon is one of the largest competitors in the market today, following long-time players like FedEx and UPS.
Amazon Relay is a service by Amazon that allows businesses, truck owners, and freight services to carry and efficiently deliver goods from Amazon. This novel idea by Amazon has brought more profitability to most of its partnering businesses.
The great thing about this program is that service businesses in the delivery industry get to grow along with Amazon.
Companies with the vehicular capacity to transport heavy volumes of Amazon load can join the Relay program. This collaboration between fleet services and Amazon has led to a highly fruitful collaboration, ensuring an outlet for growth in the business of service owners.
Amazon Relay is a program that allows you to join the Amazon Load Board. It is a network of Amazon load postings available with all transparency. For truck contractors, you can easily book weeks' worth of trucking schedules ahead of time.
The Relay Load Board is where the 'work' is posted. Instead of Amazon assigning loads or planning each route, it is posted on the Amazon Relay service that registered users can then view. This service is also absolutely free for any business to register.
Organizations with large volumes of deliverable load can also post them on the portal. Fleet owners and truck services can then easily select the ones that fall under their schedule and run these routes.
Amazon Relay ensures service owners consistency in load delivery work throughout the year. In addition, the important thing to understand is that Amazon alone cannot run the billions of load fulfillment they receive.
This is where service partners like fleet services play an important role. Amazon ensures the smooth and timely delivery of goods by partnering up with local fleet services like yours.
3.C.H. Robinson
C.H. Robinson is a third-party logistics provider offering freight transportation, brokerage, management, and warehousing. Its load board is branded under the name Navisphere.
The platform aims to reduce the time spend on phone calls or emails and instantly book loads thanks to the end-to-end technology.
Carriers have additional benefits by signing the Navisphere platform. They are automatically enrolled in the Carrier Advantage Program, and depending on the service they provide, can earn rewards, discounts, save on fuel, etc.
You need to sign up to take advantage of the load board. As a carrier, you will need #MC, and #DOT, proof of insurance minimum $25K cargo liability and minimum $750K automobile liability, as well as a US Tax Payer ID number.
4.COYOTE logistics
Coyote, a UPS company works with a network of 40,000 carriers.
There are opportunities for everyone because Coyote offers services for different equipment types including dry van, flatbed, hazmat, heavy haul, reefer, step-deck, over-dimensional and high-value freight.
This CoyoteGO platform opens the way for easy access to more than 14,000 shippers, while more than 10,000 loads are posted each day on the load board.
To find loads, the process is similar to other load boards. You have a search function to narrow down preferred loads. You can search for opportunities based on Origin and destination, pickup date range, equipment type, and load number.
With the advanced search option, you can further refine your search.
You can also get tailored loads by using the Smart Matches feature. This functionality takes a few input parameters such as origin, destination, equipment type, recurring or one-time shipment, day of the week to pick up, maximum length and weight for your equipment, and desired pickup and delivery times.
You can set up the Smart Matches to send you email notifications with your desired loads.
To view load details, click on the arrow and get important information about the load. You can also switch from list view to map view to change the visualization of the loads by map presentation.
For booking, just need to click the "Book It" button, but since not all carriers have access to this button, you may want to contact a Coyote representative and get more information.
Another way to book a load is by submitting an offer, even if the price is higher than your bit. If the offer is accepted, you just click on "Book" in the bottom-right widget and the load is yours.
At the same time, when you book a load, Coyote provides you with backhaul loads from the destination to keep your truck loaded and make more profits.
5.Big Road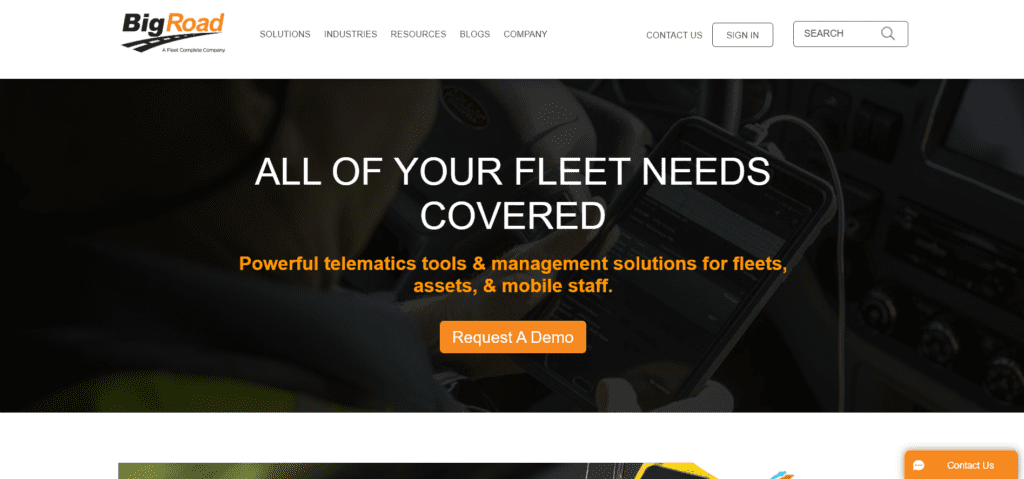 Big Road Freight is a free and personalized load-matching platform for owner-operators.
The system uses artificial intelligence to recommend a load based on the location, preferred lanes, equipment, and other input parameters. It also takes historical selections to provide the best possible loads. They claim the more you use the app, the smarter it gets at matching loads for you. But also, users can search loads and request a load. This load board does not provide factoring and routing yet.
The loads are obtained from different sources such as 3PLs, digital brokers, aggregators, etc.
Most of the loads are Vans, Reefer, and Flatbeds, but you can also find Stepdeck, Low Boy, Auto Carrier, Container, Dump Trailer, Power Only, Tanker, Hopper Bottom, and other kinds of loads.
6.COMFREIGHT
ComFreight is a load board aimed to make the load-matching process easier and smoother. This load board is ideal for carriers, shippers, and brokers who want to simplify the process of freight matching by using innovative tools offered by ComFreight.
The load board enables brokers to post loads, get automated email match alerts, use the radius tool for lanes, make real-time bidding on shipments, use HaulPay for quick pay, and post to public or group.
Carriers can search loads, post trucks, check market rates, and use the fast factoring service.
Finally, shippers can post loads to get bids, match loads to trucks, and get the best credit terms.
7.CONVOY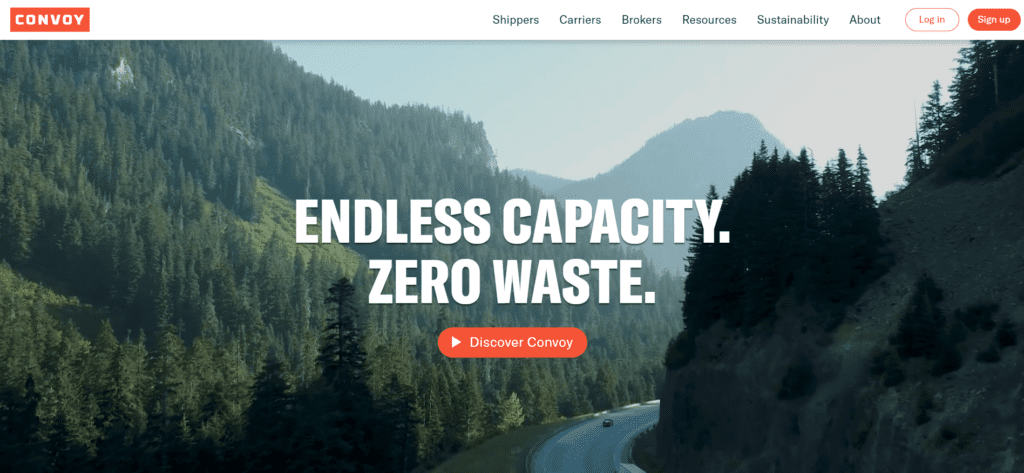 Convoy is a no-brainer option if you're running a large-scale delivery service company. It even has the biggest names in the industry as clients!
It has a simple, user-friendly interface that's pretty intuitive to understand. If you're having difficulty navigating the software (but we don't see why you would), Convoy also
offers built-in instructional guides and excellent customer service to help you out.
Well-established freight brokers would find their data transparency and analytics tools highly useful.
They also have high quality and strict conformity standards, so you know you're only dealing with the cream of the crop in the business.
8.Direct Freight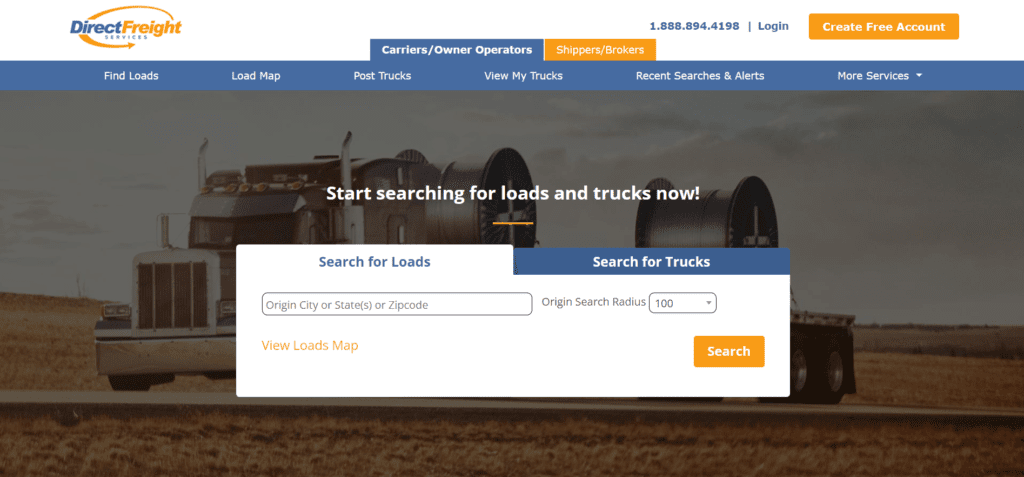 The first thing that stands out about Direct Freight is that they have been in business since 1997.
That alone should give you peace of mind that they know the freight business like the back of their hand, so we've given them the number one spot.
Direct Freight allows freight brokers and carriers to post their loads at virtually no cost, making it one of the best options for those looking to break into the market.
However, if you subscribe to a paid plan with Direct Freight, you will also have access to credit reports, route planning, load filtering, weather reports, and more.
9.Motive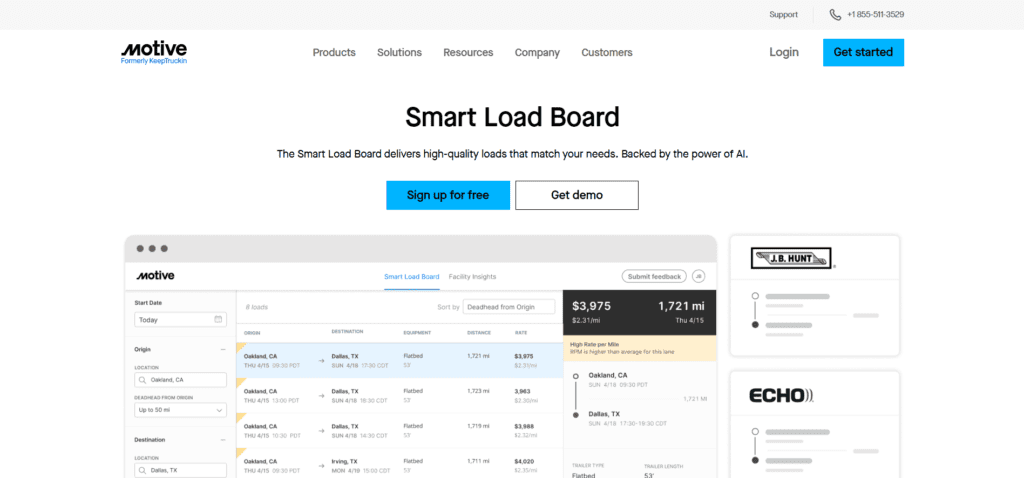 Motive, formerly Keep Truckin is another job board backed by the power of AI.
Motive is ensuring to collect thousands of loads from trusted partners that can't be found elsewhere. On the platform, you will get all the important information about the load such as weight, rate, commodity, and other details to make an easy decision.
The load board provides you with loads based on your experience and preferences. Also, you can filter loads by rate, destination, equipment, and other attributes.
10.NEXT LOAD
NextLOAD continues to grow and improve with ideas directly from their users. they have implemented a variety of freight search options – from weight and distance all the way to keywords in comments and company type. Plus, they have partnered with many TMS providers such as McLeod PowerBroker, Aljex (DesCartes), Ascend, Transport Pro, Strategy, and Navigator with several others in progress. Carriers can find loads 24/7 and brokers can post loads automatically or manually.
they encourage you to create your FREE NextLOAD account today that features mobile optimization, the convenience of smart phone, tablet, and desktop computer accessibility, and the ease of unlimited accounts for company owners, dispatchers, and drivers.
Conclusion
If you're a carrier that is looking to reduce empty miles, or maybe an owner-operator looking for a way to stay on the top of the market, or a broker who wants an easy connection with carriers, then a load board is worth the money invested.
Along with the load board, you might get additional tools to run your business and optimize processes and business operations with the help of technology.
On the other side, as a broker, you can immediately make an impact with a quality load board because you have access to a large network of carriers who can transport your goods.