10 Best video surveillance and IP camera software
Video surveillance and IP camera software is designed to manage and control video camera feeds for monitoring and recording activities in a specific area. Users can access live or recorded video footage from one or more connected cameras and adjust camera settings, including pan, tilt, and zoom.

it also features motion detection, facial recognition, and automatic alerts are also available to improve the system's effectiveness.
What is the Best video surveillance and IP camera software?
Keep reading to know more about the best video surveillance softwares :
1. Blue Iris
Blue Iris is a video Management Software (VMS) to record up to 64 cameras on a Windows based system (webcam, network IP camera, analog card or Windows PC desktop). Record JPEG snapshots or movies in standard MP4, AVI, Advanced DVR or Windows Media file formats.
The software has:
Mobile access: With Blue Iris you can live view and record video, manage multiple installations, control PTZ, IR and more, and navigate cameras with ease.
Video Security: You can display the current date/time and logo or other information, optionally record audio, use a timer to determine when the system is armed, and receive via speakerphone, email, instant message, voice call (auto redial) notifications) or external programs/scripts.
Web Server (UI3): Allows you to remotely connect to your Blue Iris from anywhere in the world and from any internet enabled device, view live cameras, recorded clips and alerts, automatically adjusts when IP changes and use Blue Iris's powerful digital Zoom and Pan functionality remotely.
2. Rhombus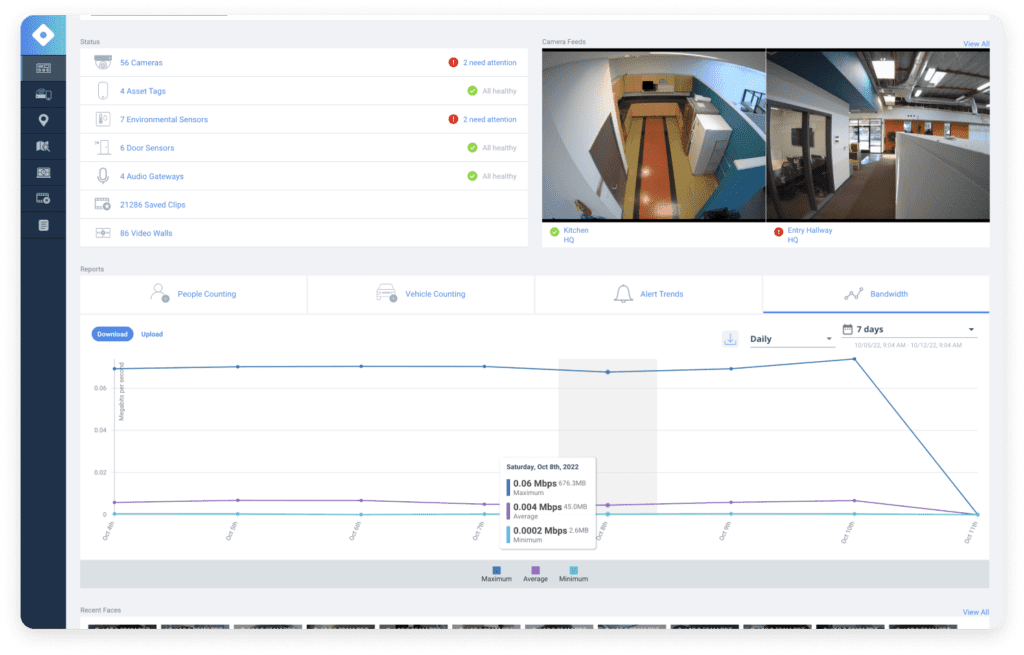 Rhombus is a cloud-native platform that helps you simplify operations and improve security at scale. Identify, manage and respond to physical security threats from anywhere with minimal complexity.Rhombus cameras take just minutes to set up, offer up to 180 days of on-board storage, and an industry-leading video latency of just 200 milliseconds.
Here are some reasons why you should try Rhombus:
Access from anywhere: Access live video feeds and get real-time alerts from the web-based console or mobile app.
To share a live video stream: An intuitive interface helps you find, save and share any video clip or live stream in minutes.
Always keep up to date: Automatic updates ensure you are always using the best security technology in the world.
Out-of-the-box integrations: Integrate with best-in-class solutions to get the most out of your existing systems. Gain new operational insights, improve safety, and simplify emergency response.

3. Verkada
Verkada replaces outdated equipment with smart, secure and easy-to-manage technology.Verkada provides professional surveillance and video review to detect and respond to threats in real time. With the click of a button, you can enable monitoring of camera events.
Use this software to:
Record video locally to minimize bandwidth impact: The camera stores footage locally and only sends encrypted thumbnails to the cloud when actively viewing.
Increase Visibility with Centralized Management: Consolidate multi-site assets into one dashboard and provide secure access to your entire team.
Stay compliant with unlimited cloud archiving: Store clips in the cloud indefinitely and easily share archived events with key stakeholders.
Improve security: Use best-in-class security technologies to instantly identify critical activity and reduce incident response time from days to seconds.
4. Eagle Eye
Eagle Eye's open, true cloud platform and artificial intelligence (AI) can dramatically transform your video surveillance and (IP camera) system into a more powerful tool.Using intelligent data collected from your VMS, you can gain insight across your business, react quickly to opportunities, and improve overall processes and performance.
Here are some features of the platform:
Artificial intelligence: Eagle Eye Cloud VMS understands what's going on in your business so you can block out the noise and focus on what matters most.
Alerts and Notifications: Stay informed about the status of your business with real-time motion alerts. Create unlimited, personalized detection zones for each camera and receive alerts if they go offline or are compromised.
Access Control: Simplify access control and video surveillance through a single interface, focusing on real-time events.
Analytics: Discover new opportunities for improving daily operations by detecting trends and patterns, as well as analyzing activity and reporting findings.
5. Intenseye
Intenseye empower EHS teams to monitor their workplace 24/7, receive real-time notifications of unsafe practices, and implement compliance procedures.
Intenseye's Task Management module enables EHS teams to streamline safety processes by eliminating unsafe actions and conditions through an easy-to-use task creation and assignment system.
The main features of this platform are :
Data protection and security: Intenseye does not collect any personally identifiable information from the visual data they process.
Alerts : Prompt notification is essential to avoid accidents and injuries. Intenseye is scalable to instantly notify at-risk personnel as well as managers or EHS experts.
Compliance: Intenseye saves security professionals valuable time and resources by ensuring employees comply with corporate and regulatory requirements.
Visual Analytics: Optimization data compiled into dashboards provides a holistic view of safety performance, allowing EHS professionals and leaders to direct their focus where it is most critical and time-sensitive.
6. Mobotix
By matching Mobotix video technology exactly to the customer's requirements and business challenges, real added value is provided to the customer.
MOBOTIX technology makes the environments where people work, relax and learn safer, more productive and more exciting.
The ssoftware offers :
General Safety: Many e-charging stations are located on the outskirts of cities and have dark areas. Visible video systems can deter potential perpetrators, give users a sense of security and provide effective protection.
Process Optimization: Cost efficiency, good utilization, high customer satisfaction and low downtime make charging stations profitable. MOBOTIX video technology can contribute to this.
Controlled Access: Increase security, enable documentation, and generate marketing data.
Remote monitoring: Many e-charging stations are operated with minimal staff or entirely autonomously. This resource-saving operation is only possible with video technology.With MOBOTIX video technology you can monitor multiple locations (eg chain stores and franchises) at the same time.
Fire certification: MOBOTIX, the first video system manufacturer to receive quadruple fire protection certification.
7. Milestone
With Milestone, you have the software, hardware and services to create the custom video technology solution your business requires today.
Here are some advantages of this software:
Fully Configurable and Future-Proof: XProtect's open platform architecture allows you to adapt, expand and upgrade as your needs change.
Reliable performance and security: In addition to minimizing downtime and increasing ROI, our platform provides security through GDPR and FIPS 140-2 compliance.
Collaborative and service-oriented: Leverage the products, services and expertise of Milestone and our global partner network to build the highest performing video solutions.
Responsible and People-Centered: Use video technology ethically and legally while exploring new ways to improve people's safety, well-being and health.
Get convenience and performance: Complement your video software with a range of flexible devices designed specifically for XProtect. The Milestone Husky IVO combines the performance of XProtect with the robust reliability of Dell Technologies hardware.
8. Ispy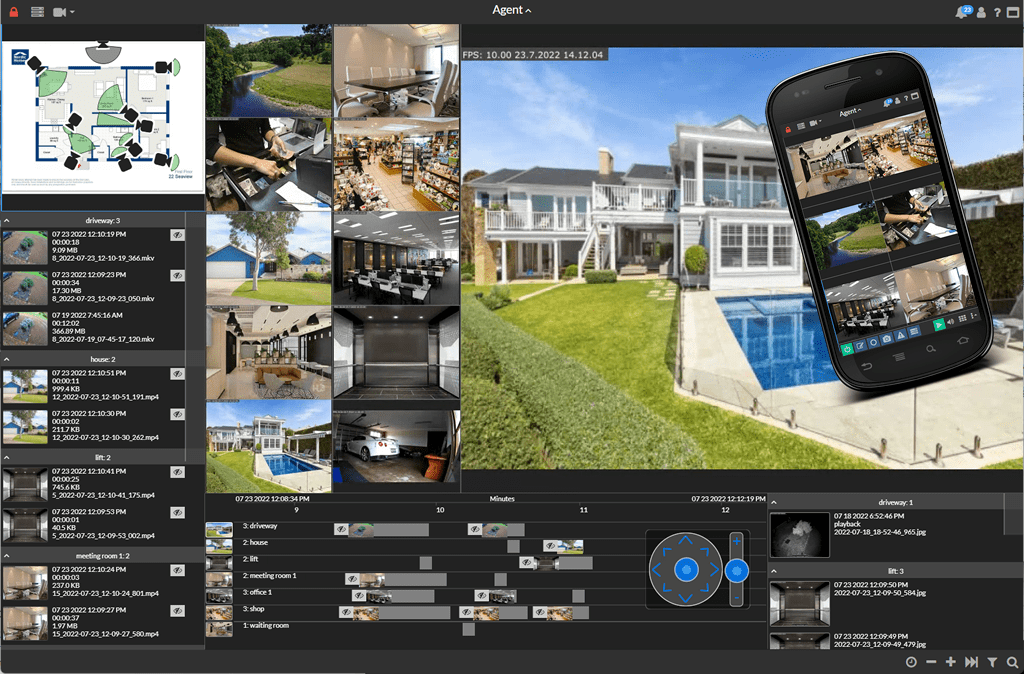 Ispy offers Agent DVR which is a brand new IoT video surveillance solution. Available for Windows, OSX and Linux.
Here is a list of its key features:
Runs as a service: Accessible via any modern web browser, full native UI with no port forwarding and unlimited cameras and microphones.
Recording: Record to MP4, VP8/9, GPU and Raw. The proxy saves the raw data stream from the camera as much as possible to minimize CPU usage.
Sensors: Includes a wide range of motion detectors, from basic motion detection to object tracking, tripwire and object detection. Includes AI integration to minimize false positives.
Remote Access: The proxy uses custom technology to avoid the usual requirement of opening ports on the router for remote access. Access via SSL from anywhere without router configuration.
Alerts : Send emails, SMS, mobile push notifications, call URLs, desktop notifications, notify MQTT endpoints, and more.
9. Pelco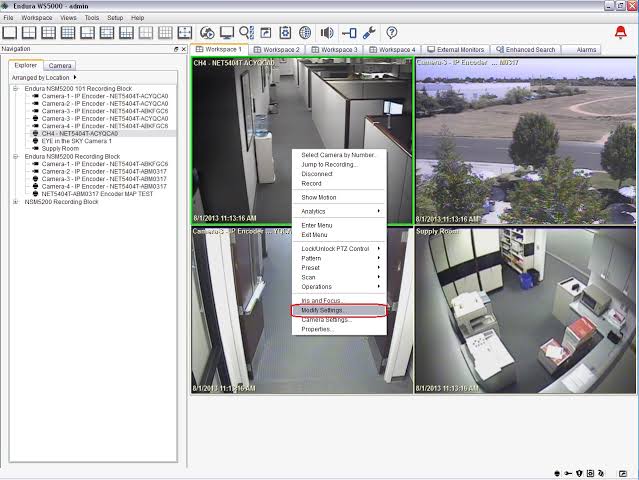 Peclo is a renowned global company that specializes in developing and designing cutting-edge video security solutions for predictive surveillance. Their wide range of products includes video surveillance cameras, video management and recording systems, security software, and associated services.
Pelco's cameras are equipped with intelligent analytics that come stacked with features to meet a broad range of challenges and can seamlessly integrate with other systems.
Their native VMS is an intuitive, scalable, and secure platform. Whether you are protecting a single store, a multisite enterprise or anything in between, the software have you covered to support up to tens of thousands of cameras by providing :
Pelco Calipsa: their analytics technology, is an excellent tool for optimizing security, capable of verifying alarms, detecting tampering, and assessing the health of cameras in real-time.
Pelco VMS: Pelco VideoXpert, its integrated VMS platform, is designed to incorporate identity management with video security to monitor and secure any site.
Cybersecurity: they adhere to the strongest level of security, encryption and data sharing procedures, so that you can rest assured your systems are safe.
Usability and scalability: Designed with user experience at the forefront, our VMS is intuitive and easy to use for beginners, while bringing a breadth of powerful features for seasoned operators.
10. Ambient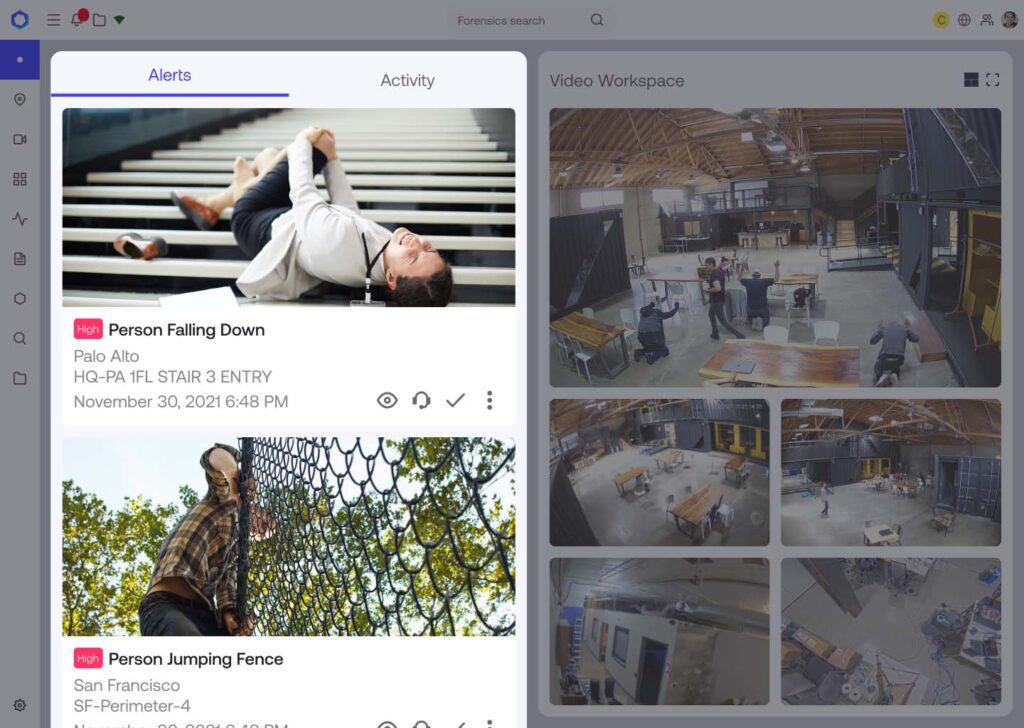 Ambient is transforming security tools, operations, and outcomes with computer vision intelligence, allowing physical security teams to shift from reactive to proactive operations.
The software utilizes an expansive library of threat signatures, which search for unexpected changes in human behavior, combined with locations and location context, to identify emerging security incidents.
Plus, the software provides also three core features to enhance security operations :
Proactive Risk Alerts : which use patent-pending, full scene video context to control alarms, filter out noise, and enable real-time dispatch for actual incidents.
Graph-Powered Forensics : which use the visual attributes of any object in an incident to efficiently search across locations and times, enabling quick review of the video footage of what occurred before and after the incident.
Mobile Dispatch : empowers responders by integrating video intelligence into dispatches for improved decision-making.
Conclusion
Choosing the right video surveillance and IP camera software for your needs can be a critical decision that requires careful consideration.
However, consider the scalability of the software, ease of use, compatibility with existing hardware and operating systems, reliability, available support, security features, and overall cost. By evaluating these factors, you can make an informed decision and select the software that best suits your needs and budget.