10 Best Artificial Intelligence AI Music Generator
Do you spend a lot of time searching for the right song?

If you find a piece that seems right but doesn't have the needed length, and doesn't match the progression of your video. You need to discard the song and keep searching.
Instead of wasting time searching, an AI music generator develops music from scratch for you and easily generates a custom music for you to use, any tool of the ones listed below do exactly that job for you.
What is the Best AI Music Generator ?
In these Guide we will list the best tools to generate a custom music with AI software.
1. AIVA
AIVA will help you to compose your music whether you are an independent game developer, a complete novice in music, or a seasoned professional composer, AIVA assists you in your creative process. Create compelling themes for your projects faster than ever before, by leveraging the power of AI-generated music.
Use temp tracks to control the composition process, if you need to create an original score that has a similar emotional impact as another existing score, you can upload your own MIDI file to influence AIVA's composition process.
No licensing headache, you like a track you just created with AIVA? Need to use it for your own commercial activity? No problem. By subscribing to the Pro Plan, you own the full copyright of any composition created with AIVA, forever.
Use the preset algorithms to compose music in pre-defined styles: Modern Cinematic, Electronic, Pop, Ambient, Rock, Fantasy, Jazz, Sea Shanty, 20th Century Cinematic, Tango, Chinese.
The formats you can download the music in:
– MP3 Audio
– Orchestrated MIDI
– Reduced MIDI
– 16bit & 48kHz uncompressed WAV file
– Stems
You can also download the chords in text format.
2. Algonaut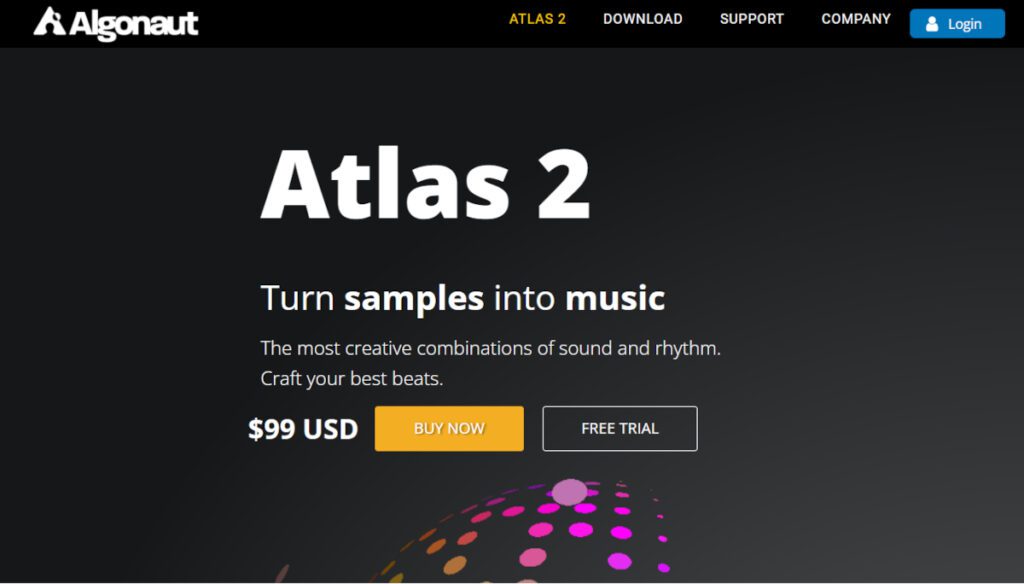 Algonaut Atlas 2 turns samples into music, the most creative combinations of sound and rhythm. Craft your best beats using this platform. Don't just collect sample files, find out what they're really capable of.
Algonaut's Atlas is:
– FAST
Atlas is built to show you the right options at the right time. Quickly hear samples in context with other samples and drum patterns.
– EFFICIENT
All the most used features are easily visible and accessible so you can work as fast as possible. Show and hide panels to fit the task at hand.
– FLEXIBLE
Atlas is made to work with whichever samples, MIDI, external apps, and hardware you throw at it. It plays nice with everyone so there aren't limitations.
About the Sample Map:
– ARTIFICIAL INTELLIGENCE SORTS YOUR SAMPLES
No more unwieldy file lists! Let AI find and organize all your drum sounds. Your eyes and ears can now tell you which direction to search in.
– MULTIPLE MAPS
Build as many different maps as you want. Atlas lets you instantly change between them.
– SUPPORTED FILES
It handles all the major formats and a lot of the less common ones too: WAV, AIFF, FLAC, OGG, MP3, WMA +more.
– THE FASTEST DRUM-KIT CREATOR
Choose your own sounds or let Atlas quickly provide inspiration. Embed your samples into your DAW project for guaranteed sample saving so you can easily backup and collaborate. Never have missing sample files again.
Multi-select Drum Pads and drag them out to your OS or other applications like Ableton's Drum Rack.
The Content Browser:
– Save, Load, Re-combine
Mix and match your Drum Kits and Sequences to create new combinations.
– OS File system integration
Rename, move, copy, delete, and backup anything in your OS and Atlas will handle it.
– Free content
1500 drum sample map included. (optional download). Free Drum Kits, Sequences, and Loops to get you started.
– Connected
New content packs appear and can be downloaded from right inside the Browser.
3. Amper Music
Amper Music is an AI music composition company that develops tools for content creators of all kinds. Create your own original music in seconds, create the right sound and define your narrative. Drive emotion with Amper AI.
Amper's mission is to enable anyone to express themselves creatively through music regardless of their background, expertise, or access to resources. Amper builds tools powered by a Creative AI to help people create and customize original music. This technology is built from the ground up with an emphasis on high quality music through the fusion of music theory and AI innovation. This system is composed of over one million individual samples and thousands of unique instruments. Recorded by hand, every sound in Amper is sculpted with meticulous attention to detail.
In simple steps:
1 Select genre and set length.
2 AI makes your music.
3 Edit and tweak until it's just right.
4 Download for use in your project.
Why choose AI music?
1 CONTROL: A level of control you'll never get from stock libraries.
– Length and structure
So tracks automatically fit your content.
– BPM
So any song can fit your edit.
– Instrumentation
So you can define your sonic palette.
– Mood
So you can shape the emotion while keeping the vibe.
2 EASE: Headache-free pricing and usage so you can focus on the creative.
– Royalty Free
So you don't have to sweat it when your content goes viral.
– Global Perpetual License
So you don't have to worry about where your audience is.
4. Ecrett Music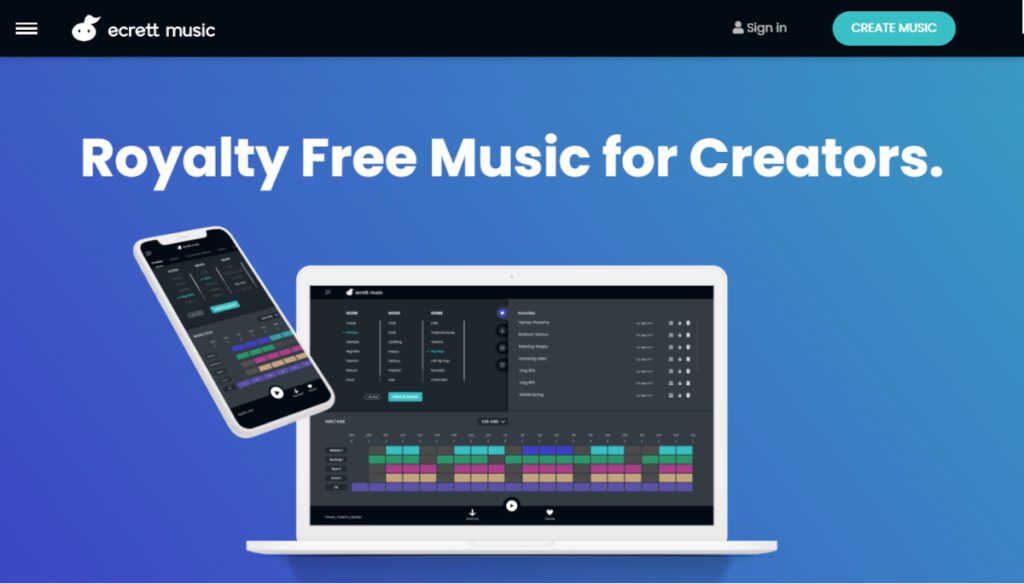 Ecrett Music ecrett music was born to help content creators with frustrating process of choosing the right music and to enhance the creation with an AI composing software. Created by a team of musicians, composers, dancer, designer, and engineers.
Ecrett AI has:
– Simple UI
With the intuitive interface, you need to know nothing about music.
– License for All
Use ecrett music for game, monetized video, podcast, ads, and more.
– Royalty Free
No more staring at terms of service.
Simle and easy to use:
1 Select & Create
Select at least one from Scene, Mood and Genre.
Click "Create Music" once you're set.
ecrett AI will create music based on your choices.
You will get different music every time even with the same setting.
2 Customize
Don't know nothing about music? No worries!
You can customize instrument and structure by giving a few clicks.
Instrument of Melody, Backing, Bass and Drum can be changed.
Structure can be customized by switching on/off each block.
3 Manage
On the top right tabs, you can manage your music.
Favorites: Music you favorited are stored here.
Download History: Music you downloaded are stored here.
Video: You can upload a video to review if the music matches your video.
Create History: Past 10 music created are automatically saved here.
5. Soundraw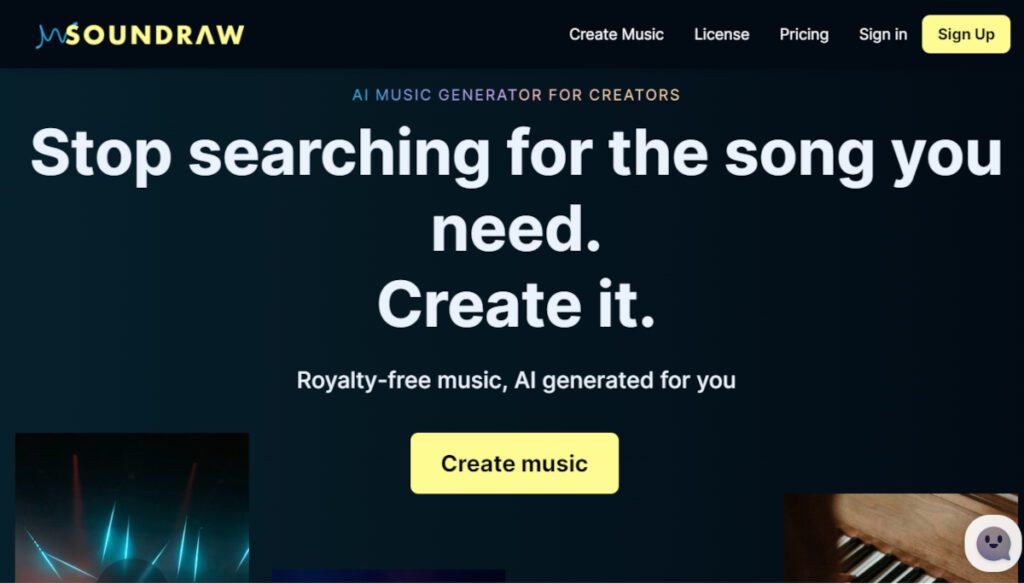 Soundraw is an innovative composition tool for creators. Using this AI music generator, create songs that match your content perfectly in minutes and with no music composition knowledge.
With Soundraw, instead of spending hours searching for the music you need, the AI creates it for you in seconds. Just tell the AI how you need your song to be and let it generate dozens of variations. Pick up one you like and customize it further to make it match your content even better.
Downloads are only available as .wav files. Currently doesn't offer .midi, .mp3 or stem file downloads. And the maximum length of songs generated by Soundraw is 5 minutes.
A paid account allows you to download and monetize the songs you create with Soundraw. Still, the free account is a great way for you to experience Soundraw and see all it has to offer.
The music is Royalty-free, means you have the right to use copyright material or intellectual property without the need to pay royalties for each use. When you subscribe to one of the plans, you get a license to use the music without paying any royalties.
You keep the license to use downloaded songs even if you unsubscribe, personal & Commercial use. Same license no matter your content reach – if your video gets 100M views, will not ask for more money.
You can use it for commercial or non-commercial purposes in any way you want, just make sure to add something original to the music if you're not going to use it as background music of something else.
As a general rule, you can use it for commercial or non-commercial purposes in the following 2 cases: if the music is NOT the main purpose of the work (ex: background music of an app, a game, a video, a guided meditation, etc) and if music IS the main purpose of the work and you MODIFY the music (ex: you add your vocals to the music and distribute it on Spotify).
– ADJUST THE MUSIC TO YOUR NEEDS: Customize the songs
Make an intro shorter or change the position of the chorus.
Match the song to your video, not the other way around.
– WORRY-FREE: No copyright strikes
Tired of Youtube copyright strikes?
Nothing to worry about with Soundraw music.
– UNIQUE MUSIC FOR UNIQUE PEOPLE: Tell your story
Edit the music like you edit the video.
6. LANDR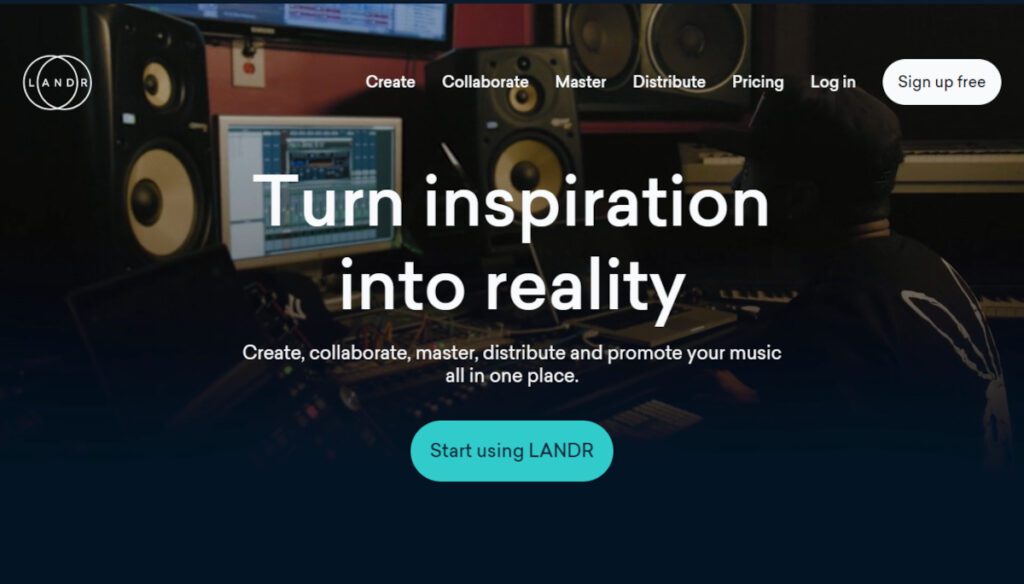 LANDR is the creative platform for musicians: AI-powered music mastering, distribution, plugins, collaboration, promotion and sample packs. Since launching in 2014, it has helped millions of musicians all around the world.
Its mission is to give music makers the freedom to create and be heard. Their growing team is made up of left brained creative technologists, right brained music professionals and everyone in between. Mastering engineers, music producers and music creatives.
With LANDR Studio, create and release more music for one low price with Plugins, Samples, Mastering, Distribution and more.
– Create: Your DAW just got better
When you're ready to turn your inspiration into creation, LANDR offers a selection of curated samples and exclusive plugins, which easily integrate with your DAW to let you utilize, control and manipulate sounds to bring your musical vision to life.
– Collaborate: Kick it up a notch with a team.
Connect with collaborators in real-time, trade feedback through notes and videos and access a community of pros to help take your track to the next level.
– Master: The finishing touch
Upload a track and let the powerful, AI-driven mastering engine do the rest. The engine listens to your songs and applies a fast, reliable master without ever using presets. Find out why it's the trusted mastering tool for music industry powerhouses.
– Distribute: It's time to be heard
Release your music to over 150 streaming platforms without interrupting your workflow. Split royalties with collaborators easily and get promotional tips from the LANDR success team to make sure your songs get the streams they deserve.
With over 20 million mastered tracks, the desktop app streamlines workflow and a simple, intuitive interface, LANDR is the trusted mastering tool for emerging artists, music industry powerhouses and everyone in between.
– Unlimited masters and revisions: Unlimited MP3 masters and revisions let you rework your track multiple times to ensure your final WAV master sounds exactly as you envisioned.
– Reference mastering: If you have a distinctive sound in mind, simply upload a track you want your song to resemble and LANDR will analyze the track and apply its nuances to your music to achieve a similar sound.
– Album mastering: Create a seamless listening experience across your album, EP, or mixtape when you use album mastering.
7. Aamadeus Code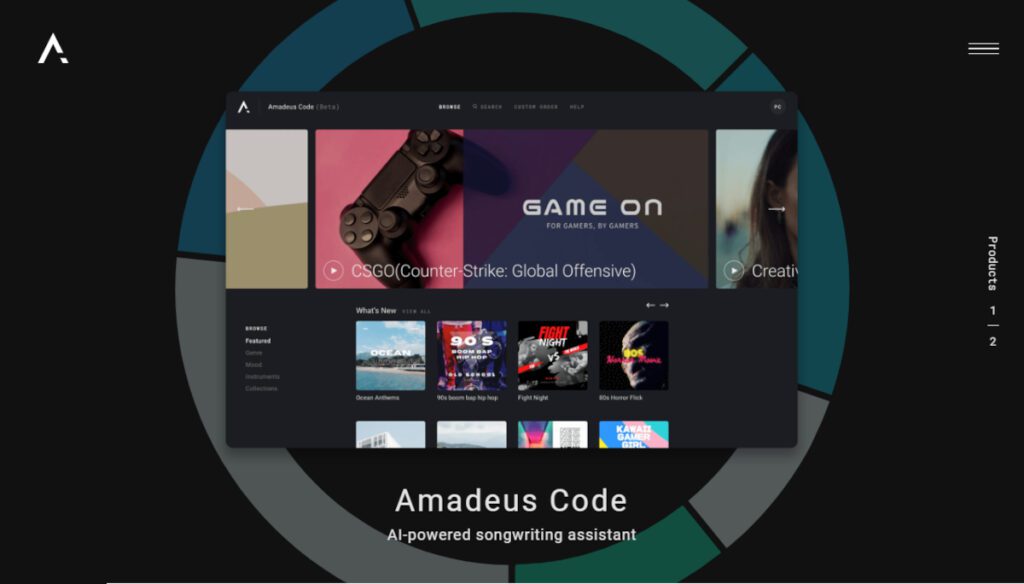 Amadeus code's mission is through music, to accelerate to a more inclusive world where everyone can shine.
Amadeus Code was founded in 2012 by a group of music producers who wanted to enhance the performance of music professionals using AI. AI can help generate a substantial quantity of songs in a time-efficient manner. Today, Amadeus Code is not only supporting music professionals, but is also generating functional music based upon principles of science. In addition to a global music distribution platform.
Amadeus Code can take benefit of the inherent ability that music has to draw out and enhance the subliminal potential we all have with its advanced technology features.
Amadeus Code's AI was developed from the ground up. For the "Model A" project which was released as an iOS app in 2019, it showcased the cutting-edge unlimited song generation capacity of Amadeus Code's AI system. Model A dramatically improved the productivity of modern musicians with its multi-genre versatility and a phenomenal song generation speed of 4 seconds per song.
In 2020, Evoke Music was released, a searchable music-generating platform. Evoke Music has made it easy for anyone in the world to obtain hyper-casual music with top-end functionality. Currently, thousands of songs are generated each month, and intend for the library to continue to expand indefinitely.
Its music is produced by the DDP Factory on the Internet. Amadeus Code actively hires musicians as designers to meet the goal of becoming the world's most supportive company for musicians. Each designer hired needs to receive several days' worth of training before being accepted as a member of the DDP factory. The designers receive training on how music functions and on AI song creation. As a result, musicians have the opportunity to enhance their creative abilities, while at the same time creating work opportunities at the DDP Factory.
This is only the beginning. By offering the most affordable copyright clearance free music, Amadeus Code gives more and more people the opportunity to take full benefit of applying music in numerous ways. Hoping that this will assist in developing a world where everyone shines.
8. OpenAI
OpenAI is a deep neural network that can generate 4-minute musical compositions with 10 different instruments, and can combine styles from country to Mozart to the Beatles. MuseNet was not explicitly programmed with the understanding of music, but instead discovered patterns of harmony, rhythm, and style by learning to predict the next token in hundreds of thousands of MIDI files. MuseNet uses the same general-purpose unsupervised technology as GPT-2, a large-scale transformer model trained to predict the next token in a sequence, whether audio or text.
Since MuseNet knows many different styles, it can blend generations in novel ways.
In simple mode (shown by default), you'll hear random uncurated samples that are pre-generated. Choose a composer or style, an optional start of a famous piece, and start generating. This lets you explore the variety of musical styles the model can create. In advanced mode you can interact with the model directly. The completions will take longer, but you'll be creating an entirely new piece.
Some of MuseNet's limitations include:
– The instruments you ask for are strong suggestions, not requirements. MuseNet generates each note by calculating the probabilities across all possible notes and instruments. The model shifts to make your instrument choices more likely, but there's always a chance it will choose something else.
– MuseNet has a more difficult time with odd pairings of styles and instruments (such as Chopin with bass and drums). Generations will be more natural if you pick instruments closest to the composer or band's usual style.
The created composer and instrumentation tokens to give more control over the kinds of samples MuseNet generates. During training time, these composer and instrumentation tokens were prepended to each sample, so the model would learn to use this information in making note predictions. At generation time, condition the model to create samples in a chosen style by starting with a prompt.
9. Humtap
Humtap is one of the best and completely free music generators that helps you make your own original music. Humtap is available as a free app for iPhone and iPad to download from their website.
They have developed proprietary cross-platform libraries for real-time music, audio & video creation, built-in C++, and Rust. On top of that, a plethora of in-house A.I. editing tools aws created, which can run on-device via libraries or be implemented natively for when performance counts.
There developers work on the latest Mac devices, they are proud supporters of team PyTorch for machine learning development.
– Real-time Content Creation:
Create content in real-time as you're streaming to your audiences! In Humtap Live you can record, curate, and broadcast Clips. These short pieces of micro-entertainment can be either video, music, or audio. Entertain your audiences with a never-ending stream of bite-sized entertainment.
– Mobile Live Streaming:
It's time to show the world a reshaped concept of social media, where real-time content creation is collaborative and accessible. Browse through live rooms, jump in and start co-creating with hundreds of room participants, or become a host and start your own room. Request to co-stream with a room's host and use live voice filters like auto tune.
– Immersive Experience:
Everyone has access to powerful live content creation tools, not just room hosts. Hop into a room and start creating Clips right away . Turn your voice into an instrument, transform audio recordings into new sounds, and record videos with music reactive filters. Submit your creations to the host and watch them be broadcasted to the entire room.
– Built for Web3:
Monetize your creativity and effortlessly mint your Clips. That's right, every Clip you create in Humtap live can be effortlessly turned into an NFT! You can create, sell, trade & collect NFT Clips, and even display your external NFTs in live rooms while you're hosting a room. This opens the doors to an entirely new creator economy.
10. Chrome Music Lab
Musiclab Chrome Experiments is a website that makes learning music more accessible through fun, hands-on experiments.
Many teachers have been using Chrome Music Lab as a tool in their classrooms to explore music and its connections to science, math, art, and more. They've been combining it with dance and live instruments.
You can play with these experiments across devices – phones, tablets, laptops – just by opening the site on a web browser such as Chrome.
The experiments are:
– Song maker
To make a song, add notes by clicking the grid. Then, share your song with a link. You can also use a MIDI keyboard or sing a note into your mic.
You can also use your computer keys. Press the arrow keys to move, enter and backspace to add and remove notes, and spacebar to play.
– Rythme
Rhythms are patterns of sound in time. The most common rhythms repeat every four beats, but it can also be every three, five, six, or more. Click on the grid to build your own rhythms.
– Spectogram
A spectrogram is a picture of sound. A spectrogram shows the frequencies that make up the sound, from low to high, and how they change over time, from left to right. With this experiment you can compare spectrograms of different sounds. You can also drag in an audio file or use the mic to see what your own sounds look like.
– Sound waves
Sounds travel through the air like waves through water – but a lot faster. The blue dots represent air molecules bouncing back and forth as sound travels through them. Click/Press the magnifying glass to zoom in and see a red line graphing the position of one molecule, tracing the shape of the wave.
– Arpeggios
An arpeggio is a chord played one note at a time. This experiment lets you play arpeggios in different patterns. Click/Press the wheel to explore major and minor chords.
– Kandensky
This experiment is inspired by Wassily Kandinsky, an artist who compared painting to making music. It turns anything you draw – lines, circles, triangles, or scribbles – into sound.
– Voice spinner
Spin the spinner like a record player – slow, fast, forward, backward – to hear how it affects the sound. You can also record your own voice, or other sounds around you. The pitch of your voice gets higher when spun faster, and lower when spun slower.
– Shared piano, Harmonics, Piano roll, Oscillators, Strings, Melody maker, Chords.
Conclusion
All those platforms are software that uses Artificial Intelligence to automatically create music, that do the similar job as human composers. They create a unique music based on a user's input.
Would the result be as good as the work done by composers? You would be able to answer this question after giving these platforms a try and judge after using them.