10 Best Anti Money Laundering (AML) Software
Money laundering is a process used by criminals to disguise the source of their illicit income. Through complex remittances and transactions, or by channeling funds through a chain of companies, funds of illicit origin are "laundered" and turned into legitimate business profits.

Today, most financial firms have anti-money laundering (AML) policies in place to detect and prevent these activities.
In this article we will see the Best Anti Money Laundering (AML) Software :
1. ACTICO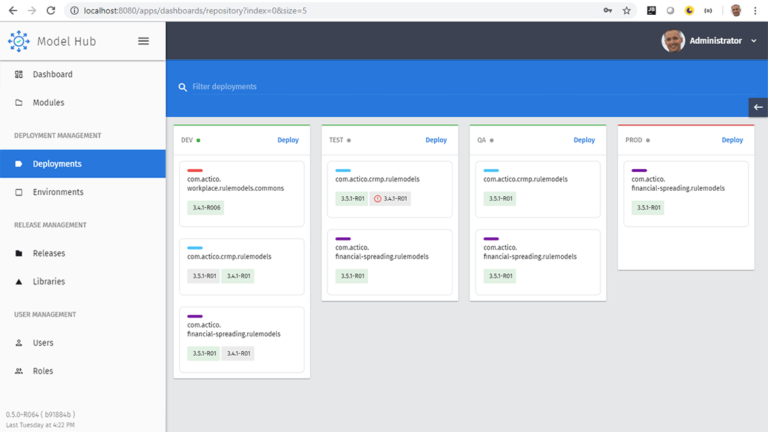 ACTICO is a powerful software for intelligent decision automation. It combines business rules and machine learning with automation to make everyday decisions faster and smarter. From financial services to manufacturing or retail to healthcare. The ACTICO platform enables companies to master the decision-making process in the digital world.
ACTICO provides solutions for different types of business problems. From turnkey business solutions for specific industry challenges to designing and implementing custom applications that reflect unique business needs.
With Compliance Suite, ACTICO provides a comprehensive solution for meeting compliance requirements and fighting financial fraud. Automatically monitor personnel, business relationships, payments and securities orders, and track suspicious cases.
Here are some of its advantages:
Quickly adapt to regulatory changes with configurable inspections.
Reduce compliance risk through best practices.
Compliance with internal requirements through expandable audits.
A consolidated system for compliance and anti-financial fraud management.
Digitalized and automated testing of millions of transactions daily.
Low workload for compliance staff through optimizable, modern procedures.
2. AMLcheck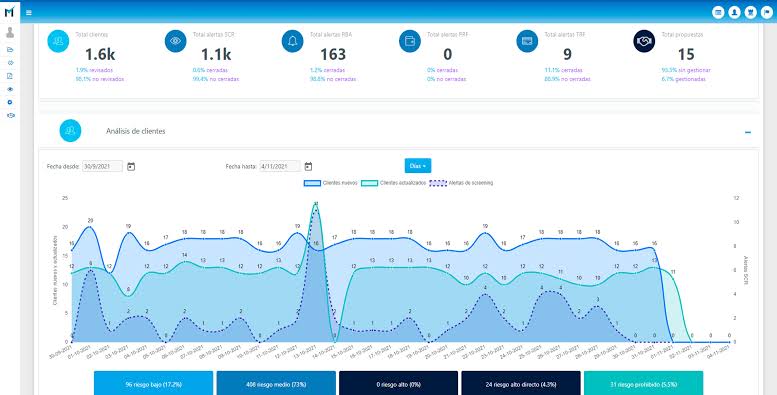 AMLcheck is anti-money laundering and anti-terrorist financing software.With a single anti-money laundering (AML) tool, organizations can prevent, detect and investigate suspicious activity.Functions that the platform is able to perform include, but are not limited to, identifying individuals or assets during the onboarding process, performing mandatory KYC for clients by creating profiles or assessments based on available information, and transaction analysis using various control scenarios to detect anomalous behavior.
Features of AMLcheck:
Efficient Screening Process: Allows you to manually and automatically check names of people and assets against sanctions and PEP lists. This process is efficiently performed using an algorithm that takes typographical and speech errors into account to improve the quality of the results.
KYC and Risk Scoring: Allows for a detailed analysis of each customer based on the information/documents obtained during the KYC (Know Your Customer) process to determine the risk profile (Score or RBA). -risk-based approach-) and continuously monitor their activities.
Access Current Lists: Enables clients to access our partner Dow Jones Risk & Compliance's sanctions and PEP lists.
Control scenarios: early detection of suspected money laundering and terrorist financing activities.
Global Anti-Money Laundering Solution: Customers can choose between on-premises or SaaS options depending on their needs.
Task and Report Manager: This is a useful tool for compliance teams. It comes with options to create analyzes and reports.
3. COMPLY ADVANTAGE
Comply Advantage is an AML data and technology company that provides a proprietary database of sanctions, PEPS and unwanted media data that is updated using AI analysts rather than humans.
it also features :
Reduce fraud losses: Identify where your business is losing money to fraud and prevent fraud in real time with minimal impact to customers. Detect transactions from suspicious locations, currencies, unusual behavior, and transactions from new accounts.
Identify risks: Monitor hundreds of known customer transaction types and trends to identify suspicious behavior. Prevent problems before they happen and stop them in time.
Calibrating a Risk-Based Approach: Support financial institutions' AML screening and monitoring with a proprietary combination of risk data, intuitive case management, and smarter matching.
The advantages of this software are:
Improve digital infrastructure and support.
Configured for each FI's individual risk profile.
Plug and play cloud application services.
Highest level of security and risk mitigation.
Taxonomies aligned to FATF recommendations.
Industry-leading API. integration and uptime.
Increase company margins.
Reduce & repurpose human resource costs.
Automate beyond human scale.
4. Dow Jones
Dow Jones is a software that provides reliable, actionable information and applications designed for compliance needs and workflows related to money laundering and terrorist financing, sanctions, anti-bribery and corruption, and international trade compliance.Building on the heritage of the world's most trusted newsrooms, including The Wall Street Journal, our Risk and Compliance department combines the expertise of a multilingual team of 450 researchers and analysts with industry-leading A combination of automated and artificial intelligence tools.
The main features of the platform are:
Financial crime compliance: Conduct comprehensive due diligence on your customers and related parties as part of a robust know-your-customer (KYC) program, using the following tools: Customer Due Diligence and Extended Due Diligence, Beneficial Ownership, Politically Exposed Persons (PEP), Sanctions and more.
Third Party Risk Management: Check the integrity of your supply chain and business partners by assessing risks such as bribery, corruption and dealing with sanctioned parties.Comply with sanctionsKeep abreast of sanctions developments and requirements, even as international and national regulations change rapidly.
The platform provides a unified, timely sanctions screening solution for: One-time and ongoing automated bulk screening against global sanctions lists, Filterable lists and special watch lists for personal screening, Flexible parameters for efficient management of screening results and alerts.
Trade compliance : Criminals are increasingly using international trade to move illicit funds and goods between jurisdictions and to exchange goods with sanctioned parties. Use our tools to identify red flags to complete transaction-specific due diligence, search for sanctioned counterparties, locations and vessels, and conduct dual-use asset audits.
5. FEEDZAI
Feedzai is a single platform to manage risk across all channels, geographies and payment types. Exceed customer expectations for trust, security and fairness throughout the customer lifecycle.
With this software, you can ensure rapid containment of financial crime using the industry's most scalable and fastest architecture, connect teams to provide a cohesive approach to fighting financial crime, and leverage Know You across all channels and touchpoints users" to provide the best and safe customer experience.
It provides:
Account opening: Acquire high-quality customers faster through more accurate customer risk assessment. Identify early risk signals and spot fraud patterns in applications that other solutions miss.
Digital Trust: Stop Fraud Before It Happens. Silently detect user anomalies and protect customers from credential theft, identity theft, and tampering attacks at every interaction.
Transaction Fraud: Track behavior and transaction patterns across all channels and campaigns. Gain more confidence with risk assessments based on individuals rather than groups.
AML Transaction Monitoring: Identify complex types of money laundering and visualize hidden relationships between transactions. Ensure full transparency to facilitate regulatory scrutiny.
KYC/Customer Due Diligence: Dynamically evolving customer risk analysis from onboarding to ongoing activity. Proactively trigger watchlist matches and major changes to customer profiles.
Watchlist filtering: Achieve compliance and prevent reputational damage without limiting resources. Automate customer and payment verification with up-to-date global watchlists.
6. ACURIS RISK INTELLIGENCE
Acuris Risk Intelligence combines human intelligence and code to pinpoint all the risks involved in establishing new business relationships. It uses unique data solutions to provide accurate information.
It offers :
Third-Party Risks: Guard against third-party and corruption risks. Acuris Risk Intelligence's consistent strategic approach to third-party risk management.
Anti-Money Laundering: Acuris Risk Intelligence queries databases that collect information from around the world.
Cybersecurity: Proactively detect data risks. Acuris Risk Intelligence is at the forefront of fighting identity theft and crime.anti money launderingKnow your customers.
Acuris Risk Intelligence queries databases that collect information from around the world. The platform recognizes the risks and complexities facing organizations and has developed KYC6, an efficient online portal that provides compliance teams with the key capabilities of individuals through search, ongoing monitoring, sanctions and Enhanced Due Diligence (EDD) reporting so you can effectively implement your resolutions.
You can search international records including: Politically Exposed Person (PEP) data, sanctions, negative media coverage, law enforcement data, business registry data, and global ID&V checks.
7. ONDATO
ONDATO is a new approach to end-to-end KYC management. Using it, you will pay only for the modules you use, in one centralized platform for all your remote onboarding, existing customer database management, and reporting needs.
The software streamlines your internal processes and saves time, reduces KYC-related business costs by up to 90%, sets rules from onboarding to lifecycle management, and keeps them up to date no matter where you are or regulations change.
The main features of ONDATO are:
New Client Onboarding:Make sure your new customers are who they say they are. With digital identity verification for businesses and individuals, it ensures your onboarding process is efficient and fraud-proof.
Business Intelligence: Turn the data you already have into a goldmine. Harness the power of AI to gain valuable insights and improve your services with timely reports to stay ahead.
User Group Management:Manage existing customers more easily and keep them under control. with the latest KYB, KYC, AML, or CTF regulatory compliance requirements. From periodic monitoring to sanctions screening.
Reporting : Keep track of all the changes within your client database at all times. If reasonable suspicion turns to probable cause, form instant reports and directly submit them to required institutions.
8. SEON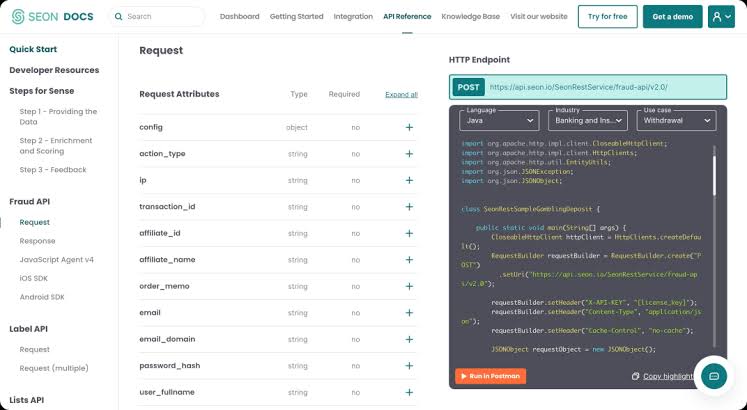 Seon is a next-generation fraud prevention tool that leverages device fingerprinting, machine learning, and predictive scoring to identify risky behavior by enriching data based on user email, IP, phone number, and location.In addition, it provides KYC and AML checks for 40 global PEP, sanction and watch lists using clients' first, middle, last and date of birth.
SEON is designed to serve a diverse team of technical and non-technical people. While you may need an engineer for the integration, most of our daily active users are from the Fraud, Security, Payments, Customer Success and Support teams.
Seon's main features :
Unparalleled time to value: Prove ROI in days with our free trial and transparent pay-as-you-go pricing.Forget about hidden costs or multi-year contracts and scale your operations with confidence.
Faster risk management: Get a transparent fraud score in an instant with our AI-powered automated workflow.The intuitive Admin Panel boosts collaboration and productivity with widgets, custom rules and full team management features.
Frictionless integration: Deploy SEON in a couple of hours with well-documented REST APIs and plug- and-play SDKs for device data collection.You can see results immediately, without slowing your business operations.
9. SUMSUB
Sumsub is an all-in-one verification platform designed to catch scammers and help businesses stay compliant globally.
It provides various solutions such as:
Transaction Monitoring: Protect your business from financial loss by detecting fraudulent transaction activity with the most flexible risk management solution available. Reduce false positives without sacrificing compliance.
KYC/AML service: provide your business with multiple layers of protection against various document frauds,Avoid high fines and meet KYC/AML requirements regardless of your jurisdiction, turning KYC into an asset rather than a hindrance.
KYB Services: Delegate AML watchlist and registration screening, beneficiary verification and corporate structure verification to Sumsub.
Fraud Prevention: Prevent financial and reputational damage with an advanced fraud detection suite that enables you to:
Processes that ensure a high success rate are easy for users and impenetrable for scammers.
Detect fraudulent actions at every user step, not only during onboarding.
Protect your customer lifecycle at every step of the way.
10. TOKEN OF TRUST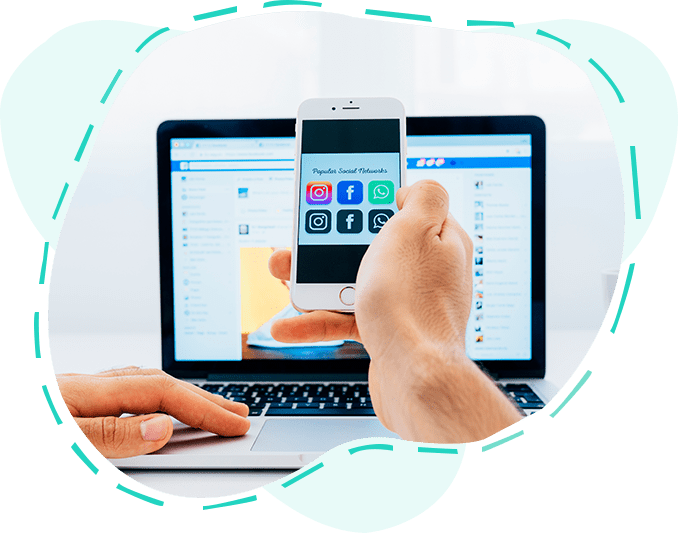 Token of trust is The easiest way to prove your identity and satisfy compliance requirements.
With this software you have the ability to :
Get your customers moving with fast authentication at checkout: a faster, more secure way to attract and convert quality customers. Token of Trust uses a unique set of identity tokens to quickly and accurately authenticate customers.
Trust starts with confirming identity in a partnership or relationship: Leverage Tokens of Trust to collect and confirm information to identify an efficient way of individuals.
Innovate, create and customize: the Token of Trust system has ears. It listens to the will of the market and has the ability to adapt to innovation and transformation.
Proactive Protection Against Bad Actors: Minimize costs by enabling Token of Trust's core systems. It is a comprehensive platform with the main goal of reducing fraud.
Expert Advice : Meeting the needs of changing laws and requirements can be time consuming and complex. Token of Trust is an expert in providing advice for KYC and AML requirements for industries like crypto, vaping, and more.
Conclusion
Money laundering has become such a big problem that international agencies have been created to fight it.
There are several key steps you can take to reduce the possibility of money laundering and protect yourself from regulatory or criminal activity:
Document the answers you get.
Follow your company's internal reporting procedures and consider whether a SAR needs to be filed.