10 Best Conversational Intelligence Software
Conversational intelligence is a technology that combines machine learning and natural language processing (NLP) capabilities.Instead of relying on predefined conversation flows, conversational intelligence uses the adaptive capabilities of artificial intelligence (AI) to understand customer sentiment, intent, and importance.

Conversational intelligence software can answer frequently asked questions directly for customers or provide answers for agents to choose from. Quick solutions create time for other demanding tasks.
What is the Best Conversational Intelligence Software?
If you are interested in knowing more about the best conversational intelligence software keep reading
1. Jiminny
Jiminny one of the best Best Conversational Intelligence Software, it is a platform that helps you easily create, embed, and cultivate a winning performance culture across your teams. Jiminny unifies business functions by seamlessly and easily sharing the voice of the customer, so you can drill down to the details of every voice, email, SMS and video touchpoint and get real-time transaction risk alert notifications.
Jiminny's collaborative playlists will bring your new hires up to speed in a third of the typical onboarding time and offer a wide range of coaching tools designed to increase the skills, confidence and motivation of your sales reps.
With tthis software you can :
Fast Track Tour Team: Train your reps with conversation playlists curated by more experienced sales talent. Allow your high performers to save clips or full calls, quickly create playlists and share them with teammates.
Coordinate teams across the enterprise: Use their AI-generated call summaries to condense entire conversation logs into concise bullet points of the most important talking points.
Gain end-to-end visibility into your pipeline: Get real-time alerts on automatically triggered deal exposure and get a snapshot of engagement for fast and accurate predictions.
Increase motivation and retention: Perfect your technique on the go with our live coaching feature, which adds live chat and scores to live conversations.
Automatically log activity in your CRM: Send call summaries and meeting results to your CRM, and automatically search and update existing CRM contacts or create new ones.
2. Gong
Gong allows you to get a comprehensive view of deals, team performance and market changes. Understand what's going on in customer conversations and gain the insights you need to drive sales more effectively.
Gong Reality Platform™ reveals what's happening in customer conversations, so sales teams can do more effectively and differentiate themselves from the competition. It features more than 100 integrations and provides a single, truthful source of truth to increase productivity, align teams, and optimize performance.
Use Gong in order to :
Get a complete view of your market and your team: It captures the widest range of customer interactions in the industry, from video calls to phone calls to emails and beyond, basically anywhere your team interacts with a customer or prospect. It can save your team valuable time.
Understand what's really happening in your business: Industry-leading AI processes the full context of your customer interactions key topics discussed, key questions, actions and relationship dynamics.
Deliver personalized guidance at every stage : give your team data on coaching opportunities, which deals reps should focus on, as well as how to improve forecasting accuracy.
3. Observe
With Observe you can gain insights from 100% of customer interactions, maximize frontline team performance, and accelerate results across the enterprise with real-time conversational intelligence.
Observe.AI uncovers insights from all of your customer interactions, empowering your teams to take the most informed action immediately, and automate workflows so you can spread success across your organization.
When you use observe you benefit from the software's advantages and can :
Gain insight from every interaction: With 100% insight into customer conversations across all channels, you can identify trends, opportunities and threats and gain a holistic view of your company.
Empower your frontline teams: Take performance to new heights with real-time coaching, targeted coaching, and automated workflows powered by industry-leading AI.
Drive results across the enterprise: make smart business decisions to resolve product issues, optimize marketing campaigns, reduce process time, and more.
End-to-End AI in the Contact Center: Improving Performance at every level of interactions with the only end-to-end contact center conversation intelligence platform.
With observe you can convert more interactions to sales and watch your revenue grow, reduce risk and gain the confidence of a more compliant frontline, satisfy more customers more quickly and earn their ongoing loyalty and help everyone on your team accomplish more, faster with consistent results.
4. Execvision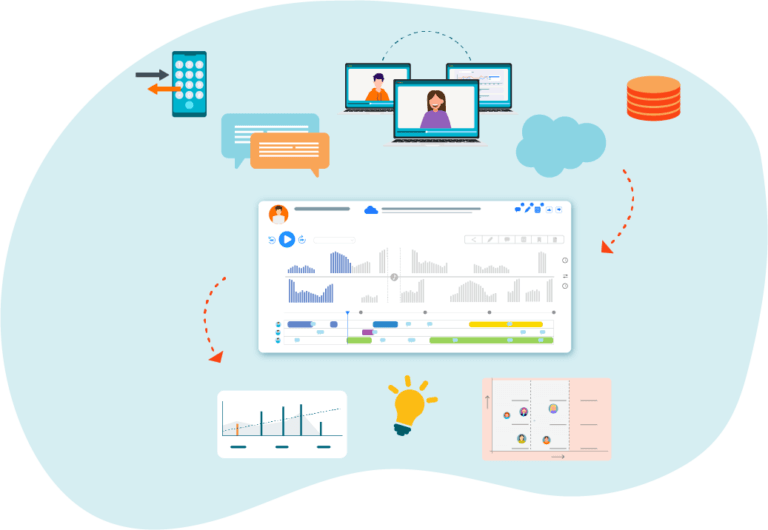 Execvision extract actionable insights from customer-centric conversations and use them to make better decisions, coach your teams, drive behavior change, and ultimately generate more revenue.
The software provides multiple functions such as:
Smart Alerts: ExecVision Smart Alerts are customizable alerts that managers, executives and administrators can set up according to their needs and interests. The platform automatically detects triggers and sends alerts via email.
Performance Dashboards: Each dashboard acts as mission control for each role (sales reps, managers, and supervisors) to track and measure call quality, performance, and coaching in a single system of record.
Topics, Keywords, and Stages: Determine which words are moving deals through the pipeline or removing customer frustration. Find all conversations that include price discussions. Set triggers for smart alerts around new news or feature launches.
Search, Trends and Pivots: ExecVision has a powerful search engine that allows users to find exactly what they are looking for. The engine is based on conversation metadata and CRM fields as well as conversation content, participants, tendencies, and more.
Conversation Cards: ExecVision matches conversations with CRM data to create powerful conversation cards. Each card shows a timeline of a call or web meeting, allowing users to leave comments and highlights.
5. Callminer
Callminer is the most powerful platform for achieving all your customer experience goals. No one offers more customizable solutions and the deep insights needed to improve contact center operational efficiency, customer experience, and enterprise business outcomes.
The main functions of Callminer are:
Improve Contact Center and Frontline Agent Efficiency: CallMiner's platform helps companies achieve better customer outcomes through higher quality interactions and more efficient contact center operations.
Improve CX Outcomes with Customer Feedback Insights: CallMiner's platform delivers insights from solicitations and proactive conversations through customer listening posts to unlock value and improve customer, product and brand experiences.
Drive business outcomes to value faster than ever: With comprehensive turnkey solutions and a proven customer success framework, CallMiner delivers immediate value and long-term platform ROI.
In addition to this, with this software you can take action on insights to improve customer experience and operations enterprise-wide, extract useful insights from unstructured and structured data to drive action, capture and analyze customer interactions across all channels and listening posts.
6. Avoma
Avoma is an all-in-one AI conferencing assistant, collaboration and intelligence platform for remote work. It offers the best combination of manual note-taking and immersive AI-generated note-taking. Enable collaborative note-taking (multiple people taking notes on the same note editor) with a 14-day free trial.
With Avoma, sales teams don't have to compromise on advanced CRM integration and revenue intelligence capabilities, but also have solid tools that can be extended to other parts of the organization.
It focuses on the complete workflow of the employee meeting lifecycle, preparing note agendas, sending no-show reminders, recording AI-generated notes, updating CRM, and more.
This all-in-one platform enables you to:
Get an instant overview of the status of all deals in your sales pipeline.
Learn from comprehensive conversations and gain insights to guide your team.
Always have ultimate control over who has access to your conversations.
Save time in note-taking and improve meeting outcomes by participating in the conversation actively. ​
While you focus on the conversation, Avoma takes notes for you and updates your CRM and ensures that the action items don't fall through the cracks.
7. ALlego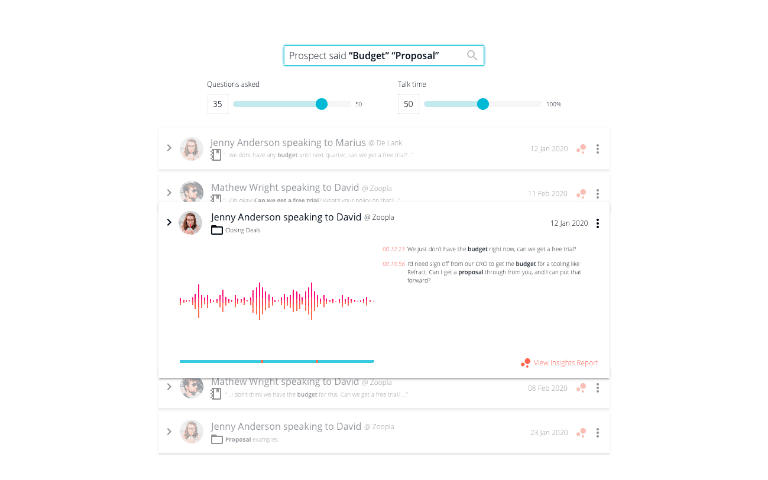 Allego is conversation intelligence software that records every conversation you have with your customers to gain a clear understanding of the truth behind every transaction, reviewing, coaching and sharing the most valuable, revenue-driving moments in the conversation. It shares real-time call data and insights to help teams optimize, guide, and replicate what you think is working.
Sales teams can use this software to :
Capture Conversations: Analyze and understand the reality of every sales pitch, presentation and meeting, automatically recognize 99 languages ​​and dialects to accurately transcribe calls in all regions, and save salespeople time with automated note-taking and simplified CRM entry.
Coach and develop top performers: Take advantage of automatically generated highlights from all your sales pitches, quickly understand how reps handle calls in minutes, automatically deliver instant learning or content to reps based on the conversation, and instant access to quote experts coach calls or team coaches directly on the platform.
Close More Deals : Go deeper than your CRM data and reveal actual prospect behavior across calls, email, content, and digital sales rooms, Put reality into sales forecasts and understand every prospect engagement with Deal Coaching and Identify and replicate best behaviors with dashboards that highlight individual and team call performance analytics.
8. Voyc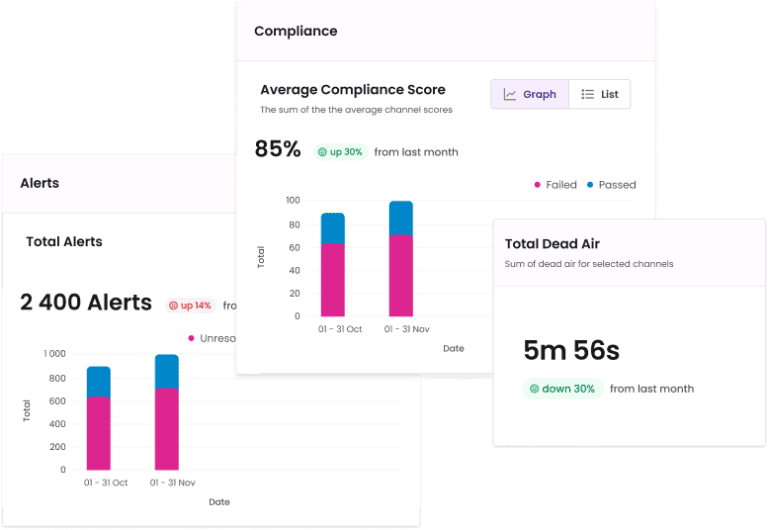 Voyc handles 100% of your interactions consistently and with care. Trusted by dozens of leading financial services firms for pensions, investments, mortgages, insurance, credit and collections.
Several features are offered by the software such as :
Ensure Compliance: Voyc helps regulated organizations reduce the risk of non-compliance in 100% of customer interactions, from the largest contact centers to customer-facing teams with only a handful of professionals.
Identify and manage business risks: Voyc can be your first and second line of defense against many risks to your business before they escalate. These include the risk of regulatory action due to conduct violations and the financial risk.
Demonstrate performance with clear supporting evidence: Voyc provides detailed reports that can be configured according to the exact needs of the business.
Ensuring a better customer experience: Voyc continuously monitors the quality of customer interactions and triggers instant alerts when potential issues arise, requiring attention and intervention.
9. Enthu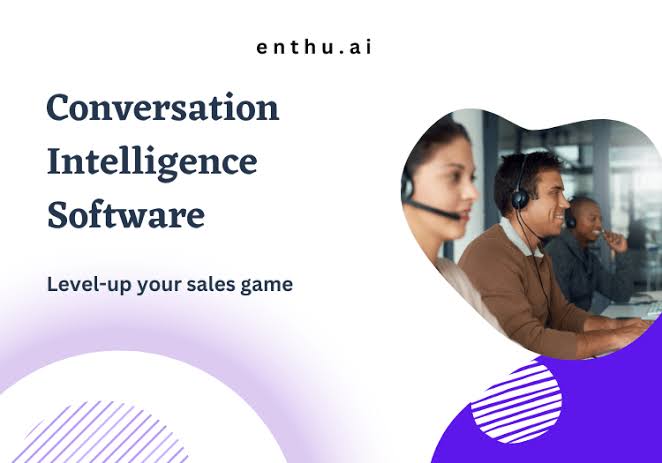 Enthu increase sales, improve customer experience, and improve operational efficiency with AI-generated insights from 100% of customer conversations.Enthu enables contact centers to coach their agents to improve outcomes, transcribe and analyze every customer conversation and gain actionable intelligence to improve agent performance faster and better. This results in faster call QA, better coaching and feedback, and improved agent performance.
Capture 100% of conversations across all channels – phone, chat, voicemail and video:Conversations from multiple channels are automatically recorded, transcribed and quality assured. They support over 25 integrations.
Analyze conversations for insights: Find ways to improve sales pitches, uncover compliance issues, improve customer experience, and more. Enthu.AI is 100% customizable to your specific use case, be it sales, service or customer success.
Dashboards that drive business results, agent performance and customer satisfaction: Easy data visualization that drives actionable insights across multiple business functions, unlocking revenue opportunities.
10. Chorus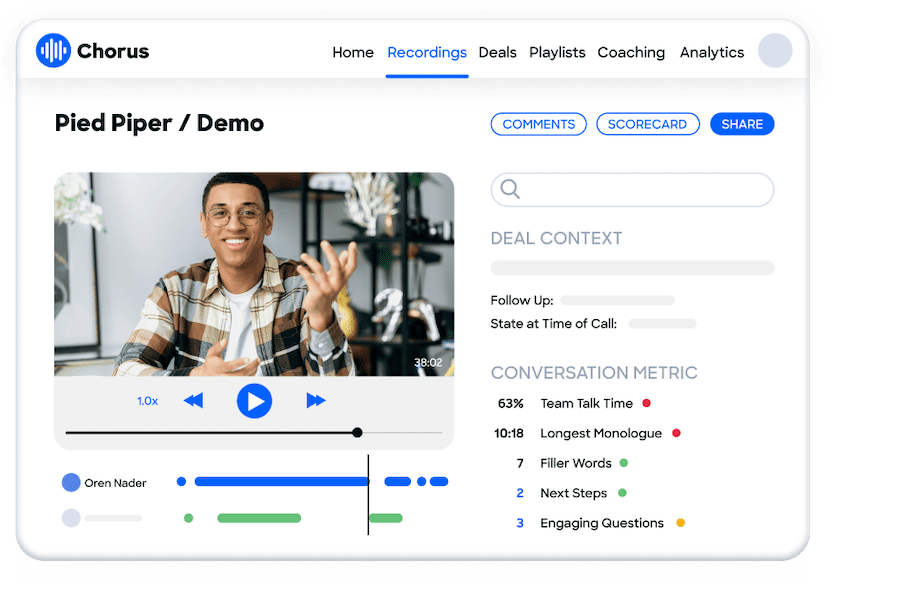 Chorus is the #1 conversational intelligence platform for fast-growing sales teams. Founded in 2015, Chorus.ai's Conversation Intelligence Platform analyzes sales meetings to identify and help teams replicate the performance of top-performing reps. These insights are the foundation of effective coaching strategies for sales and customer success teams and provide insight into the Voice of the Customer across the organization.
The ssoftware provides powerful and useful features such as :
Capture and Analyze Every Interaction: It provides a simple, scalable solution to capture and analyze all customer calls, meetings and emails to provide transparency, drive process and behavior change, and positively impact the bottom line.
Understand exactly what drives performance: Quickly identify what differentiates your top performers so you can replicate the winning formula across your team.
Never lose motivation: get unparalleled relationship intelligence to move your deals forward fast.
Remove the Guesswork : pinpoint areas of improvement and measure progress over time to uplevel your team's performance.
Make Better Strategic Decisions: Easily share insights and questions with Product, Marketing, and the C-Suite to get to your desired outcomes faster.
Conclusion
The implementation of conversational intelligence technology provides an endless source of vital information without taking up time that could be better spent selling. Leverage your conversations, from automated insights and action triggers to detailed and highlighted customer profiles.