10 Best Screen Recording and Capture Software
Whether you've paid for numerous software after using trial versions and received nowhere close to the bang for your buck that was anticipated, or you're looking to save some money, there are plenty of free screen recorders that can get the job done with satisfying results without emptying your pocket. A word of caution though: some vendors may require you to buy a paid version after you download their "free" software so you can get full access to its functionality.

We compiled the eight best free screen recorders in 2023 that successfully compete with the best paid screen recording tools.
1.loom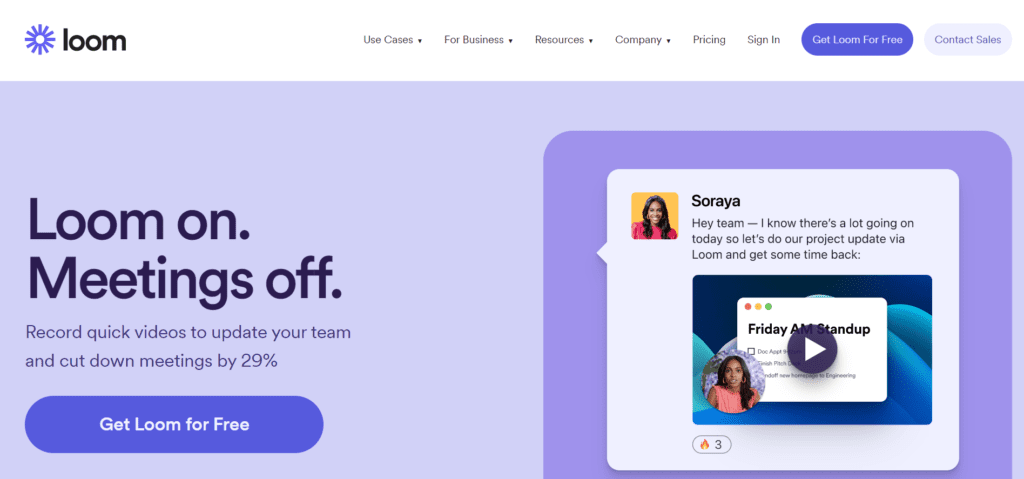 If you want to quickly record something and share a link, give Loom a chance. Loom isn't overly complicated when it's time to record: you can choose whether you want to record just your screen, your screen with webcam video, or just your webcam. Once you finish, your video will be uploaded to Loom. You can do some basic editing in the browser, if you want, or you can copy the link to share the video. It's all very quick, which makes it, overall, the best screen recorder for PC.
With the free version of Loom, you can store up to 25 videos of up to five minutes each. It's limited, sure, but great for quickly showing something to a collaborator, coworker, and/or archenemy. And you can always download your videos and store them somewhere else if you're getting close to that 25 video threshold.
Having said that, Loom isn't perfect. The desktop app works well, but we found the mobile apps limited in confusing ways. The Android version, for example, requires users to enter their Google password in order to log in instead of using the built-in Android support for Google accounts, which is odd. The iPhone and iPad apps can't combine video with screencasting.
2.Camtasia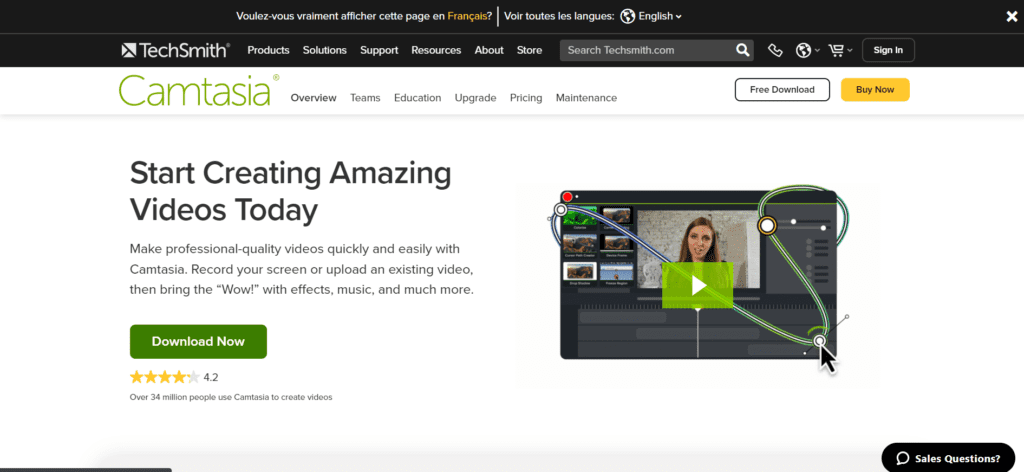 Camtasia is a user-friendly screen recording software that includes a ton of video editing tools. It works with several formats, recording video calls, websites, and software with a drag-and-drop editor that allows you to easily perfect your recording. To give your video that extra touch, there are royalty-free assets available. When you are finished, your exported video easily works with YouTube, offering additional compatibility to simplify your life. It is easy to use for beginners with video tutorials to help you make how-to videos and demos that can help convert your customers.
There are templates provided to help you get started, plus there is the option of adding special effects to your recording. It is a program that is super easy to navigate, thanks to provided themes and libraries, in addition to shortcuts and favorites for all of the tools and settings that you use the most.
3.OBS (Open Broadcaster Software)
OBS Studio is one of the best free screen recorder programs on the market for gamers. However, don't expect to open OBS Studio and begin recording right away! The software isn't very intuitive, and it may take a bit of trial and error to get everything set up. Fortunately, you can find plenty of resources online to teach you how to record with OBS. The software was designed with gamers in mind, and its features are optimized for this type of content.
Pros:
HD-quality recording and streaming
No recording length restrictions
Records games in full-screen mode
Cons:
Separate video editing program
Software takes time to learn and isn't for beginners
Can't record multiple input sources simultaneously
4.ispring
iSpring Free Cam is an industry-driving screen recording software that likewise serves as video and sound altering software. It likewise conveys an excessively natural and easy to use interface that makes it simple to get around this product for Windows in any event, for beginner clients. As a screen recorder, this instrument will assist you with catching film from the whole shout, a client characterized the region and a running applications window. iSpring screen recorder permits you to catch a video with full screen, an application window and a custom area. It offers a basic method for recording screens, altering caught video and offering it. It likewise engages the client with the capacity to dispatch new application windows in the chosen region, this is ideal particularly when one is chipping away at an instructional exercise or guide.
iSpring Free Cam is a free and simple to-utilize screen recorder for Windows. It permits you to record, alter and immediately share screen captures effortlessly. Free Cam likewise gives an assortment of elements to making e-Learning introductions and expert recordings. iSpring offers a screen recorder called iSpring Cam. The iSpring screen recorder bundle contains iSpring Free Cam and iSpring Cam Pro. Indeed, the fundamental distinction is that the previous one is the iSpring screen recorder free preliminary, while the last one is the iSpring screen recorder in full form. This product brags of video altering highlights that can either be utilized on the caught film or prior projects that you need to refine before dividing between different activities. Rather than a concise iSpring outline, this article investigates the iSpring Cam screen recorder with impartial advantages and disadvantages. You can know whether or not iSpring can be your best screen recorder software. Presently, we should check the most recent iSpring screen recorder audit together.
5.wondershare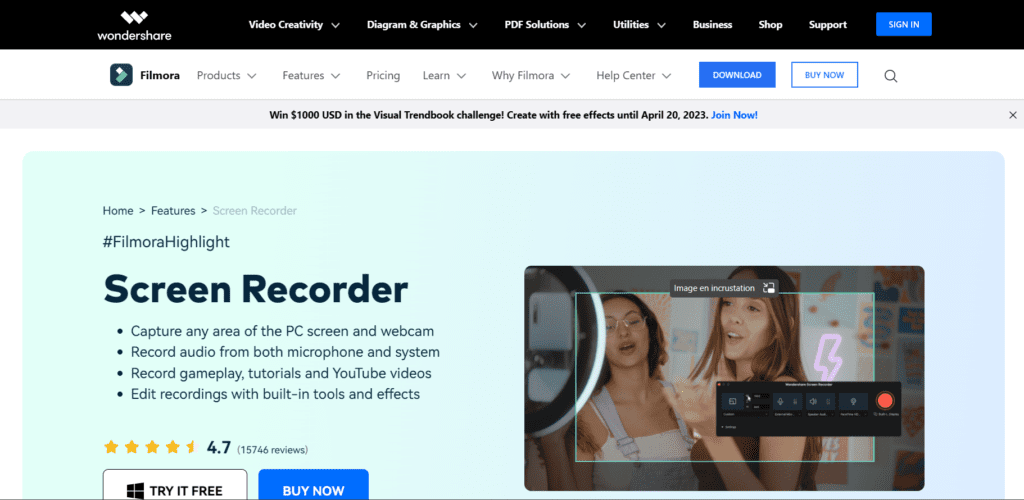 Filmora Scrn is divided into two main sections: the recorder and the editor. The recorder section is where you record screen capture videos and audio input. The editor is where you compile your files, edit, and create your video with all its effects and luster. Fairly self explanatory.
The recorder portion of Filmora Scrn is a breeze to use! It is so simple — I don't think anyone could possibly have trouble getting it to work.
To begin recording, just click the Quick Capture button from the start menu or the recorder button from within the video editor. This will launch a small window with a few simple features on it. You'll find your standard recording UI button, screen display and resolution, and audio input. The top menu bar also features a settings and editor tab. The editor returns you to the editing screen while the setting tab lets you customize your screen capture.
The editor is packed with some pretty great features, and like the rest of Filmora Scrn, it's super intuitive.
The editor is divided into 3 main subsections:
Assets – these include video & audio clips, annotations, and cursor effects.
Properties – the properties of elements such as display qualities, colors, volume, length, etc.
Tracks – the main editing portion of Filmora Scrn where you add elements, edit, and create the layout of your video.
Underneath the standard menu bar at the top of the screen is a recorder & export button. Exporting lets you do just that: export your video. You can choose from a variety of file types including MP4, MOV, GIF, and MP3. It also has an export option for Youtube, Vimeo, Facebook, and Twitch where all the file properties are configured accordingly.
6.movavi
Movavi Screen Recorder is a great mid-level screen recorder for PC, a nice OBS alternative, complete with a built-in editor that gets the job done. But there is one feature it does exceptionally well: scheduled captures.
This tool lets you record webinars or live streams while you're away from your desk. You'll find this feature in the preferences, under Scheduler. You can set a time limit for the next recording, or you could specify a time for a recording to begin and end. You can even set it up so your computer shuts down or goes to sleep after the capture is finished.
It's convenient and unambiguous, further improved by Movavi's above-average resolution settings. If you need to record an inconveniently-timed webinar to share with others, you'll want it to look good.
7.DeskShare
DeskShare is dedicated to creating powerful, affordable software to help you excel. Every DeskShare product is designed to offer unique advantages. Our software professionals work hard to make sure that each product is useful, stable, and user-friendly. they listen to our customers, and provide fast and friendly support. their customer focus has helped satisfy everyone from home users to industry professionals.
DeskShare is a privately held corporation, located in Commack, New York.
8.FlashBack
FlashBack Express is an on-premise screen recording and editing tool for PCs. This solution can be used to capture screenshots, record short clips, and create instructional videos. Videos can be shared directly to YouTube.
FlashBack Express allows users to record desktop screens and microphone sounds, capture webcam recordings, add annotations and watermarks, plus more. There are no recording time limits and videos can be saved as MP4, AVI, or WMV formats. This solution is only compatible with Windows devices. Technical support is available via live chat and an online portal. Flashback offers a Pro edition of this solution with more editing features and saving options. Please contact Flashback for available packages and pricing information.
9.ScreenPal
ScreenPal is the essential video creation and sharing solution for everyone. Our mission is to offer easy-to-use, accessible tools that empower creators to capture ideas, share knowledge, engage viewers, and assess understanding through video. ScreenPal is trusted by Fortune 100 companies and 98 of the top 100 universities in the United States, and has been empowering a global community to capture and share over 100 million videos since 2006.
ScreenPal's product suite includes intuitive desktop and mobile apps for screen recording and video editing, plus our video messaging Chrome extension. Our secure, cloud-based hosting platform allows organizations of any size to manage, brand, and share content, track performance with video analytics, and engage viewers with interactive video, including embedded quizzes, ratings, and polls.
ScreenPal integrates with common learning management systems and business tools and offers SSO support, user and license management, and strong privacy and security controls.
10.Free Cam
Free Cam screen recorder is screen recording software that allows users to capture a video of the activity in part or all of their computer screen. With a Free Cam download, you can select a portion of your display, choose a specific window, or record your full screen. Capabilities include voiceover recording and recording system sounds, noise reduction, video trimming, and direct upload to YouTube.
With that in mind, users who opted to go with Free Cam for free (versus paying for the pro version) have reported occasional issues with uploading their videos to YouTube.
The overall Free Cam app user experience is generally positive, especially for users who don't have a ton of video editing experience. The editing timeline offers a visual way to cut your video and control audio, but users who want to record a separate voiceover will need to either opt for the paid version or use another video editing platform. The free version only includes a single track for audio and video editing, making it impossible to overlay audio tracks or add video layers.

Conclusion
Screen recording software can serve a variety of purposes, and the best ones don't necessarily need to come at a price.
Based on your individual needs and the operating system you're using, you may be able to achieve your objectives with a free screen recorder.
And if you're looking to add additional power or use professional editing tools, you can always sign up to a paid option.
Hopefully, one of these screen recording programs will fulfill your requirements, whether you're creating a tutorial for YouTube or just sharing a gaming achievement with your peers.