10 Best Strategic Sourcing Software
Strategic sourcing is the practice of identifying and implementing intentional, systematic and sustainable cost reduction strategies. Strategic sourcing software is a broad classification of enterprise resource planning (ERP) software used to automate strategic sourcing activities. Strategic sourcing is often included in the broader category of procurement planning and management (PPM). This market is a little crowded, and it's hard to choose the best sourcing software for your business. That's why we did the research for you and present you the 10 best Best Strategic Sourcing Software and how they can help you.

Whait is the Best Strategic Sourcing Software ?
1. Basware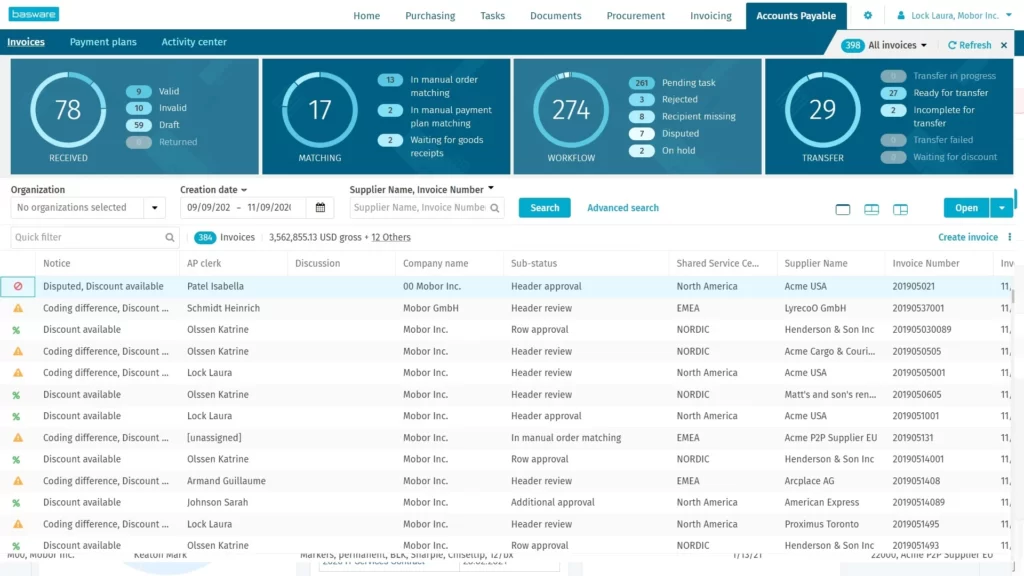 Basware is the world's fastest-growing Strategic Sourcing Software (SaaS) provider. The company was founded in 1993, and it has grown rapidly. It has offices in over 40 countries worldwide, and it employs over 1,000 people. It works with several major companies, including Mcdonalds , DHL , ABB , Ferrovial Servicios and TeliaSonera. Basware offers a complete range of strategic sourcing and procurement software solutions that enable organizations to streamline their purchasing process and deliver significant value to the entire supply chain. Key features include: supplier relationship management, contract management, procurement, supplier performance management, supplier self-service, e-sourcing and collaborative portals.
Thanks to its Ai thechnologie , basware automates processing all bills formats from EDI , XML ,PDF and even paper without disturbing your supply chain .In addition , this a platform offers a great tool for business owners that helps them in dealing with invoice approval in seconds without having to do any contacts.
2. Workday
Workday Strategic Sourcing is a tool to help businesses find the best prices on products and services. It's a program that allows organizations to purchase goods and services using a single, unified platform. It's a way of doing business that is saving millions of dollars for companies around the world.
Workday Strategic Sourcing has a five-step process that helps you get the best prices:
1. Identify your products and services
2. Compare suppliers on price, quality, service, and delivery
3. Select the best-value supplier
4. Negotiate with your vendors
5. Implement changes in business processes
A Workday Strategic Sourcing solution enables you to do all of this in one place with one system of record. It's that simple to get more business value out of every dollar you spend. In addition , the platform is so flixable , giving the opportunity to use all its powerful features even if you are not using other applications launched by Workday like analyzing software , ERP or P2P which makes it more easy for you to work with your favorite apps.
3. Apriori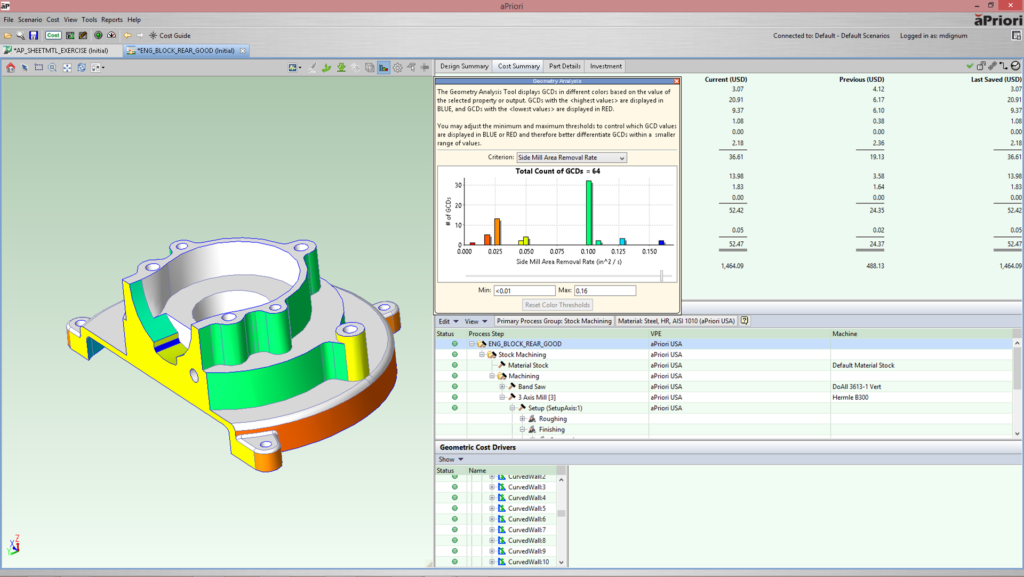 Apriori is the world's only Strategic Sourcing software solution that combines powerful sourcing, contract management and procurement collaboration capabilities in a single cloud based platform. With a fully integrated platform, organizations can achieve unprecedented visibility and insight into all their spend categories and sourcing activities, delivering a 360 view of their spend. The result? They get greater control over costs while improving relationships with suppliers and winning more business. apriori.com is an SaaS (Software as a Service) solution that allows organizations to quickly and easily access a single platform from anywhere – via mobile, desktop or tablet. With this kind of access, organizations can collaborate on supplier relationships, ensure compliance with corporate policies and drive business decisions from one source. The platform is used bu more then 200 leading companies to boost their productivity and take their business to another level .
4. Procol
Procol is a strategic sourcing tool designed to help small- and medium-sized businesses save money on their purchasing, improve their supply chain efficiency, and reduce risk in their purchasing decisions. The procol.io platform is a next generation sourcing tool for the small business owner. The platform includes an easy to use web-based software platform that provides access to all of the suppliers that are registered with the system.
procol.io offers a free service to SMBs that includes up to 100 suppliers, up to five orders per month, and unlimited connections. Small businesses can sign up for the free package by visiting their domaine . Headquartered in Loveland , this platform sels its services for hundreds of growing colpanies such as MORE , Dalmia , ElectroMech , Zetwerk , Havells to to higher their productivity and profitability.
5. Anvyl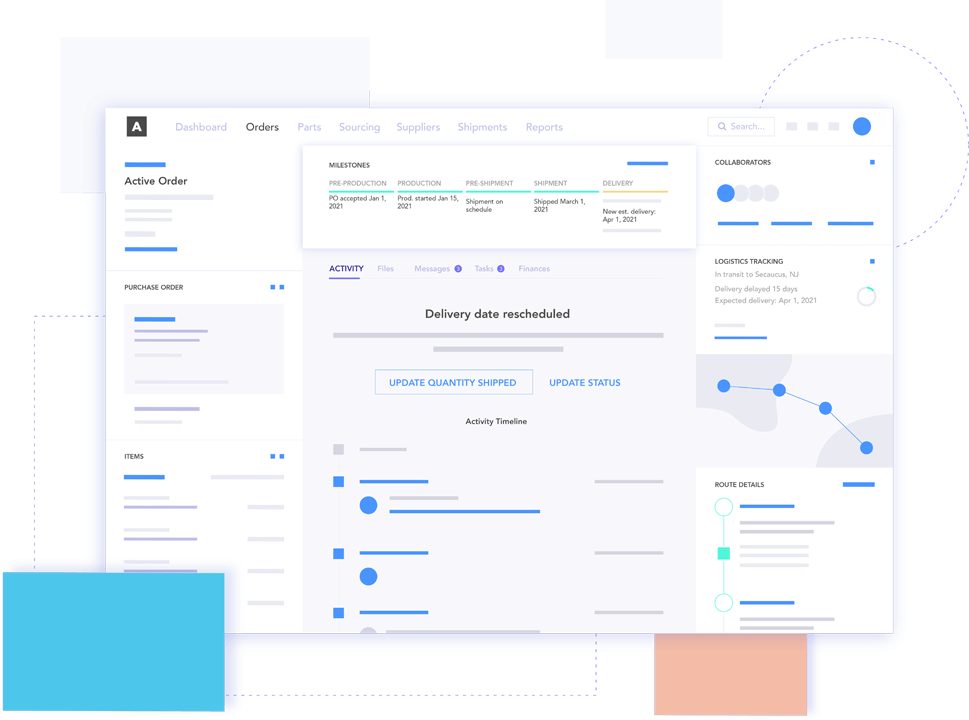 Anvyl is a strategic sourcing tool. It fundamentally changes the way companies source their products and services. It allows buyers and suppliers to align their value propositions and reach win-win outcomes. anvyl.com completely redefines the way companies source their products and services. anvyl.com is an online platform that allows businesses to source products, services and talent in a way that has never been possible before.In addition the platform offers a payment tracking systems giving you the ability to know exactly all the transactions that intrest your businnes and also provides business owners with order delay risk anlyzes , usning it Ai system the platform detects all the changes that can affect your order ship date and sends you notificatios which gives you the opportnunity to avoid such problems and keep .
6. Scanmarket
Scanmarket is a sourcing management software for B2B buyers. It provides a large selection of products and services, and helps suppliers to target new customers. The platform is used by more than 3,000 companies. The company is based in Rennes, France, where it was founded in 2013 by Christophe Pons and Romain Roques.has signed up more than 3,000 companies to its platform and its clients include companies from a wide range of sectors including sage , Oracle , Office , Basesare and others. in additon , the platform helps automate category-specific supplier onboarding and flagging noncompliance within the supply chain to centralize all supplier data .In addition , using eSignatures, streamline contract, data, and document control, as well as document audit visibility Scanmarket helps speed up processes and increase compliance, contract value, and financial performance.
7. Jaggaer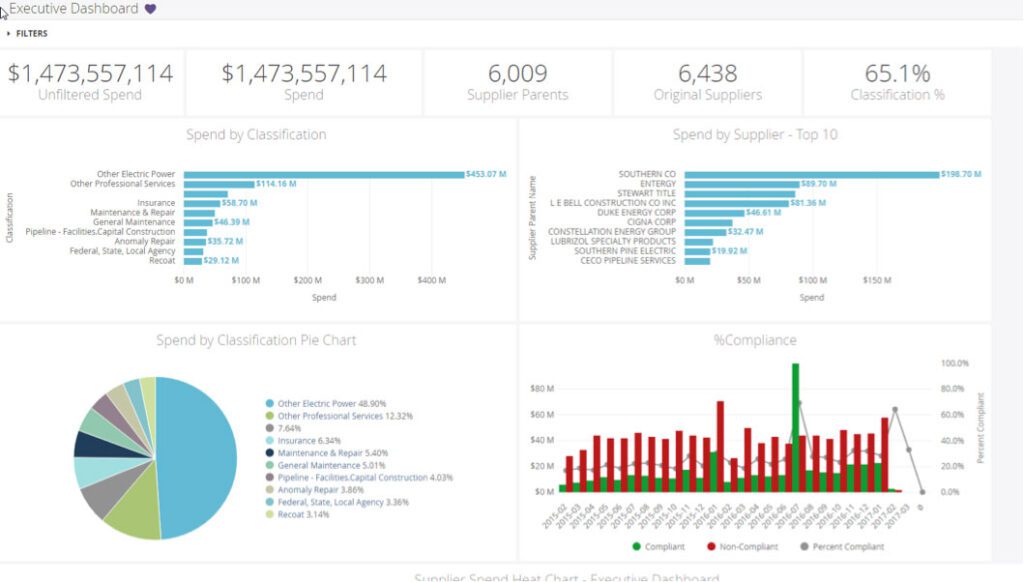 Jaggaer is a strategic sourcing platform that enables businesses to manage their procurement process in one place. It provides access to suppliers servicing the entire product life cycle. jaggaer.com has access to over 100,000 suppliers and 1 million products, which makes it possible for users to find all of the information they need in one place.
The platform has been developed to be user friendly and will enable users to manage their procurement process through the following key features:
Consolidated procurement process – The platform provides a consolidated view of the procurement process and enables users to monitor each stage of the process.
Users can access information in real time to keep track of the progress of the procurement process.
One-stop sourcing – Users can find all the suppliers they need in one place.
Users can search for suppliers by product, location, category and more.
8. Ivalua
Ivalua is a strategic sourcing tool that helps buyers, decision makers and procurement professionals to find suppliers, evaluate product and services, request for quotations (RFQs), request for information (RFI), benchmark and compare prices and generate reports.For its high quality services , the platform is used by hundreds of famous companies such as Michelin , NYC , Whirlpool , L'Oreal , Credit Suisse and more .
Thanks to its user-friendly design, the platform allows you to have a clear look at all your spending and suppliers from one screen .Using its Source-to-Pay service , Ivalua helps you lower your costs , improve your performance and boost your productivity . It makes it so easy to build strong relationships with suppliers . The platform uses its Ai technologies to notify you about every risky event that may occur in your business and provides you with detailed information about your suppliers' activity.
9. Sourcesuite
Sourcesuite is a procurement sourcing software that allows sourcing professionals to consolidate their spend from disparate systems, analyze spend and gain insight into areas of risk. It provides a centralized solution to procure with agility, confidence and control.It is a cloud-based sourcing software, which means it's fully integrated with the sourcing process. And that means you can get your data organized, analyze and manage it all in one place. You'll also find their Support Center really useful. It's not only a great way to get the answers you need, but also the best chance to get them fast. In addition , the platform provides you with all the information you need to take charge of your suppliers. And it helps you to manage a large number of suppliers in a convenient way.
10. Zycus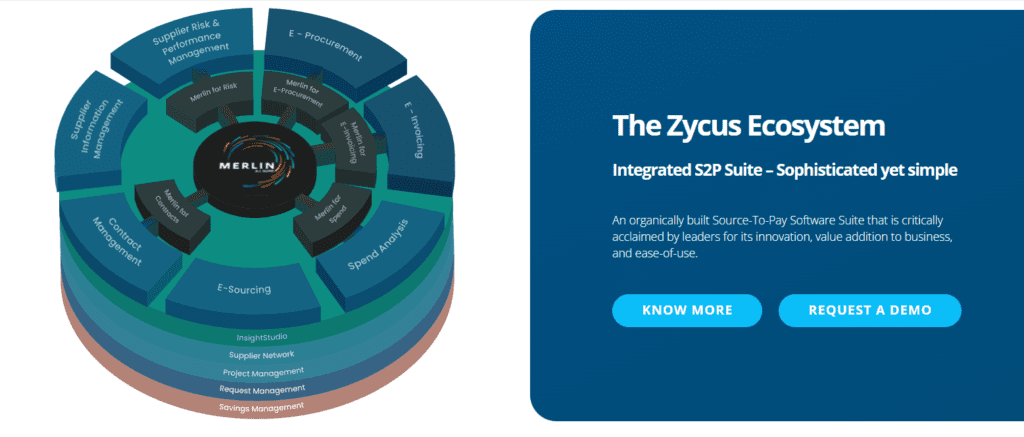 Zycus the last one in our list Best Strategic Sourcing Software, is a cloud-based procurement software company that helps businesses and government agencies streamline the procurement process. It provides an end-to-end solution for the procurement process. The software enables buyers to collaborate with suppliers and execute more than 100 processes related to procurements. These include buying and selling goods and services, ordering, and contracts, as well as other administrative tasks such as inventory, billing, payments, and reporting. With this software, you can communicate with suppliers, maintain accurate records, and even streamline the procurement process from beginning to end. In addition, unlike other alternatives, Zycus offers a flexible set of tools that you can integrate with all your favorite apps and fit into your workflow easily, and provides you with details insights about your supply chain .
Conclusion
As a business owner, you are constantly looking to improve efficiency and productivity and one of the most significant ways you can do this is through strategic sourcing. This is a process that allows you to buy supplies at the best possible price while ensuring they meet your quality standards.Thats why it using this technologie became a must in order to grow your business .